Universal Orlando On-Site Hotels Overview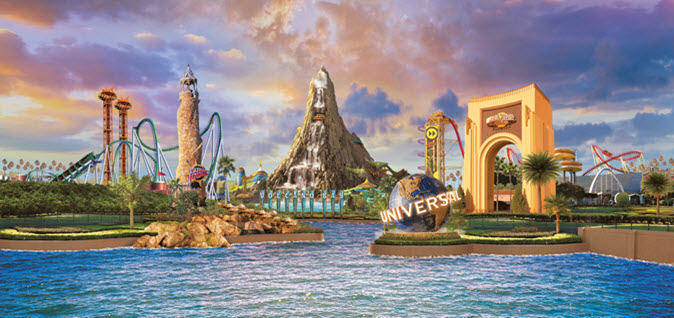 When you stay in the heart of the fun and excitement at an on-site hotel, you'll be easy walking distance to Universal Studios Florida®, Universal's Islands of Adventure® and Universal CityWalk®.
Plus, you'll enjoy a package of exclusive theme park benefits!
Choose from spectacular on-site hotels:
Prime Value
Stylish resorts with rooms and suites designed for fun and affordability.
Universal's Cabana Bay Beach Resort
Preferred
Relaxing getaways offering the perfect blend of resort conveniences and amenities.
Loews Sapphire Falls Resort
Loews Royal Pacific Resort
Premier
Beautiful escapes offering distinguished service, spacious accommodations and one-of-a-kind experiences.
Hard Rock Hotel®
Loews Portofino Bay Hotel
---
Universal's Cabana Bay Beach Resort – Prime Value Hotel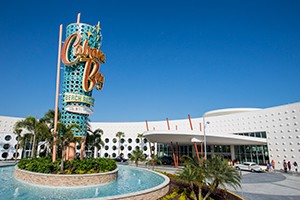 Splash back to the 1950's and 60's for endless family fun at Universal's Cabana Bay Beach Resort. From the moment you arrive, you will be taken back to the iconic beach resorts of the era. Go for a swim or relax in the lazy river, grab a burger and a milk shake or take the family for a game or two at the bowling alley.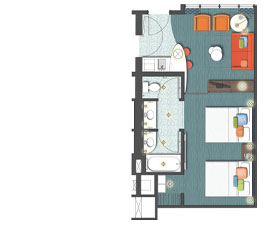 Courtyard Family Suite and
Tower Family Suite
There's plenty of space for the whole family with 430 square feet of living area. The suites sleep up to six with two queen beds and a pull-out sofa, and include a sliding privacy partition and an extra-large bathroom so three people can get ready at once. The family suites each feature a kitchenette with mini refrigerator, microwave and a small sink so you can enjoy a quick breakfast, snack or a light bite to eat whenever you like. Options include poolside or courtyard views, and a choice of interior hallways or exterior entry suites.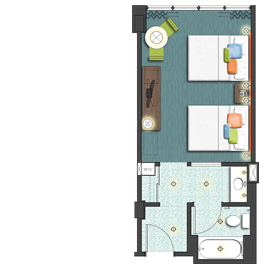 Standard Room
Take a break from the excitement of the theme parks in these comfortable 300 square foot guest rooms. Each features two queen beds, a flat screen TV, and a mini refrigerator along with a fun retro theme. You can choose from poolside or courtyard view rooms.
Loews Sapphire Falls Resort – Preferred Hotel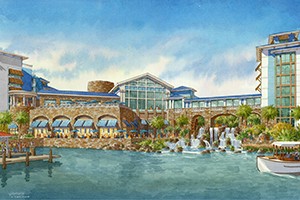 The Caribbean conveys more than just a relaxed feeling. There's a mood, an air, an atmosphere. It's found in the weather, the clothing, the architecture, the cuisine, and most of all, the people. It's where the phrase, "island time" comes from. Things are not rushed. Everything is all right. Loews Sapphire Falls Resort achieves that Caribbean sense of ease in the 1000 guest rooms and suites through tasteful, relaxed design and imaginative touches, making every stay at this resort a trip to paradise.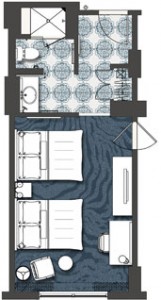 Standard Room
This inviting room offers 321 square feet of relaxation, featuring either two queen beds or a king bed, separate bath and vanity areas and a wealth of exceptional amenities.
Lagoon or Pool View Standard Room
The tranquil view from these spacious rooms makes for the perfect retreat during your stay. These beautifully appointed accommodations feature all the comfort and amenities of our 321 square foot standard guest rooms.
Loews Royal Pacific Resort – Preferred Hotel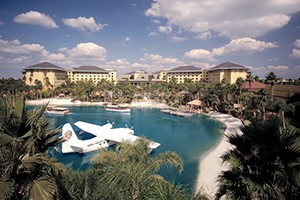 Kick back and relax in a tropical paradise at the exotic Loews Royal Pacific Resort at Universal Orlando
®
. From the breathtaking beauty of the lush tropical landscaping and sparkling waterfalls to the serene tranquility of the orchid court where flowers are always in bloom, you'll be transported to the enchanted isles of the South Seas. Find a spot at the tropical lagoon-style pool, kick off your shoes and forget about the rest of the world at the Royal Pacific Resort.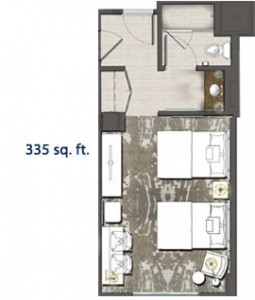 Standard Guest Rooms
Enjoy 335 square feet of tropical paradise in one of our inviting Standard Guest Rooms. Each offers king bed or double queen bed accommodations, and a wealth of exceptional amenities.
Water View Rooms
It's all the comfort and amenities of our 335 square foot Standard Guest Rooms, with a view. Gaze out upon the hotel's spectacular lagoon pool or waterway.
Hard Rock Hotel® – Premier Hotel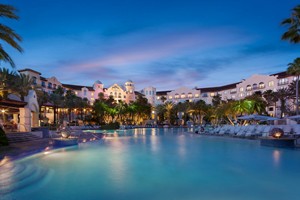 The heart and soul of rock 'n' roll. That's the breathtaking Hard Rock Hotel
®
at Universal Orlando
®
Resort, the perfect mix of funk and just plain fun. From the sweeping California mission-style facades to the legendary Palm restaurant to a palm-lined swimming pool where you're immersed in sound, not just water, it's the coolest hotel on earth. This is the place to chill when you know how to rock – and may be the best bet for the "grown up" family holiday.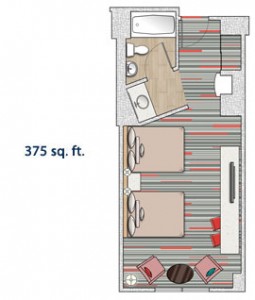 Standard Rooms
Our standard rooms offer stylish décor, two queen beds and all the modern amenities. Experience the rockin' hotel activities and then chill out in the privacy of your 375 square foot room, with limited views.
Garden View Rooms
Each Garden View room lets you look out upon a different area of the hotel's scenic grounds. You'll enjoy exceptional amenities, two queen beds and 375 square feet of space giving you ample room to rock out or just kick back with your entourage.
Pool View Rooms
Your record climbing the charts? Upgrade your view to overlook the centerpiece of the Hard Rock Hotel, the fabulous swimming pool area. Like the Garden View rooms, the Pool View rooms feature 375 square feet of space and two queen beds.
Loews Portofino Bay Hotel – Premier Hotel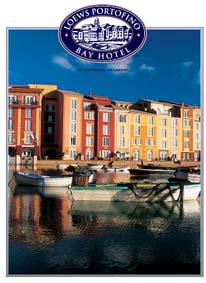 Celebrate la dolce vita…the sweet life…at Loews Portofino Bay Hotel, located on-site at Universal Orlando
®
Resort. Nestled along a picturesque bay, this luxurious hotel recreates the charm and romance of the sunny seaside village of Portofino, Italy, right down to the cobblestone streets and outdoor cafés. We will rejuvenate you with VIP treatment. Guests enjoy stylish, spacious guest rooms featuring authentic Italian furnishing, plus impeccable and attentive service.
Garden View Rooms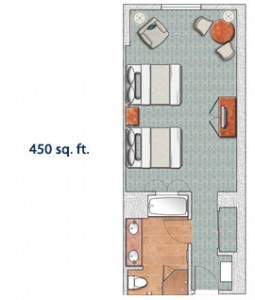 Relax in comfort in one of our standard Garden View rooms, each offering a lovely vista of the meticulously manicured and landscaped grounds. Every guest room features marble accents and elegant furnishings from Italy. Garden View rooms come with either a king bed or two queen beds, and offer plenty of room to luxuriate at a spacious 450 square feet.
Bay View Rooms
Open your window shades and find yourself in the heart of the Italian Riviera. Bay View rooms overlook the hotel's scenic Portofino Bay and picturesque harbor piazza. Every morning you can look out and watch the sun glittering off the sparkling water and its fleet of colorful fishing boats. Like the standard Garden View rooms, our Bay View rooms are 450 square feet, and give you a choice of a king or two queen beds.