Why book your Universal Studios Orlando Vacation with us?
In addition to being travel agents, our team is made up of some past Orlando area theme park employees, Mom's and Dad's and agents that love Orlando. We have worked, lived, and played, all around Orlando Florida. We are happy to share our Universal Studios Theme Park knowledge with you and plan the perfect Universal Studios Orlando Vacation for you.
We never charge a fee for our services.
What does it cost to work with Universal Family Vacations?
Our services are FREE.  There are no hidden fees, and we work with you to find the perfect Universal Studio Resort vacation for you and your family.
Our Advantages
We know Universal Studios
Our Services are FREE
Stress Free Vacation Planning
Save Time & Money on your Universal vacation
Our Story
Lisa and Steve, the owners, both worked for the Walt Disney Company and have worked, lived, and have played all around Orlando.
Pixie Vacations was started several years ago to share Disney Vacation planning tips and savings with everyone and soon after guests wanted to also experience Universal Studios and other Orlando area resorts and attractions.  So Universal Family Vacations was created to help guests wanting to stay at Universal Studios Orlando.
Your Universal Family Vacations Agents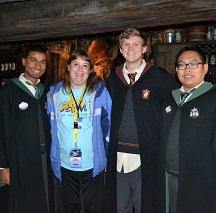 Kristin
Hi! My name is Kristin Zarchan.
I am a mom to three children, Breanna (18), Tyler (13) and Hayley (11) who loves to take my family with me as I travel to Universal Orlando. As a special needs specialists, I am able to navigate the parks with my special needs son without worry.
I love to take photos of my travel. My Pixie facebook page will immerse you into the theme parks of Universal Studios and the Islands of Adventure through photos so you know what to expect when you arrive. All of the Universal Orlando hotels are featured in each of their own albums from the bathroom layout to the spacious bedrooms.
As a mom to a special needs child, I also specialize in guiding special needs guests through the ins and outs of accessibility within the theme parks. I can help with special dietary needs, navigating a wheelchair on rides and more.
I would love to share my Universal Orlando travel insights with you. Yearly onsite trainings and family vacations to Universal Orlando help me stay up to date with the newest happenings in the three parks. Just select my name on the quote form and I will help plan your Universal Orlando vacation with a free quote.
Chris
Chris "Sharpie" Sharps
I have been an agent with Pixie Vacations for over 10 years.
I am an adopted dad to three amazing boys, DisNerd, MouseChatter (mousechat.net podcast) and lover of all theme and amusement parks.
I am a Disney Vacation Club member, and frequent visitor to the Orlando area. I have been to Walt Disney World, Disneyland, and have sailed many times with Disney Cruise Line. In between Disney Vacations – I'm always planning my next adventure. I am an avid artistic photographer, a total "Jeopardy head" with his specialty being Disney, all things Mr. Potato Head, and Disney/Pixar!
Many think Disney is just for kids, but that cannot be further from the truth. With world class dining, shopping and entertainment, there is plenty to do for any member of your family. Another common misconception is that Disney Vacations are very expensive. As a Pixie agent, I am committed to planning a vacation that is both magical and affordable for you and your family! I am excited to assist you in planning your vacation – let's get started! Where would you like to go?
To Infinity – or Beyond???
—

Chris 'Sharpie' Sharps
304.657.0409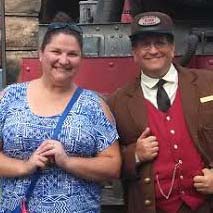 Donna
Hello! My name is Donna, and I would be happy to serve as your vacation specialist for Universal Orlando.
My husband and I moved from the Philadelphia area to just outside Orlando in July 2013, and since then have visited Universal Orlando countless times with our Premium Annual Passes.  Before our big move we visited Universal Orlando twice, and actually had the opportunity to experience one on-site hotel and one off property hotel.  I would be happy to share my experiences with you as we work to plan the best vacation on your budget.
I believe that good dining makes a fantastic vacation complete.  I will gladly suggest dining locations (like the can't miss Three Broomsticks!) that will be both fun and cost effective for your family.  We can talk about the Express Passes and Dining Plan Options, as well as many other ins and outs of a Universal Orlando Vacation.  And now, as a certified Universal Parks and Resorts Specialist, I have gained even more knowledge to provide you with additional tips and tricks for an amazing vacation experience.
To contact me, either select my name in the "Get a Quote" form, or e-mail me at donna@pixievacations.com.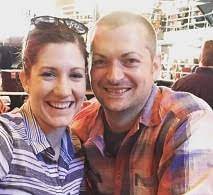 Shawn Janofski
Hi! My name is Shawn and I look forward to being your Universal Orlando Resort Specialist.
Walt Disney World and Universal Orlando Resort are my absolute favorite destinations to help my clients plan for and I would love to lend my expertise in making your MAGICAL vacation a reality.
My excitement of Universal Studios comes from a passion for the incredible story-telling and all-encompassing lands that Universal Studios has meticulously curated inside their parks. As Dr. John Hammond might say they "spared no expense".
From experiencing an up-close encounter with a Velociraptor to making a daring escape from a fire-breathing dragon in Gringott's Bank, Universal Orlando Resort truly is an EPIC adventure for guests of all ages and I can't wait to speak with you and get the planning started!
Contact me today at: Shawn@PixieVacations.com