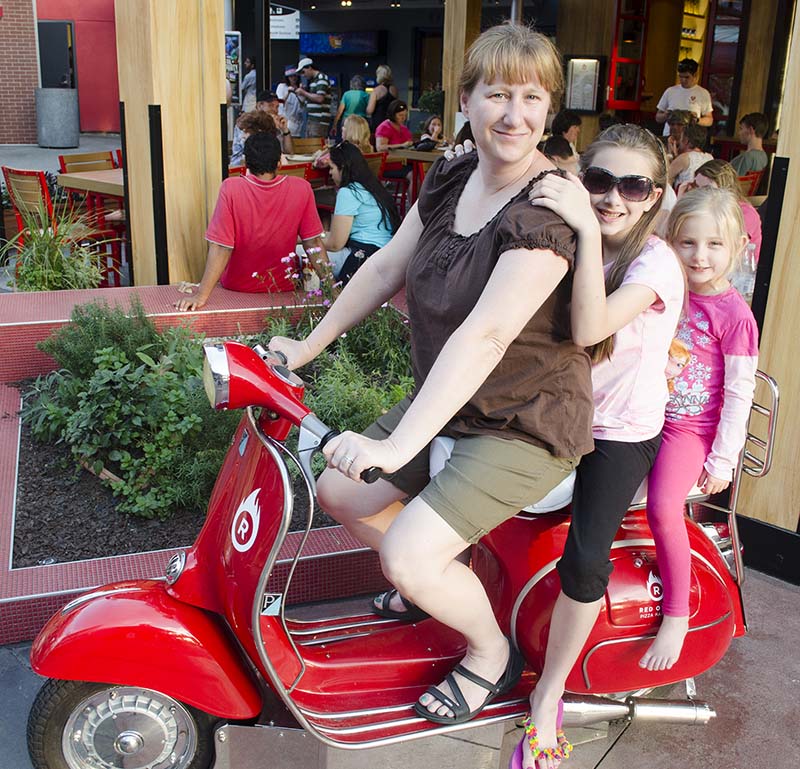 My name is Steve Griswold, I'm the one taking the photo, and my wife Lisa and I have over ten years of "Hands On" Disney experience between us.
Lisa worked at the Disney Parks. She had many roles but one of her main roles was working at Disney's Guest Services Information Booth. So day after day she would answer any and all Disney guest's questions to make their day magical, and making her an expert in all things Disney. You know when you use to be able to get your name "Hand Sewn" on a set of Mickey Ears on Main Street? That was Lisa sewing names on Mickey Ear Hats and getting an extra ten cents an hour for her unique skill. I worked at the Disney Resorts and worked at the Front Desk at Disney's flagship resort, Disney's Grand Floridian Resort, as well as a Disney Convention Coordinator at the Grand Floridian too.
Together we have worked, lived and have played all over the Orlando area. We have an amazing understanding of Disney and Universal Parks and Resorts and that amounts to savings in time and money for you.
Concierge Level of Service
We want to plan and book the best Vacation you have ever had. We are not a call center; we are your agent and we work for you. Our goal is to plan the best family vacation, especially for you, at the lowest possible price. You will get your own Vacations agent, and we work one-on-one with you to plan your trip. Our concierge level of service is free.  We can help you plan special extra activities and also know about fun free things to do at Universal Studios Orlando Resort and all around the Orlando area. This is a great luxury to have.  Again, we are not a call center that is pressured to get you on and off the phone as quickly as possible.
A History of Orlando Knowledge equals Universal savings
We are a US based Mom and Pop company run by a family that worked at Walt Disney World for many years in Parks and Resorts.  We have been to all the Orlando area parks and resorts more times than we can count, during all seasons, day and night.   We have been to the parks and resorts when we were kids, as college students, and as a family now with our kids.   We have eaten at the resorts and park restaurants, we have been behind the scenes and we have possibly checked you in or given you park information from the Magic Kingdom information booth during one of your past trips. We know the best way to get from the Orlando International Airport to Universal Studios Florida.
We would love to help you plan your perfect Orlando Vacation. One of our vacation planners will work directly with you to create the perfect vacation just for you.
Best,
Steve & Lisa and the vacation planners at Universal Family Vacations
Also please contact us for Disney Vacations at www.PixieVacations.com
&
Cruise Vacations, All Inclusive Vacations, Group Travel and Events and Honeymoon Vacations.
Phone: 678-815-1584