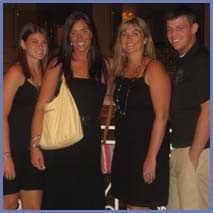 Hi, I'm Anthony!
Having grown up in the North East, one of my family's favorite vacation destinations has been Walt Disney World. I've visited the most magical place on Earth more than 27 times and have stayed in a number of Value, Moderate and Deluxe resorts. Coming from a large Italian family, one of our favorite past times is getting together for great conversation over amazing dinners. This tradition has allowed me to dine in a large number of Walt Disney World restaurants over the years. With 23 years of Disney experience, I have the knowledge and tips that will help make your next Disney vacation a magical experience!
In addition to my many vacations to Walt Disney World, I have also enjoyed cruising through the Bahamas aboard the Disney Cruise Line. Whether you're planning to visit Walt Disney World, Disneyland or a trip aboard the Disney Cruise Line, I'm here to help plan your trip with the following FREE services:
-Ensuring the most economical vacation package for your family's needs
-Knowledgeable assistance in choosing Resorts, Restaurants and more!
-Planning a full itinerary for your entire trip
-Booking advanced dining reservations
-Providing the most up-to-date Disney deals by adjusting your reservation automatically to get the best price!
-Providing the best service possible without any fees.
Having stayed in almost all Walt Disney World resorts and dining in a large number of Walt Disney World restaurants, I am able to answer almost any question you may have regarding each. I'm also a proud graduate of the College of Disney Knowledge! Please feel free to contact me for a FREE, no obligation quote, or if you just have a few questions about how to make the most of your next Disney vacation!
See ya real soon!
Please select my name on the quote form when requesting a Disney vacation quote.
Anthony