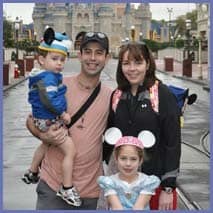 Hi, I'm Brandon.
I became hooked on Disney when I traveled to Walt Disney World as a sophomore in high school and dream of going back whenever I am away. Living in Central New York with our long, cold, snowy winters makes the desire to go back to Walt Disney World even greater. I have traveled with my parents, my college buddies and now travel with my family. Today, as a stay-at-home dad of two young children, I take pride in sharing my love of Disney with them. I never realized my favorite memories of Disney would not be mine any more, but my children's.
As a trained teacher, I apply my planning skills to help you plan your dream vacation. I will help you match up your vacation goals with the best of what Disney has to offer. I will be there to answer any of your questions, simple or complex. It is my job to make sure the planning of your vacation is hassle free and I do it free of charge to you.
I am an avid reader and more often than not it is about Disney. I try and devour most of what has been written about Walt Disney World. I enjoy doing it and I can apply it to your vacation.
Please feel free to contact me for a FREE, no obligation quote, or if you just have a few questions about how to make the most of your next Disney vacation!
Please select my name on the quote form when requesting a Disney vacation quote.