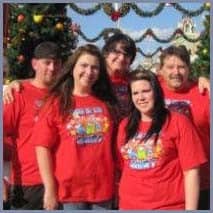 Hi! My name is Brenda and I would absolutely love the opportunity to help you plan your Disney vacation. I have been a huge Disney fan since my first visit to Walt Disney World as a teenager. I always dreamed of growing my family Disney and since 2000, we have been doing just that.
I have visited WDW with little ones, teens, and young adults – and they are all my kids – in the different stages of their lives. When we first began our annual trips, my children were 6, 9 and 14. They are now 18, 20 and 26, so as you can see I have been planning multi-faceted trips for many years. I have also visited with parents, siblings, nephews and friends and have planned all our trips, giving me a wide knowledge-base of all things Disney.
I would love to be able to help all kinds of families at every stage of their lives plan a
wonderful, magical Disney vacation. I will take care of everything for you and make
everything so seemless you will just need to pack up and show up. I will take care of your
dining reservations, build a great itinerary for your family, monitor any new deals and
apply them immediately to your reservation, check you in online and help in any other
way necessary to make your trip as magical and memorable as possible.
I wish more than anything that I could have met Walt Disney and I consider myself to
be a student of Walt. In parallel to his dream, it is my sincere wish that everyone would
take at least one Disney trip in order to share in its magic with their families. I love
helping others to plan their Disney family vacations and my services are completely
FREE, so please let me help you plan yours.
Please select my name on the quote form when requesting a Disney vacation quote.
Client Testimonials:
Campbell Family – Brenda was key in making our vacation happen.  She gave us multiple quotes for Disney packages at our request and once we picked one she was quick to get everything booked and reserved from hopper passes to dinner reservations.  She gave us plenty of noteworthy information about the park as well as some of her own personal material such as a packing list that was very helpful.  While at the park, she even checking in with us to make sure everything was going as planned.  The trip turned out great and superb planning made it even better.   When we go back we'll definitely be using Brenda again.
Broussard Family – Brenda was very helpful! I've planned two other Disney vacations on my
own, and this opportunity came up with a much shorter notice than our past
vacations. Feeling the stress of trying to schedule character meals and book
a hotel room in a short period of time, we reached out to Brenda for help.
She was fantastic! She got us the hotel and meals we wanted with no hassle
to us, and even suggested extras that I did not know were available. She
arranged for a birthday cake to be delivered to our room for my husband's
birthday – he was so surprised! She also provided a customized travel packet
full of great information and even a little surprise for our daughter! We
have recommended Brenda to several of our friends and will certainly use
her again in the future!