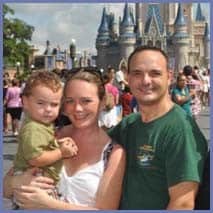 Hi, I'm Bridget! I am so excited to help you plan your vacation to your Disney destination!
My Disney passion began when I was 2 years old with my first trip to the Walt Disney World Resort
in 1979; from that year on, our family, made annual trips to the vacation kingdom. Of course, being
the Disney lover that I was, in college, I applied and was accepted into the Walt Disney World College
Program in 1998. That summer, I finally earned my dream of cast member status as an attractions hostess
on the "Living with the Land" boat ride in EPCOT's Land Pavilion. Following that memorable summer,
I made several trips back with friends and family, for Disney weddings, celebrations and just plain Disney
fun!
My husband and I married in 2005 and have made several visits of our own. I successfully turned him into
a Disney fanatic and typically on the plane ride back to Pennsylvania, he will ask, "When can we go back?"
Our most recent trip was our 2 year old son's first trip. This was one of the most memorable trips I have
made and I will never forget the look of wonder and enchantment on his face when he first saw the lights
of the Main Street Electrical Parade, a parade that I grew up with and now was able to share with my own
child. That moment STILL makes me smile. We are now creating our own Disney family memories!
To date, I have made 27 trips (and still counting!) to the Walt Disney World Resort, including my summer
as a Walt Disney World cast member. I have stayed at and visited several of the Walt Disney World resorts
and dined at a multitude of their restaurants. I have traveled with and without children (just my husband
and I), grandparents and great-grandparents, as well as in a large group. I have helped several of my
friends and my family members plan their own magical experiences to Walt Disney World. I am also a
proud graduate of the Disney College of Knowledge!
As your agent, I will help you plan your Disney vacation for any budget from start to finish, by planning
your vacation package, dining, special events and itinerary. I am here to make your Disney vacation a
dream come true for you and your family.
I can't wait to help you create your own family memories to cherish! With my tricks and tips from my
Disney experiences, I will help to make your Disney vacation a most memorable and magical one. Let's
get started!
Please select my name on the quote form when requesting a Disney vacation quote.
Client Testimonials:
Whalen Family –  Bridget was able to offer us a quote and advice on where to stay at Disney. She helped us book our vacation on short notice, securing a special offer we had received, and booked everything for us!  It was a surprise to us that we were booked on the Conceirge level during our stay and we were thrilled to have the extra attention to detail for our special trip. Bridget was able to make recommendations for restaurants, offered a detailed and comprehensive packet of info for us, and made our stay completely hassle free.