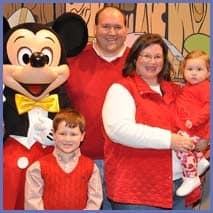 Hi!  I'm Chad.
I have traveled to Disney many times and would consider myself a seasoned tourist for both Orlando and the Disney Parks.  I have 4 young children that my wife and I love taking to Disney (7 year old twins, 4 year old and a 2 year old).  I feel like I can give vacationers looking to book a trip to Disney, a family perspective and help them make decisions about where to stay, eat and play!  I first went to Disney with my wife and then 3 year old twins and my wife's parents in 2007.  I knew then that I was hooked on all things Disney.
Since our first trip we became season pass holders. We have been with large parties (my parents, brother, sister in law and their 2 teenage children and ours) and in October my wife and I are taking our 10th anniversary trip!   We have done the quick serve dining plan as well as the dining plan plus and the deluxe dining plan.  I can explain first hand the difference between the 3 choices and help you decide what will work best for your vacation!
We have always loved planning each trip down to every last detail.  I have done many of the extras like Mickey's Not So Scary Halloween Party so I have that background knowledge that I can share with you.  I also have a LOVE for all things and places Disney.  I have knowledge about the parks and can help you plan your trip with young kids (we took our 4 month old daughter), with teenagers, and with older adults too!
When you book a trip with me through Pixie Vacations you get the benefit of No fees!!  You never pay any fees with Pixie Vacations! Our services are completely FREE!!  I can also help you with your  Advanced Dining Reservations!  Meal planning and dining reservations are included with the Pixie Vacation services.  You decide what you want to eat and I'll help you make the reservations!  I've eaten at many of the restaurants and am more than happy to make suggestions.
I will also monitor your reservation.  If any new Disney discounts come up that decrease your cost I will apply them. I will notify you of the new cost of your vacation package!  I will also prepare an itinerary for your vacation.  All you will have to do is have Fun and enjoy your vacation!
If you are thinking about a Disney vacation at any of the Disney Properties or on a Disney Cruise, Please contact me for information and a Disney free quote!!
4/07; 4/09-Swan; 7/09- All Star Movies; 10/09; 11/09- Downtown Disney Hotel;  2/10- Port Orleans Riverside; 7/10- Wilderness Lodge; 10/11- Contemporary
Client Testimonials:
Fowler Family – We had pretty much decided on our vacation this past time, but he just helped us book it.  There was a certain restaurant we wanted, but they had told us it was booked.  Our agent checked daily to see if anything had come available.  That did not happen, but he gave us a glowing recommendation on another restaurant that we had never considered and we had a delicious meal for Thanksgiving.  He checked with us during our trip to make sure everything was going well and I even mentioned to him at that point that we wanted to plan another trip.  When we returned home I spoke with Chad about planning a trip for my parents 70th birthday.  We have a few years, but I want it to be very nice.  We had thought about staying at the Polynesian.  He said he would get quotes for me on that, but he had a idea he wanted to mention to me.  He knew from previous conversations that our family wanted to go to Paris.  He suggested that we might want to go to Paris Disney as something new and special for this occasion.  It had never occurred to me to go there, but I thought it was a wonderful idea.  He is getting me quotes on both of those things.  In the future we will always book our trips with Chad Walker.