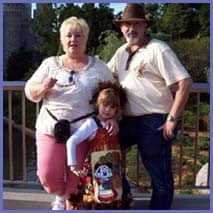 Hello…my name is Cherise Elder.
My husband, Todd and I have 3 children, Jason, Derek & Lily Grace (our very own resident Disney princess) and we love all things Disney.
When Walt Disney World opened in 1971 I was 13 years old and even though I was thrilled to be going on vacation, I figured a trip to Disney World was more for my 3 year old sister than for me anyway.  Boy…was I wrong.  I was hooked from that point on.  In fact, when I married Todd (and his two small boys) the first thing we did was take them to Disney World….I wanted the boys to have everything I had experienced as a child and more…so naturally that started with the magic that is Disney.  We ended up going with our entire extended family and it was a wonderful experience for all ages as well as a great way to get the family altogether.  I've traveled to many destinations all over the globe in my life, but always prefer the fantasy that waits for me every time I book a vacation to a Disney destination.
When I'm on a Disney vacation, I can throw caution to the wind and never feel too old to enjoy the magic that waits for all ages around every corner.  Sometimes, when the kids are riding something or we're tired and need a rest, I just sit and watch the people go by…I love seeing how happy they are and how everything seems right with the world inside those magical gates.  I think that's what continues to pull me back time and time again.  No matter what time or year you go, there's always something new to experience and we never run out of things to see and do…..plus always going back for our favorites.
I'd LOVE to help you plan the vacation that every family deserves….from Walt's first dream in Disney Land to the all encapsulating Walt Disney World to sailing away on the high seas to exotic ports of call.  There's literally something for everyone with a Disney vacation and more being added all the time.  Just choose my name and we'll get you started on YOUR "magical" adventure.