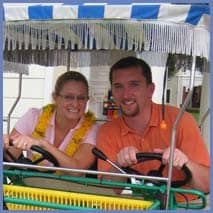 Jambo, everyone! My name is Chris and I will be leading you in the adventure of booking your very own Disney trip. Whether it is Walt Disney World, Disneyland, Disney Cruise Line, or Adventures by Disney, I am eager to help. While on this adventure I will be available to help you in the following ways:
Choose the right resort and tickets for your trip
Choose the best package to save you money
Create a custom itinerary just for you
Book all Advanced Dining Reservations
Monitor your reservation and apply promos or discounts that become available
Provide tips and tricks that I have learned over the years
Even if you have already booked your trip I can still help with the things listed above
Now, you may be asking yourself, what makes me qualified to be your guide in this exciting adventure? Since we are going to be on this adventure together, I should tell you a little bit about me:
I am a College of Disney Knowledge graduate and an annual pass holder since '09.
My wife and I love Disney so much that we honeymooned at Walt Disney World!
We have participated in the seasonal events like Mickey's Not So Scary Halloween Party, Epcot's Food and Wine Festival, Epcot's Flower and Garden Festival, and Mickey's Very Merry Christmas Party.
Spending time doing activities outside of the parks are musts for us. Racing Sea Raycers, Trail-riding at Tri-Circle D Ranch, enjoying a sunset carriage ride at Port Orleans, and having a friendly game of mini-golf at Winter Summerland are a few of our favorites.
While we are in the parks we like to search for hidden Mickeys, trade for pins, and find the best places to get pictures with our favorite characters.
One last thing, I am not a fan of termite stew!
As we embark on this journey, here are a couple more things that I think you should know:
You can request a no obligation quote today!
I provide free booking! There are no fees!
Kwaherini! Welcome aboard! Please select my name on the quote form when requesting a Disney vacation quote.
Client Testimonials:
Cox Family – Chris covered all basis, he asked about a stroller for my 2 year old, planned meals and had reservations and confirmation numbers. One of the best things that Chris provided was tips and secrets about the parks. I found and seen things I might not have if it were not for those. He set up a schedule for us so we did not worry about anything. He let us know when the best times to go to each park, how to get and use fast passes, how to catch our busses, rides that might interest my kids, explained our meal plan, and told us how to get around the resort and much more that I know I have missed. Your company is very lucky to have such a well versed and knowledgeable employee. I will let anyone who is interested in going to Disney know about Chris and Pixie Vacations. Chris even got my kids interested in pin trading in which they really enjoyed and have shared with many friends.