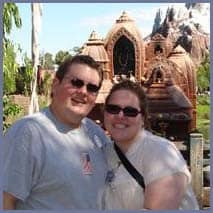 We are so excited to be part of the Pixie Vacations team!
While each of us had spent family vacation time at Disney as children, it was our Honeymoon trip to the Walt Disney World Resort that reignited our love for all things Disney. By the end of 2010, we will have stayed at 8 of the 21 Walt Disney World Resort Hotels, taken 2 cruises with Disney Cruise Line, and made plans for our first Disneyland trip and out first Alaskan Cruise both in 2011.
We are Disney Vacation Club members and Premium Annual Passholders. In between our Disney Vacations – we plan our next vacation, we blog, read message boards, and research all things Disney. Chris is known as an avid artistic photographer, a bit of a "Jeopardy head" with his specialty being Disney, all things Mr. Potato Head, and Disney/Pixar! Jessie is known as a lover of princesses, fairytales, and all things polka dotted!
Many think that Disney is just for kids, but that cannot be further from the truth. With world class dining, shopping and entertainment, there is plenty to do for any member of your family. Another common misconception is that Disney Vacations are very expensive. As Pixie agents, we are committed to planning a vacation that is both magical and affordable for you and your family!
While we do not have any children of our own, we have enjoyed several family vacations and are experts on how to make the most of your time in 'the World' – and beyond! We have traveled to and from Disney via train, car and air, so you can trust us as your full service Disney vacation planners.
We are excited to assist you in planning your vacation – let's get started! Where would you like to go? To Infinity – or Beyond???
Please select my name on the quote form when requesting a Disney vacation quote.