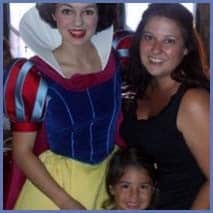 Hi, I'm Christy!
If you were to ask me to describe why I love Disney vacations I would tell you that I truly can't imagine another place where I feel like nothing in the world can go wrong. Disney's level of customer service is unmatched and I always feel like I'm always their number one priority when I am there.
This is the same feeling I want to share with you. I want you to relax knowing that I am here to find you a dream vacation.  I want to assure you that I will put my knowledge of Disney's resorts, dining and theme parks to work and create a vacation that makes YOU my top priority. As a graduate from Disney's College of Knowledge; I will combine my passion and knowledge of Disney to build you a trip filled with magical memories. From finding the perfect accommodations for your travel party, making unique and special dining reservations to securing special event tickets; I am here every step of the way.
Some of the fun (and free) services I provide are:
*Daily itineraries of the parks to help you navigate your way through parades, show times and special fireworks.
*Continuous monitoring of your vacation to assure you get the best package possible.
*Magic Tips: Little gems of knowledge I have obtained over the years such as fun (and free) Disney extras; best transportation options to save you time and money and which attractions are a MUST do/see!
For years; I have helped shape the vacations of my family and friends simply because it brings me so much happiness knowing I am helping another experience the wonder and joy that is Disney. I am now working with Pixie Vacations in the hopes of reaching more people to continue sharing the "happiest place in the world."  ALL my services are FREE. You will save time and peace of mind knowing that I am doing what I do simply because I want you to come to love Disney as much as I do.
Please drop me an e-mail or call me at time and with any questions. I will respond to any inquiry you have and will enjoy spreading the Disney magic with you!
Please select my name on the quote form when requesting a Disney vacation quote.