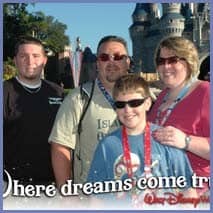 My name is Dawn Sethman and I live in Indianapolis, IN. I have been married to my
wonderful husband Greg for over 20 years. I have traveled to Walt Disney World well
over a dozen times. I went numerous times as a child, but really gained an appreciation
for the Disney Magic when we took our oldest son, Jonathan, for the first time in 1997.
We traveled to other places in between even cruised a little but we decided in 2006 it
was time to go back to the Happiest Place on Earth!!! This trip was the first for Nick,
our youngest. Upon our return, I must have went on and on about how much fun we had
because before I knew it my entire family of 12 was planning a trip for the following
year! That is when the "planning bug" bit!!! I absolutely LOVE planning trips for
families. We are leaving in November for our 4th Grand Gathering in 5 years!
My clients depend on me to keep up with the latest information and happenings at Disney
and it is absolutely my pleasure to do just that. It is my goal to give them the BEST
vacation possible!
I'm happy to take care of all of your dining and entertainment reservations, itinerary
planning (so you can avoid those "what are we doing next" moments) as well as
monitoring your reservation for possible discounts that would save you money! I love
to help a client with a discount that might enable them to stay longer, upgrade to deluxe
or maybe even start saving for their next trip! I have a keen appreciation of what it takes
financially to be able to swing a vacation. I want all of my clients to come home with
incredible memories that they want to repeat year after year!
I hope you will let me be a part of making Magical Memories for your family!
Please select my name on the quote form when requesting a Disney vacation quote.