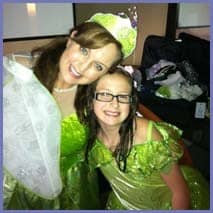 Hi!  My name is Debbie and my friends call me "Disney Debbie."  Let me do all the work in planning your magical vacation – it's free to you, and a lot of fun for me!
I grew up in Southern California and spent the majority of my childhood at Disneyland.  I loved every visit and have amazing memories of time with my parents and as I got older, my friends.  I was also lucky enough to have parents who enjoyed cruising and I have experienced almost every major cruise line.
After college, I moved to Georgia to go to law school.  That was the first time I went to Walt Disney World.  Having only known Disneyland, my mind was completely blown!   WOW!  You mean there is more than one park?  What's with all the buses?  Where is the Matterhorn??????
While we were dating, my now-husband and I had lovely vacations at WDW, and we spent our honeymoon there.  We now have 2 children, and we make sure we visit Disneyland and Walt Disney World at least two or three times a year.  We really enjoy Mickey's Not So Scary – it's the only time an adult can visit the park in a costume and the kids come away with buckets of candy!  I also love the magic of Mickey's Very Merry Christmas – the "snow" coming down, the hot chocolate and cookies….not to mention the amazing holiday decorations!
This year we had a great experience at Disney's Hilton Head Island Resort and Disney's Vero Beach Resort – the only two US Disney properties outside of Anaheim and Orlando.  They are amazing beach resorts the whole family will enjoy!
What I can offer you is my extensive knowledge of all things Disney – Walt Disney World, Disneyland, Disney Cruise Line and Adventures by Disney.  I enjoy taking the time to get to know each client and plan the perfect vacation with care.  Together we can plan a magical experience as simple or extravagant as you want it to be, all within your budget.  I know where to get the best deals, and I know where to get the best food!  Select me as your Disney Vacation Planner and I will make sure you have the best vacation of your life!
Please select my name on the quote form when requesting a Disney vacation quote.