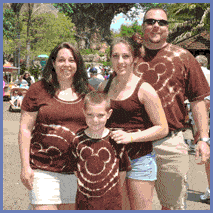 Hi, my name is Debbie and I have a love for all things Disney!  I would rather be at Disney World with my family than anywhere else in the world.  Since I can't be there all the time, I would love to sprinkle pixie dust on your Disney vacation and help you plan the best one ever!
My goal is to give each client a worry and hassle free experience from start to finish.   I am a graduate of the College of Disney Knowledge and have been to Disneyland CA and Disney World.  It was our first trip to Disney World in 2003 that got us hooked and we have been 6 times since!  My family and I have stayed at many different resorts and have eaten at most of the Disney restaurants.   Besides our love for the parks, the food at Disney is our passion!  I can share with you tips and opinions to help you decide on everything from the most amazing snacks found in the World, the best quick service and even the best signature restaurants!
So why do all the work yourself?  Whether this is your first visit or your 20th, let me help you make your vacation magical!  Our concierge level service is of no additional cost to you.   A Disney vacation can be enjoyed on any budget! I can help you choose the right resort, plan your itineraries, book your dining reservations and best of all, monitor your trip for any future discounts that come out and adjust your package to apply any savings!
Please select my name on the quote form when requesting a Disney vacation quote.
Client Testimonials:
Puckett Family – We had a wonderful time!  Thank you so much for all your help.  I will definitely refer you to others.  Without all your tips and itineraries, we would have been very frustrated.  It was a VERY crowded time (they closed Magic Kingdom and Epcot two different days while we were there because they were at capacity) and we did not have to wait in line more than 10 minutes for anything!!  Thank you, thank you, thank you for helping make our vacation such a wonderful memory!
Moser Family- Debbie Matullo was more than helpful! She was a great agent and had an answer to my every question. She customized our trip from the time we got off the plane until we were getting back on the plane. Every minute of the trip was accounted for and we were able to fit in everything we wanted to do. She was a great help and would not use anyone else as my agent.
Debbie assisted with our choice of hotel.  We found the hotel to be in an excellent location, with great facilities, rooms and excellent value for money.  She made special requests to our hotel which were all provided.  Debbie also offered to help us with transfers and car hire and provided quotes.  We chose not to use those services but appreciated the information.
Milacci Family – Debbie's knowledge was crucial to planning my vacation.  I had not been to Disney since a child and the whole process can be overwhelming if you don't have someone guiding you.  The park recommendations for the less crowded days was a big help along with the do's don'ts of the trip.  She was great in getting my dinner reservations booked and in general laying out my entire trip.  We are already thinking of going back in 2014 and will turn to Debbie and Pixie Vacations.