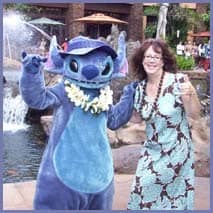 Where do your Disney Dreams take you?
Good Day! My name is Diane, I'm your personal
Disney Destination Planner
Ready to reconnect with your Family in a Safe, Exciting and Educational atmosphere?
I'm here to help. With so many Disney vacation options to choose from, let me assist your Family with the best Disney experience that will meet and exceed your expectations. The following complimentary services are available to you before and after your booking:
1. Research
2. Itinerary Planning
3. Preferred Dining 'Reservations
4. Special events
For added value, I provide Travel Assistance to other major attractions of interest before or after your Disney experience.
Follow my blog: "The Magical Adventures of Diane & Duffy" www.DianeandDuffy.blogspot.com
"Join Duffy the Bear and I as we visit Disneyland and California Adventure each week for magical Park and Resort updates."
Stay tuned for our review of Disney's Aulani Resort & Spa, coming in February 2012
As a Disney Vacation Club owner, our Family continues our passion and commitment to the Disney vacation experience whether we are vacationing in Walt Disney World, Disneyland, Cruising with Mickey and Minnie, Disney's Aulani Resort & Spa or all around the World with Adventures by Disney.
Advanced Graduate of Disney's College of Knowledge
Graduate of Disney's Cruise Line
"Discover Uncharted Magic"
Please select my name (Diane) on the quote form when requesting a Disney Vacation quote