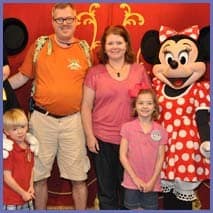 After our first trip to Disney with our children, the magic was in my blood. From the time we got back, I started planning our next trip to Disney World. Upon sharing our memories with our friends, I realized that many of them wanted to make the trip with their family, but found the planning process too overwhelming.
So, I offered to help. What a joy to help precious friends create magical memories. It's that same passion that I want to share with your family, and help you plan your next Disney trip. Whether your group includes a baby or the grandparents, or any combination of family and friends in between, I can help you plan a trip that will accommodate all of them.
Let me help you find the best deal, make a dining reservation with your little princess's favorite character, and set up a touring plan that will help you to minimize wait times and maximize fun.
The best part is, you don't pay anything extra for my services–it's on Disney. So if you're dreaming of Disney, you've got a friend in me. Choose my name,  Emily Roach, when you request a quote from Pixie Vacations. Or connect with me on Facebook at www.facebook.com/YDFER, by email at emily@pixievacations.com, or visit my blog at www.yourdisneyfriend.blogspot.com.