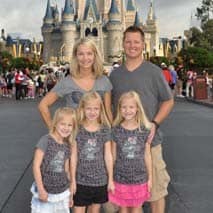 Hi, I am Jennifer Marie,
I'm a 34 year old wife and mother of three little girls.  Although I grew up on Disney movies and music, I never went to Disney World as a child because my parents always assumed they couldn't afford it.  When I had children of my own, I almost fell into that same assumption, but after a magical experience at Disney on Ice, I knew I had to look into it, and that night I started researching and never stopped.
What I found was that Disney actually has tons of options for every price range, and within a few months we were able to make it happen.  Seeing the place I'd been dreaming of my whole life was awesome, but seeing the castle and the "real Cinderella" through the eyes of my daughters, who were three and one at the time, was one of the best experiences of my life.  Not a day goes by that I don't think about those moments and smile…or sometimes cry since my girls are growing up so fast.
From that very first trip, my whole family was hooked, and I've been passionate about it ever since.  I literally start planning our next trip before we make it back home. Since I can't be there every day, I think the next best thing is helping someone I know get there, and now I'm so blessed to get to make that dream come true with Pixie Vacations.
*My service is 100% free and includes Disney itinerary planning and advice from the moment you call until you're at home making your scrapbook.
*Even after you make reservations, I will continue to watch discounts and see which one saves you the most money.  My goal is to make Disney World happen for you.
*I'm a real person who loves to talk Disney, so if friendly service is what you need, I can definitely help you.
*I can save you time by booking reservations for dining, tours, special events, Bibbidi Bobbidi Boutique, Pirate's League and more.  I also have extensive knowledge of Disney extras that you might not be aware of.
*Disney World is my favorite of course, but I can also help you with Disneyland, Disney Cruise Line, Aulani Resort in Hawaii, and Adventures by Disney.  It simply depends on which kind of magic you prefer.
*Traveling to and researching Disney World is my hobby, and I want to use my knowledge to help you plan the best vacation for your family.  Planning a trip to the happiest place on earth can be overwhelming, but with my help, we can figure out exactly the right options for you and make your stay as worry free as possible.
I hope you'll choose me on the Disney Vacation agent request form.