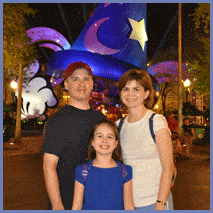 Hi! I'm Jim!
Our family has visited Disney Parks more than a dozen times, often traveling with friends and family.   We know first hand the lasting memories created during a Disney vacation.
Our Disney vacations have always exceeded our expectations.   No matter how many times we visit, there is always something new and exciting to see and experience.   While most of our vacations have been to Walt Disney World, we did have the opportunity to share a special Disneyland vacation with close friends and extended family.
There is nothing like a Disney vacation enjoyed from the comfort and convenience of a Disney Resort.   We love being fully immersed in the Disney experience and the high level of service they provide.   Having stayed at a variety of Disney Resorts, we have seen the benefits of staying "on site" and how each one enhanced our stay in different ways.  All of the Disney Resorts have something unique to offer their guests, and I will share our experiences with you.
Having planned all of our Disney vacations, as well as those of our friends and family, I decided it was time to make my role as vacation planner "official".   Now, I am available to work with you to plan a Disney vacation to create those new, special memories for you and your family and friends.  I will share with you tips that can only be learned by repeated visits to Disney Parks as well as information available to me as your travel professional.
When you allow me to help you plan and book your dream Disney vacation, you will receive the following:
* No fees!! – You never pay any fees with Pixie Vacations! Our services are all FREE when you book a vacations with me.
* Itinerary Planning – I will prepare a guide for your vacation that will insure you spend your time having fun! You can sit back and relax while I do the work for you!
* Advanced Dining Reservations – Meal planning and dining reservations are included with our services. Decide which dining experiences you want to have, and I'll take care of making the reservations. We have eaten at many of these restaurants and can help make suggestions for you.
* Discount Monitoring – Your reservation will be monitored daily for any new Disney discounts that might decrease your cost. If I find one, I will have it automatically applied to your reservation and will notify you of the new cost of your vacation package. Nothing changes but the price!
If you are thinking about a Disney vacation at Walt Disney World, Disneyland, a Disney Cruise on the open seas, or one of the many destinations offered by Adventures by Disney, let me help you take that first step. Contact me for more information and a free quote.
Let's get started creating a vacation that you will always remember!
Please select my name on the quote form when requesting a Disney vacation quote.