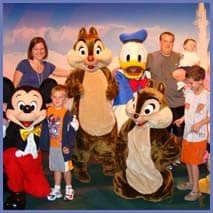 Hi, my name is Julie
I can't wait to assist you in planning YOUR Disney dreams!
To me Disney is the most exciting travel adventure.  I have traveled extensively with Disney and have found my love for Disney grows with each experience.  I have seen Disney as a child with wonder-filled eyes and watched the same wonder fill my own childrens' eyes.  I have traveled with babies, toddlers, preschoolers, elementary-aged children, teenagers, special-needs children, and seniors.  I am also experienced in planning Grand Gatherings involving parties of eight or more.
Let me do the planning so you can enjoy your vacation.  I will:
Match you with the Best vacation package for YOUR needs
Plan a daily itinerary so you don't miss any magical moment
Make your dining experience reservations
Apply promotions-even AFTER you have booked with me-to save your vacation dollars!
Supply you with the most up to date Disney info
The BEST part is you receive concierge-level services for FREE!
Please select my name on the quote form when requesting a Disney vacation quote.
Testimonials
Puffenbarger Family – Julie gave us some options (park or park + cruise) based on our budget.
We decided on a Disney park vacation only, but did get the family suite
and upgraded the dining plan. Julie assisted with arranging our flights and
several restaurant bookings on Disney. We were able to get Chef Mickey
and Princess lunch in Norway which we were very happy with. Julie must
have let the places know it had been my daughters birthday because on at
least 3 occasions, she was brought a birthday cupcake. We were provided
with an itinerary for our trip and several great tip sheets for each park. I
have recommended Julie to several other neighbors.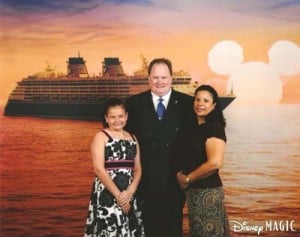 Heyboer family – We would like to thank Julie and Pixie Vacation, but mostly Julie for the great vacation we had on the Disney Magic. She was there with us from planning until the day we got back to welcome us home. She answered all our questions either via email or by phone and is an excellent travel agent in our opinion. Even when I had a little minor medical problem prior to the ship sailing and I told her after we got back, she told me that she would keep me in her thoughts. I think she is a very thoughtful and considerate person. She really cares about her clients not only because she is planning our vacation but because we are fellow human beings. I admire this quality above any other in a travel agency. Our family will not be using any other agency but your agency and we will not be using any other agent but Julie. Thank you, Julie for staying up with me in the late hours and booking our trip and getting our rooms where we wanted them and even our preferred seating time. It all fell into place. God Bless you.