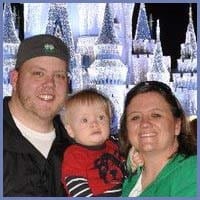 Hi! My name is Katie! I am a Disney fanatic! I have brought my enthusiasm for all
things Disney into my marriage. I talked my husband into going to Disney on our
honeymoon and every since then he has been as excited about all things Disney as
me.
We were married in 2007 and have been 3 times since then. My son, Brady is 21
months old and has been to Disney 2 times already. We have another son on the
way and plan on taking him and his older brother as many times as we can.
I love to plan out vacations so if you need help with itineraries and dining I'm the
person for the job. (I usually have our days and nights at Disney planned out weeks
before we leave).
I look forward to working with you to make your Dream vacation come true.
Please select my name on the quote form when requesting a Disney vacation quote.