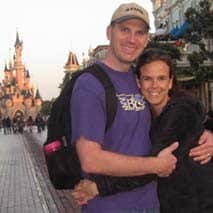 Hi, my name is Kourtney.  I am happily married to my  husband Joe.  We have three children, Kyler, Keagan, and Kameron (who are all crazy about Disney).  My love of Disney began when I was just a girl and has never faded; in fact, I would say it has gotten stronger.  My family loves Disney vacations more than any other (well except maybe my husband…I am still working on that).  We have been to Disney theme parks several times in both Orlando and Paris and certainly have developed many Disney family memories.  While I haven't stayed at all of the properties, I have visited most during my trips so I can provide a first-hand account of the sights and sounds Disney has to offer.
I would have to say my favorite part of a Disney vacation is seeing people experience it for the very first time.  I have enjoyed seeing the looks on the faces of my husband, my mother, my in-laws, each of my kids, and even the high school dance team I used to coach.
Each time I help plan a Disney vacation for a client, I provide many services (and even some personal touches) so there are no worries, other than to have FUN!
Please give me a call and I will help you plan an unforgettable Disney vacation!