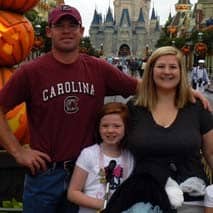 Hi, I'm Krissy!
My love for Disney was in evitable! I grew up in a "Disney" family with my mom at the center of it! Her love for Disney surrounded our home with her Disney prints, water globes, figurines, even a room painted red, yellow, and black to house many of her Disney memorabilia! My first trip to Disney World was at the age of 5. I don't remember everything about that trip but I do remember my brother and I saving our money and buying 4 foot tall Mickey and Minnie's! They were as tall as me and I could dress them in my own clothes! We were 2 happy campers in the back of the station wagon on the way home! From then on we made almost yearly trips to Disney World. I have traveled with just 2 of us and I have traveled with 20 of us! I even honeymooned in Disney World! I have been fortunate enough to stay at almost all of the Disney resorts multiple times and experience many of Disney's special events! I have even experienced Disneyland! But my love for Disney didn't really truly hit me until I had my first child! The look on my daughter's face when she saw characters and experienced rides was priceless! I now have three children, ages 10,6, and 2, and we go several times of year now! Each time is just as magical as the first!
Not only do I love going to Disney, but I love the planning aspect of the trip just as much!! I am a Disney College of Knowledge graduate and I am here to help you book your next magical vacation!
I am here to help you plan a vacation that meets your needs, wants, and budget. I will help you make dining reservations and help you plan an itinerary that suits your family! I will offer my tips and trades to make your vacation as hassle free as I can!
I will also monitor your vacation and apply any specials that are released for your vacation dates!
I look forward to helping you plan a magical vacation that you will never forget!