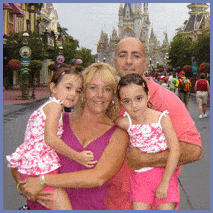 Hi! I'm Lauren!!
The first time that I went to Disney World I was 5 months old. Disney World had just opened that month. I then went on to go to Disney World 30 plus times. Growing up my parents owned a Travel Agency and I was fortunate enough to go Disney World pretty much every year for the first 18 years of my life. I completely fell in love with Disney. I then continued my trend throughout my adult life and always loved every experience each and every time. My husband and I have twin 8 year old girls who have been to Disney World 7 times in 8 years. I have definitely created a love for all things Disney for them as well.
We always stay on Disney property when we travel there and because of this we have been able to experience all the different types of resorts from the value resorts to moderate to deluxe. I believe that Disney is truly an experience and if planned right will keep your family wanting to come back for more and more each time. I can help you plan your vacation no matter what your budget is, so that you can get the most out of your Disney experience.
I would love to help you create a Disney vacation that you will always remember and I can add all the details that you might otherwise miss. Here is the best part, our services are FREE…it does not cost you a penny more than if you booked it on your own.
Some of the many ways that I can assist you are:
• Helping in planning your itinerary for your vacation so that you can have a hassle free experience.
• All your meal planning and reservations are included with our concierge service. Decide which dining experience you want to have, and then I will take care of the rest! I have eaten in nearly every Disney restaurant, so I can point you in the right direction and help with suggestions for any vacation style.
• I have also planned grand gatherings for large groups so if you are a party of 8 or more I can direct you to some special experiences and the best way to proceed with a large group.
• I will also monitor your reservation daily for any new Disney discounts that might reduce your cost. If I find one, I will notify you and have it automatically applied to your reservation, so that your care-free vacation can start at the beginning, with the planning!!!
Why not start your vacation off right and let me handle all of your Disney vacation needs so that you can just sit back and relax while I do all of the work for you. I would welcome the opportunity to assist you in planning your next Disney "Dream" Vacation.
Even if you have already booked your Disney vacation I can still assist with you all the details.
Please select my name on the quote form when requesting a Disney vacation quote.
Client Testimonials:
Susan Dominguez Pitlak – Lauren is the best vacation planner ever, all I did was give her dates and she planned everything, our vacation rocked, was totally stress free, Thanks Lauren for everything.
Glickman family – Lauren helped me plan the first leg of a longer trip that began in WDW. She understood
the need for, and provided assistance in, maximizing both money and time being that
this was only the beginning of the trip. She didn't pressure or try to convince me to stay
in a more luxurious Disney property (although if it were the only leg of the trip, we most
certainly would've done this) and went right ahead and booked us in the value level.
She tried to save me money at every turn. Her knowledge of the parks and tips about
when to go to which park and how to best use the Fast Pass system were amazing. If
anything, the amount of insider information Lauren provided was a bit overwhelming,
and I'm not sure I was able to absorb all of it. Several times I looked up the documents
she sent me on my phone to access the information on unique sights and shortcuts.
I also really enjoyed her tip about making sure to ask for a "birthday"
button—I felt like a celebrity every time a cast member or other complete stranger
wished me a happy birthday by name.
Lauren got us started on a trip that was great from start to finish—we took a bit of the
Disney magic on with to our second destination. Thanks, Lauren!!!