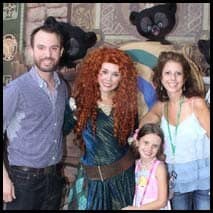 Hello…my name is Lynne Marie.
I have two children, Kevin Age 23 and Kayla Age 8 who are my young prince and little princess.
I am fortunate to have visited Disney World soon after it opened in 1971. I have been a huge fan and repeat visitor ever since. I was so inspired by Walt Disney that I dressed up as him for a 3rd Grade Oral Biography project. I couldn't think of anyone else who touched the world and brought stories, fantasy and culture alive in as magical a way as he did. When I was a child, my family visited Disney every other year. I wanted to share that priceless experience with my children. Now, our love of Disney has grown to the point that we vacation there at least twice a year, and have had two family reunions there. In addition, I have traveled to Disneyland California with my daughter, and Disneyland Paris, with my son.
My travel experience includes Hawaii (The Big Island, Oahu & Maui), Puerto Rico, Mexico, Haiti, Jamaica, Canada (Montreal, Quebec, Nova Scotia & Cape Breton), Ireland/Northern Island, England, Scotland, Spain, France, Monaco, Italy, Greece, Holland, Belgium  and various destinations in the Continental United States through independent traveling, guided tours and cruises. Even with all the wonderful places I've experienced, I still love the culture and magic that Disney provides best.
I would be pleased to be able to share my insights and passion for Disney with others and help make their vacation dreams come true. Just choose my name and I'll help you get ready to take off on a magical flight of fantasy with Disney.Please select my name on the quote form when requesting a
Disney vacation quote
.