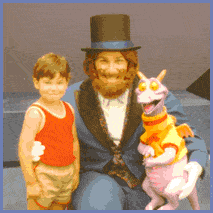 Hi, my name's Matt, and I'm addicted to Disney!
Born and raised in Rhode Island, I became a lifelong fan of Walt Disney World on my first visit in 1982 at age 4. The rest as they say is 'history', as a number of subsequent visits to the World only strengthened my desire to be there as often as possible!  One of the most memorable of these visits was popping 'the question' to my then-future wife Courtney over the Sassagoula River at Port Orleans: Riverside in 2004. There could have been no better setting than within Disney, where we both felt most at home away from our 'real' home. Our love for everything Disney is apparent in the pins and posters adorning our walls to the books that line our shelves to the music that we enjoy while working or relaxing.  I feel that this love feeds the knowledge that will help me make your next Disney vacation absolutely perfect!
Upon the arrival of our son, Braelon, in July 2008, we were certain that another Disney fan was ready to be groomed.  His first visit to Disney was at 11 months old, crossing the country to the Disneyland Resort in Anaheim.  The look in his eyes and the reaction to the attractions and characters was one we will never forget.  Only 3 months later, Braelon and family visited Walt Disney World Resort for the first time, where he got his very first haircut at the Main Street Barber Shop!
My occupation as a chiropractor naturally keeps me in a 'helping people' state of mind, and that's just what I'd like to offer you as you plan your next magical Disney vacation.  Providing you with professional service, unsurpassed expertise and a variety of choices when it comes to resorts, dining, or any other special moment during your vacation will be my commitment to you, from the moment you begin the planning process to the time you set foot back home after your trip…and beyond!
A Disney vacation planned through Pixie Vacations will give you access to not only the expertise of Disney fans who have worked in the parks and have the knowledge gained from many past visits, but also that special something that will make your visit, whether it's your first or your 50th, something to cherish.  You'll never pay a fee for our service, which includes everything from resort, flight and dining reservations to park itinerary and special event coordination.
Whether you're looking to visit the Walt Disney World Resort, Disneyland, cruise on Disney Cruise Lines, or see the world with Adventures by Disney, Pixie Vacations will ensure that you are immersed in everything Disney even before you step foot in the parks!
Please select my name on the quote form when requesting a Disney vacation quote.