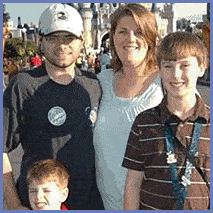 My name is Matthew and, I admit it: I am a Disney fanatic.
My first trip to Disney World was when I was 4 years old and we stayed at the Polynesian Resort. During a trip in 6th grade, I decided that I wanted to one day work at Disney World and in 1995, my dream came true. I was selected to join other students for the College Program, spending a summer at the Grand Floridian in Bell Services. Now, I have spread the fanaticism down to my children (much to my wife's chagrin) and we are always on the look-out for the next opportunity to go to Disney World.
So, how can I help you out?
Being a former cast member, I can give some inside knowledge and tips about Walt Disney World. Also, I can help you with the following FREE services:
* Itinerary planning to save you time and get the most out of your vacation
* Disney Dining reservations
* Reservation monitoring to find you discounts should they become available even AFTER you book your reservation.
Planning a Disney vacation is a wonderful experience, but can be quite daunting. Let me put my expertise into practice for you so that you can have a hassle free trip!
Please select my name on the quote form when requesting a Disney vacation quote.