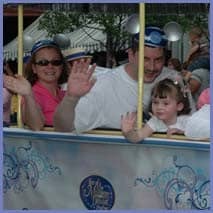 Hi! I'm Meghan, mother of three and Disney Vacation Planner.
My first trip to Disney World was when I was four. It is my earliest childhood memory. Bringing my
children to Disney World for the first time was beyond magical! We are all Disney-obsessed!
May 8, 2008 my seven year old son won Disney's Year of a Million Dreams and was picked to stay
Cinderella Castle! This experience was beyond description. We were Grand Marshalls of the Dreams
Come True Parade, had VIP escorts in the park, and STAYED IN THE CASTLE! That pushed our love of
Disney to a true obsession!
I love everything about Disney planning. My favorite hobby is research, reading anything and everything
I can find about Disney. I would love to help make your vacation a magical and stress-free experience
for you. I provide concierge level service which includes: resort booking, dining reservations, full
itinerary planning, and personal attention. I am always accessible and love to answer any questions you
might have or just talk Disney.
Please select my name on the quote form when requesting a Disney Vacation Quote.