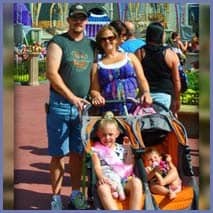 Hi! I'm Natalie – known to my friends as "The Disney Queen"!!
My first visit to Disney was in the early 90's. I don't remember the exact year. I was probably 8 or 9. I can remember chasing the characters around the park for the perfect photo opportunity. My family returned the next year with Grandma in tow. I have to say this is the best vacation I have ever had. It provided me with such great memories of someone so influential in my life. It was these two vacations that began my love for Disney. I returned home and read anything and everything I could find Disney related. (The internet was nonexistent.) It was not until 2000 that was I able to return. I was then married. It was my husband's first trip. We were young and just decided to hop a plane and go to Disney. I planned nothing. I had no idea what to do and was lost once we arrived. He didn't enjoy himself. I blame it on myself for the lack of planning (not really knowing any better). I still had this burning love for Disney. Our first child was born in 2005. I knew in my heart I wanted to take her to Disney. I convinced my husband to return in Nov. 2007. I had learned my lesson and planned everything perfectly. WOW!!! The experience was like none other. I have to say that experiencing Disney through the eyes of your child is just a heart stopping experience. For a moment, you are living life through their eyes. This is the moment, I believe, my husband's passion for Disney started too. Nothing melts a daddy's heart like the smile on his little girl's face. We returned in September 2008 for the free dining with his mother tow. I returned in December 2008 with my mother, sister, and daughter. This was the perfect Christmas present from my parents. In 2009 I became pregnant with our second daughter. I wanted one last "special" trip with my oldest daughter. I returned to Disney pregnant, with my mother, sister, and daughter for my 29 and holdin birthday celebration in June 2009. The next big vacation planned is for September 2010. This will be the grand gathering of them all. I want to create the same great memories for my children with the most influential people in their lives. I couldn't think of a better place to do it than "The Happiest Place on Earth."
These frequent numerous trips have earned me the title of "Disney Queen" to my friends. It seems I am always helping someone plan their vacation. We sit down and plan every little detail – hotel, ticket options, dining choices, complete itinerary planning. I often hear, "I never knew it took this much planning. I don't know what I would have done without you. I would have been lost." I love what I do and have a great passion for it. I want every vacation to be special whether it is someone's first or twenty first. I believe each one should be special and unique. This is why I listen to YOUR requests. I want this to be YOUR vacation.
Are you ready to make memories at "The Happiest Place on Earth?" Then give "The Disney Queen" a call. My services are free. So why not?
Please select my name on the quote form when requesting a Disney vacation quote.
Client Testimonials:
Heather Meakins – Just wanted to thank you so much for helping us to enjoy a wonderful vacation.  I know you went the extra mile to help us get to off site locations and to book last minute character meals and experiences for our children.  Both of our kids had a great time and I am really enjoying re-living the memories.  Of course our time in FL was too short and I would love to go back again when our kids are a little older.   Thanks again – you had good advice and we enjoyed our time.