If you are planning a holiday season vacation, then you have discovered that a trip to the largest theme park resort in world is bit more expensive than it used to be. There are after hours events that cost from $170-$250 for a four-hour event. There is talk of a Genie with a plus, and lightning lane fees. Understandably, the average family is starting to feel priced out of the late fall/winter vacation.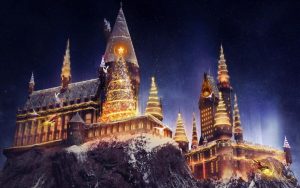 Though I am biased, there is another theme park resort that is actually in Orlando proper, Universal Orlando Resort (UOR). UOR is great like Disney. It is great in different ways. In the current economic climate, UOR has placed themselves to be more budget friendly then the established king of theme parks. Maybe you make a trip to Disney every year but not sure your budget can handle it this year. I would suggest considering UOR for a year. While you adjust to the 10%+ price increase for the average family for a Disney vacation, UOR could be a safe landing spot. Who knows, with the money you save this year, you may be able to afford both theme parks next year? UOR has its flaws just like Disney but there are some reasons to give UOR a try this November and December.
For this year, Universal Orlando has announced that the holidays will be celebrated from November 13th through January 2nd, 2022. At this point, Universal Orlando has only given us basic details. Yet, we can conclude a few good reasons to visit during the holidays. The specifics may be different since in 2020, the holidays were very different due to virus conditions.

RESORT HOTELS
If you are not familiar with the hotels at Universal Orlando, you should give them a look.
The quality of theme park resort hotels at Universal Orlando is very high. Universal Orlando has hotels at every price point. You will find that the Universal Orlando hotels are equal if not superior to the Walt Disney versions at same level but far lower price point.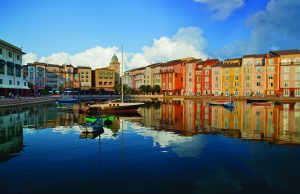 Whether it is Thanksgiving, Christmas, Hanukkah or New Year's, all the traditional feasts and seasonal décor can be found at the resort hotels. You can expect decorations at each hotel, especially in the lobby areas. We should expect Hanukkah candle lighting ceremonies at the UOR hotels each night of that holiday as in previous years.
You can expect special Thanksgiving, Christmas Eve/Day, and New Year's Eve/Day dinner offerings at each resort hotel. In past years, we have seen traditional Italian offerings, traditional Thanksgiving offerings even at the value hotels, and seasonal breakfast buffets. We will have to wait to see if buffets will be standard buffets or family style. The food offerings at these hotels, especially the Premier ones, will satisfy even the biggest scrooge.
If this does not convince you to consider staying at one of the UOR hotels, did I mention no hotel is more than a 6-minute bus ride from CityWalk entrance? In addition, all UOR resort guests get ONE HOUR early park admission.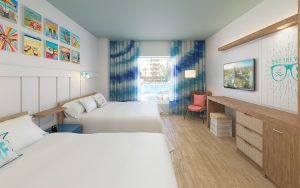 HOLIDAYS IN THE WIZARDING WORLD
The experience in the two Wizarding World areas cannot be over sold for any #PotterHead. Snow is a constant element in Hogsmeade area. Each shop gets special holiday decorations. Even though hot Butterbeer is available year-round now, enjoying it during colder nights is wonderful.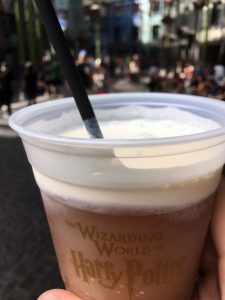 There are special seasonal shows in each Wizarding World area. In Hogsmeade, The Frog Choir create a yuletide celebration. They give us a performance of some popular "Muggle" Christmas music and wizardry festive melodies. In Diagon Alley, we see the fabulous Celestina Warbeck with her Banshees for a holiday show. They will be dressed in their holiday best singing songs from the Christmas album Nothin' Like a Holiday Spell. The theming and musical quality is very high. Veterans of UOR appreciate this show.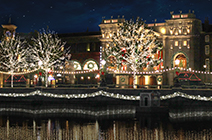 The star of Wizarding World holiday offerings is the Magic of Christmas at Hogwarts Castle nighttime projection show. This has been a very popular holiday addition. You should expect a crowd but also a display on the castle worth your time with the music, projections, decorations, and a small amount of pyro.
HOLIDAY PARADE FEATURING MACY'S
Until last year, Universal Orlando offered a nighttime Macy's style parade. This parade features well themed balloons and floats. Perhaps, the best part of this parade is you will not have to line up an hour or two beforehand to get a decent spot. Now, last year, this parade did not happen in traditional fashion. Universal Orlando converted one of their soundstages to be a walk-through parade experience. This experience involved character meet-n-greet times. The ability to take photos of the impressive floats and balloon in this environment was highly enjoyable. This year, we will have the return of the holiday parade featuring Macy's balloons.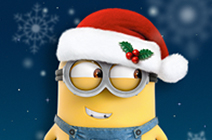 TRIBUTE STORE
Universal Orlando has been hitting home runs with their seasonal Tribute Stores. This concept started with a highly themed merchandise store for Halloween Horror Nights. This expanded to be a special pop-up style highly themed store/attraction for Mardi Gras season, and other seasons. In fact, they created a fantastic Jurassic World Tribute Store this summer. These stores are created and taken down very efficiently. These stores are walkthrough attractions all by themselves. Also, they involve some great merchandise and excellent themed sweet treats for purchase.
HOLIDAY FOOD
Universal Orlando has upped their food game in recent years. This is true in terms of holiday offerings. Many treats are found at the Holiday Tribute Store, but many could be found elsewhere at Universal Orlando. We can expect cupcakes, peppermint mousse, a version of nutty egg nog, whoopie pies, cakes, sticky buns, brownies (vegan version also) and cookies. We should expect the return of the gummy lights. Toothsome Chocolate Factory will surprise us with a seasonal dessert. Voodoo Doughnuts will have a great tasting holiday doughnut. Last year, Central Park Crepes had a Thanksgiving crepe. Even Starbucks at Universal Orlando will have special holiday offerings.
Similarly, a Holiday Treat Trail was offered. If you purchased the five treats on the trail, then you would get a specific sixth treat for free. A similar offering should be expected this year. Do not worry, you do not have to buy each treat in one day. You have the entire holiday season.
HOLIDAY TREAT TRAIL
Speaking of trails, we should expect the return of the Holiday Tree Hunt. This has happened for a few years now. Based on last year, we should expect to purchase (for $9.95) a "stampable" map to find all the decorated trees at Universal Orlando Resort. If you find all the trees, then you get a prize (expect an ornament). The trees can be found in both land parks and some locations in CityWalk.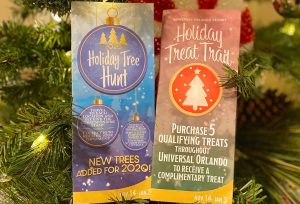 MERCHANDISE
Universal has long released exclusive merchandise as part of its yuletide celebrations. Recently, the quality has improved to be more irresistible. Yes, the Wizarding World collections are amazing. Last year, there was limited new product. Prices at UOR have been creeping up but lower than comparable items at other theme park resorts. The creation of a brand Universal Studios Store and a Universal Studios Legacy store in CityWalk should make the merchandise game at UOR truly pop for the holidays.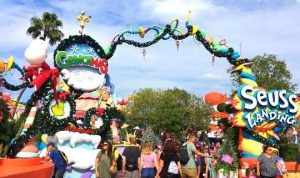 GRINCHMAS
Seuss Landing is the home of Grinchmas. The entire land is a great place for holiday photos.  The "Whos" are out in full force to interact with you and watch them perform. Last year, we even got a new "Photo with the Grinch" experience. This year, the Grinchmas show returns. This show is included with your price of admission. Though as of time of writing, I am hearing rumors of a new plan for this show. Historically, the uplifting live stage show, "Grinchmas Wholiday Spectacular" will require a commitment to get a seat. Please plan for that.
The Grinch character breakfast has not been announced officially at this point. This is a popular dining experience for an additional cost. We expect this to return this year but we will have to wait and see.
OTHER SEASONAL SHOWS
We expect holiday versions of regular daytime shows. The Blues Brothers offer a holiday version of their show. Jake and Elwood perform cheerful favorites like "Santa Claus Is Coming to Town," "Blue Christmas," and more with snow during the finale. The Marilyn and Diamond Bellas' show also offers a yuletide version. The dancers have Santa-style outfits. There is a rendition of "Santa Baby" also.
PROBABLE AFTER HOURS UNIVERSAL HOLIDAY TOUR
In 2020, we saw the introduction of Universal's Holiday Tour, a unique guided VIP style after hours tour.  Based on last year's success with this, I would expect a 2021 version. It involved a special after hours viewing of Magic of Christmas at Hogwarts Castle nighttime projection show.
Last year, guests paid just $59.99 or less for this mostly after-hours event. You do need park-to-park admission ticket media to enjoy this tour. In 2020, this tour was offered on select nights during the holiday season.
Other that previous mentioned benefits, there was special front-of-the-line access to the walk-through modified Macy's Parade attraction. There was an exclusive Grinch meet-n-greet which involved complimentary cookies and cocoa bar. There were guided tours of Holiday Tribute Store as well as a gift keepsake for every tour participant.
Holiday are great at Universal Orlando. As mentioned, many people are looking at going to Universal Orlando this holiday season instead of their usual vacation. Universal Orlando can be an excellent holiday vacation. Feel free to consult your travel expert/agents in terms of planning your holiday vacation.
Jon Self is an avid theme park fan who has the high privilege to serve as a pastor at an American Baptist Church (fbcmacomb.com) while also trying to find the proper life path with his loving spouse, a bigger theme park fan than Jon. You can follow him at @pastorjonself on Twitter. Jon writes for touringplans.com and uogrubhub.com. He also writes for faithelement.net.