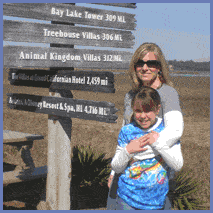 Walt Disney World is my "Happy Place". And who wouldn't want to be happy 24/7?
I started visiting Disney World as a young child. My parents were self-proclaimed Disney Connoisseur and passed their passion on to me. I lost count of my visits somewhere around 36 times. Since then, I have started my own family, and we visit 1-2 times a year.
I have celebrated major milestones at Disney World including becoming engaged, wedding planning and more. I have celebrated all major holidays, and birthdays with Mickey. I have traveled as a single adult, with young children, teenagers, parents, grandparents…. You name it. And each time is different. By having a travel agent well schooled in the art of Disney vacation planning, you can be sure that everyone has a great time. And since saving money is on everyone's mind these days, I can help you plan a vacation on any budget.
Not only am I a mother of 3 and a certified Disney Nut, but I am also a certified personal trainer. Not only will I help you save money, but I can help you find healthier meals and exercise all while visiting the world. For all you athletes (esp. runners) out there… never fear! WDW is a premier place to get your sport on!
Thinking about going somewhere else? I have experience in cruising and beach getaways as well. I have traveled to Disney's Hilton Head and Disney's Vero Beach. I can assure you that your travels to these locations can be just as enchanting. I can help you with Disneyland, Adventures by Disney, Disney Cruise Line, Non-Disney cruise lines and so much more. Taking time to get to know you and your families needs is the best way to assist you in all your vacation traveling.
Whether it's planning a trip for a large group, or an intimate gathering for two, I can help you with even the smallest details. Your Pixie Vacations planner will be there every step of the way. And there are never any fees! Best of all, we monitor your reservations for the best price possible.
By planning your vacation with a Pixie Vacations planner, you can be sure to create the most magical experience .
Please select my name on the quote form when requesting a Disney vacation quote.
Client testimonials:
Dickerson Family –  Originally we wanted to plan a cruise. My husband is in the military and once we discovered how nice of a discount was offered, we planned the WDW trip instead b/c the military discount was not availble for the cruise (still waiting for that!!). Sharon booked everything with even a couple of surprises. My boys loved it all! She even sent me an itinerary of suggested things to do depending on what park we were at. She knows ALOT about WDW. Way more than your average person. I had a wonderful time working with her.