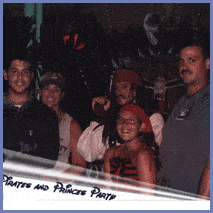 My love for Disney began at age six in 1970. Although I have lived in the Philadelphia area all my life, my father worked for TWA, so we traveled to Disneyland, CA for numerous summer vacations. My first trip to Disney world was in 1991 for our honeymoon with a wife that had been there numerous times with her family, I caught the bug. Since that trip I couldn't begin to count the amount of times we've driven from Philly to Disney World. My daughter who is currently thirteen, believes she has been there sixteen times, my wife and I have lost count. My son who is now a junior engineering student at Penn State University and is looking at a summer of 2011 internship with Disney.
My hobby has always been planning Disney vacations for people, which is probably true for most Disney fans. Every year I help family, friends, co-workers, and many friends of friends plan Disney trips. I've help plan trips for up to 34 people with ADR's, daily itineraries, travel plans and just about everything else. Family and friends I have a very good idea of what they like, but co-workers and people I don't know as well, I sit down with them and their families with guide books, a laptop and sometimes my family, to figure out what their family is all about, that way I can help them with which attractions, meals, and resorts fit their personality.
Please select my name on the quote form when requesting a Disney vacation quote.