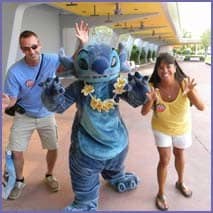 Hi I'm Tasha and It would be my pleasure to help your Disney Dreams become a Reality!
I can still remember my first visit to Walt Disney World when I was four years old!  It was an instant love affair for me and to this day is my biggest passion!
I remember my first view of the castle like it was yesterday and even though I have seen the castle many, many times since its never lost any of its magic for me.
Not only do I have the best memories of Walt Disney World with my parents growing up but I took my own kids every year as they were growing up and they to have become major Disney fans as well!
I love the Disney spirit as a whole, from the magic of the parks to the serenity of the music to the amazing imagination of the movies!
Disney Parks will always hold a very special place in my heart not only for the life time of memories created there with my family but because of the joy I feel each and every time I walk into a Disney park, resort or ship.  Disney is a place where Magic lives, Dreams really do come true and Adults can be a kid again!
Take a trip to Disney World or Disney Land set sail on a fantastic cruise on one of Disney premier cruise ships and experience the world re known Disney Customer Service!
Take a fun filled journey to Egypt and explore the pyramids or stomp grapes in Italy or even take pictures of the Eiffel tower on a Disney Adventures trip!
Let me help you make those last memories with your family and friends!  I guarantee you'll be as hooked as my family is!
As you Disney Travel Planner I will tailor a Disney experience especially for your family needs and budget!
I will monitor all on going and upcoming promotions to ensure your get the most for your vacation investment!
I can book all of your dining, speciality tours or whatever the case may be to ensure you the Most out of YOUR Disney Vacation!
Have a Magical Day!
Tasha