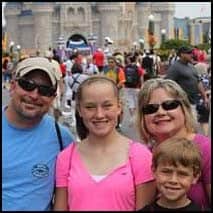 Hi!  I'm Tonya!
I have been a fan of Disney all my life!  As a child, I was very fortunate to visit Walt Disney World quite a few times.  I fell in love with all things Disney!  I was fascinated by Disney movies or anything that had to do with Disney.
That fascination has continued on into my adulthood.  I am married to a former Disney cast member who shares my love of Disney!  We have extended the love of Disney to our children as well.  We have traveled to Walt Disney World so many times that we lost count (over 100).  Each experience has been purely magical!  We have had the opportunity to celebrate lots of different occasions at the World!  Many people have asked me if we ever get tired of Disney and the answer is always NO!  We are always excited by the new experiences that we will share!
I would love to help you create a memorable Disney experience your family will remember forever!  I can offer my knowledge and experiences to help you plan a magical Disney vacation!  Best of all, this service is totally free!  I can assist you in selecting the best resort for your family, advance dining reservations and planning a full itinerary.  I will also monitor any new deals that are announced that might save you money!
Please select my name on the Disney quote form or you can call me at (678) 488-6584.
Client Testimonials:
Lacey Family –  Thank you SO much for all of your help with our first Disney vacation!!!  It was FANTASTIC!  Our boys are still talking about all the rides that they loved, and they can't wait until we go back and take our daughter!  I will definitely contact you for our next trip too!  My sister-in-law will be contacting you sometime next year to start planning their first Disney vacation!
Sylvestri Family – We enjoyed our trip to DISNEY!!!  It was a blast and the best time of year to go!  Our travel agent was great!  She was very pleasant to talk with and patient when it came to making eating reservations.  She knew how to explain the dining plan and made sure we chose the right plan to fit our needs. 
Merritt Family – My agent was Tonya. She was hand down a 10!!!!!! She was very professional had great service, always called me back and was always available when ever I needed her. She was very helpful. My quote was very easy to understand when she explained it to me.  I heard about her thru a friend.  I would definetly use and suggest other people to use Tanya again!!