Thank You Tripp Family for letting us be a part of your Magical Disney Cruise Vacation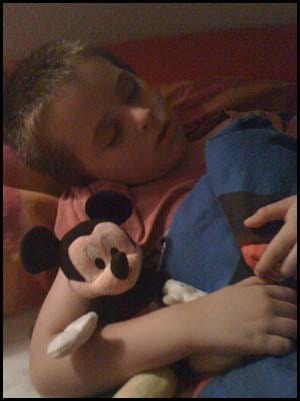 Rhiannon – Hi! I wanted to share this photo with you that I took of my son tonight. He fell asleep like this

He has been saying for awhile now that his dream is to hug the real Mickey before he is 7 (he is 6 now)! He doesn't know he is about to be there!
Thank you so much for making all of this easier for me to plan and for helping me make my little boy's dream come true!
Jennifer, Coronado Springs –

Pixie Vacations took over a lot of the work of planning a Disney vacation. They gave me a information of which parks had Magic Hours which days, with recommendations of some things not to miss each day. The best part was that they suggested different restaurants in each park and made the reservations for me. That was a huge time saver! The lanyards they sent us were great–I wore mine every day–and they make keeping track of your tickets and fast passes much easier!
.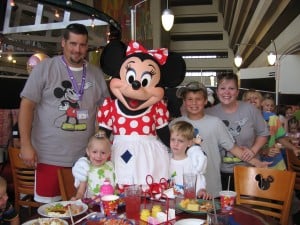 Ashley –

I thought I had done a lot of research and booking and planning quite well by myself and was uncertain if a travel agent would really help me any further. I was wrong. While I had done a lot of planning on my own, Pixie's knowledge and expertise helped me finalize all of my wishes for my family's first visit as well as secure a 40% off my resort package deal! I was very impressed with the service and FOLLOW THROUGH. I also enjoyed the perks of using Pixie. Thank you!
.
.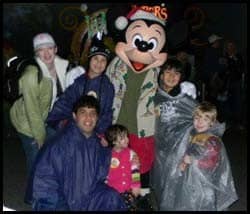 Kristin –
We had a fantastic trip and really appreciate all the hard work that you put into making it that way! Pixie Vacations was a great help to our family on our first trip to Disneyland and we look forward to using your company again, when we plan out trip to Disneyworld.
In fact, we are looking into going in November of 2011.
Thank you again for your help, we had a vacation that created a lot of memories for sure!!
.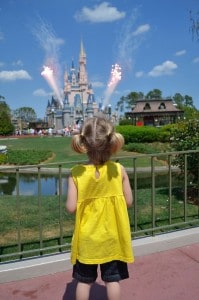 Schelich Family –
Thanks just doesn't seem like enough gratitude we would like to express to you for all your help! We enjoyed the best vacation ever. We didn't realize the small little things that "happen" to come into place until we were at Animal Kingdom that morning for breakfast. Our reservation was for 8:00. We took our time had a nice breakfast and got done and wandered outside. It was then that we realized that there was a huge crowd making a mad dash for the safari ride. Of course – due to your planning we were ahead of that crowd and on the first tour of the day!!! We LOVED Pop Century – the buses worked out great. We took advantage of the extended hours and had a blast.
I will definitely give your name and number to friends who want the most out of their trip. AND when I go back I will give you a call.
THANKS SO MUCH!!!
I attached one of my favorite pictures….
.
Melody Silliman –

Thank you so much for helping plan the best vacation! We sure packed in a lot!! Everything worked out so awesome. I have been talking up Pixie Vacations, hope to send some business your way!! You are the best!!
Riley loved the princess day and lunch was so fun. She picked Jasmine and later met her too and had pics taken. She really got into it. And the boys loved the pirate dress up too. We went back for the pirate parade in the afternoon. They were all so darn cute dressed up! And now Sam wants to get an Aladdin costume so he can dress up with Riley! I took about 1000 pics! Good grief!!! And we have all our photo pass pics too. And the kids all took pics. We have some wonderful memories for sure. Thanks again for all the help planning.
Sincerely,
Melody Silliman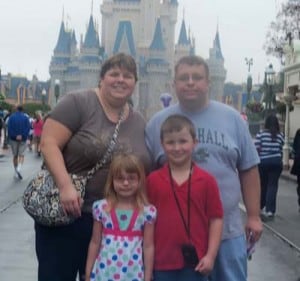 My family and I would like to thank Pixie Vacations for making our first family trip to Walt Disney World so memorable and wonderful. It was a stress-free vacation in all the planning. We left this to Pixie Vacations and thanks to them we got to experience so many things at Disney. Every time we had a question about our trip, she would go and find us the answer if she did not know it already. I was so impressed by the itinerary she prepared for us. It was detailed and gave us information about each park and what see and where to go first. Along with this information it also provided all of our confirmation numbers and park hours. While at the airport we met a family who booked through Disney World Resorts and they were going with the flow. They had made no dinner reservations for this week. I was almost embarrassed to show her our vacation details and our plan but they were impressed. We couldn't imagine going to Walt Disney World without having a plan. Our Pixie, went above and beyond to make sure that this trip was such a joy and stress free one. Words can't even describe how wonderful Natalie is to work with. Thanks again Pixie Vacations.
Sanders family –

We had the best time at Disney World in September of 2010 thanks to Pixie Vacations. Pixie Vacations helped us in every way possible. Natalie helped us with making this trip very special. We celebrated both Brody and Bronnor's birthdays while there, they were given such special attention. We are planning a Christmas trip for 2011 and can't wait to book again.
Christie Parker –

We had an amazing travel agent. She planned a perfect vacation for us.
She was always easy to get a hold of. She always called to check in and
make sure we had everything ready for our trip. She gave us many of her
own personal opinions and ideas which I really appreciated. She knew the
answer to just about every question I had, and the very few she didn't she would call me right back with the information. She cared genuinely about making sure this would be an amazing vacation and it truly was. I have absolutely NO complaints. No question was a dumb question, and she always made me feel important to her.
Kim Lucas –

Our Pixie helped plan and organize my family trip to Disney. She kept in mind that I had 3 young children. One, in which, has severe allergies. She made sure all of his needs were addressed and cared for. Furthermore, she did all of the reservations for meals and guided me to make the most of my time with park hours. I had been to Disney before and thought in the past that there was a lot of preparation needed for the trip. This time, however, it was a breeze. That is because Pixie Vacations did all of the work. She was very professional and helpful. When we were leaving for our trip, the weather was a concern. Lauren helped guide us to make sure we were able to depart to Florida. Lauren is an organized person who loves what she does.
Thanks for a wonderful trip.
Sarah Richied –

Our agent walked me through every step of booking my vacation and offered me input as to where to stay and what to do. I would have been lost without her help. I am so glad that I didn't try to book my vacation on my own. I can't wait to take my family back there again, and I will definitely be going to Pixie vacations for my travel needs again!
Michael Peyser –

My wife and I had not been to Disney in over 15 years (longer for me)!
Our agent relieved my fear of Disney being a complicated budget busting trip by reviewing various price levels and features of all inclusive resorts, meal plans, ticket packages and flight expenses. This even included all transportation to/from airport in Orlando and among the various park/resort facilities.
Our agent helped us think about various times of year, seasons that are good for visiting Disney and talked about lengthening our trip to get an even better value.
Our Pixie made all our travel arrangements and then worked many extra hours changing our travel plans when the big blizzard of 2011 was forecasted just days before our scheduled departure. We added 2 extra days and were able to get full credit refund for the original airfare.
Our agent answered a lot of our simple questions about how stuff works making it easy and comfortable to enjoy every moment of the trip from departure to return flight.
We also were especially happy with our room, the resort she selected and the quality of food throughout Disney. We especially liked the table service upgrade. This meal could be timed to be the main meal of the day and a healthy one also!