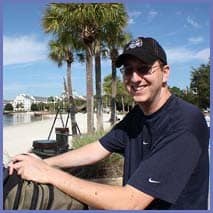 Hi, my name is Bob, and it would be a pleasure for me to assist you in booking your Disney vacation!
I've been a fan of Disney ever since my family traveled to Walt Disney World in Florida when I was just four years old. Unfortunately, my family never made it back to Walt Disney World again, so it wasn't until 1995 that I was able to return with a friend from college. From the moment I stepped foot in the Magic Kingdom, it was like I had never left, and I was immediately hooked. I even jumped at the chance to go to law school in Florida so I could be closer to the theme parks!
Since then, I've made over 100 trips to the Walt Disney World Resort in Florida, as well as multiple trips to Disneyland and Disney's California Adventure, and sailed the high seas with Mickey on the Disney Cruise line. I'm even taking my "Disneymoon" at Disney World!
I love sharing the excitement of Disney with people, whether they are soon to be first time visitors, or Disney fanatics like myself searching for new adventures. When Disney says "Be our guest", it's not just a line from a movie -they mean it.  No other company is so focused on caring for their guests and bringing the magic to life.
I'd like to offer you the opportunity to share my experiences and knowledge as a Disney veteran and graduate of Disney's College of Knowledge in helping you plan your Walt Disney World, Disneyland, Disney Cruise Line or Adventures by Disney vacation.  As a customer of Pixie Vacations, you'll never pay any fee for our services, which includes everything from booking you at the right resort, to itinerary planning and dining and event reservations, so all you have to do is show up and have fun! No matter how big or how small the trip, I can book it all.
Please select my name on the quote form when requesting a Disney vacation quote.