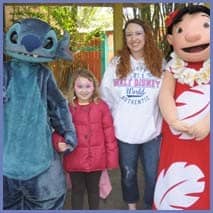 I visited Walt Disney World for the first time when I was 14, and fell in love. It was not until I visited in 2007 as a mom that my love became an obsession! Sharing the amazing experience of visiting the World with my own daughter was life changing, and we both now share a passion for all things Disney.
Upon planning our first trip as a family, I immersed myself in the Disney community. I joined message boards, subscribed to newsletters, and listened to pod casts, all with the hopes of planning the perfect vacation and not missing a single thing. While I now know you can't possibly see or do everything in one trip, this dedication of learning every little Disney tidbit has made me able to plan extraordinary trips for my friends and family as well as my own.
We have been to Walt Disney World 5 times in the last 4 years, and still cannot get enough. The magic has taken hold of us, and now I want to share the magic and wonder of the happiest place on Earth with you. When booking a vacation with me, you will get a customized itinerary based on all the latest facts and information, sure to make your trip perfect for you and your travel party. Whether it's dining reservations, shows, activities, or navigating the crowds, my extensive knowledge of all things Disney will go to work for you to ensure memories of a perfect vacation that will last a lifetime!
When you book your Disney vacation through me and Pixie Vacations, you get concierge level service paired with my expertise at absolutely NO COST to you! I will personally handle every last detail, and walk you through any and all aspects of your trip from start to finish. You can relax with the knowledge that if a better deal comes out, I will get it for you. When it's time to make your dining reservations, I will take care of them. If you are on your trip and need help or guidance, I am here for you. With all these great amenities at your fingertips, why would you want to plan your Disney trip any other way? Let me handle the details, so you can concentrate on the smiles and cherished moments that come with all the magic of a Disney vacation!