As you might expect, Universal Orlando Resort offers some excellent dining options. Of course, like other Orlando area theme park resorts, it has good and bad dining choices. What are the best Universal Orlando restaurants regarding snacks, quick service, and table-service dining?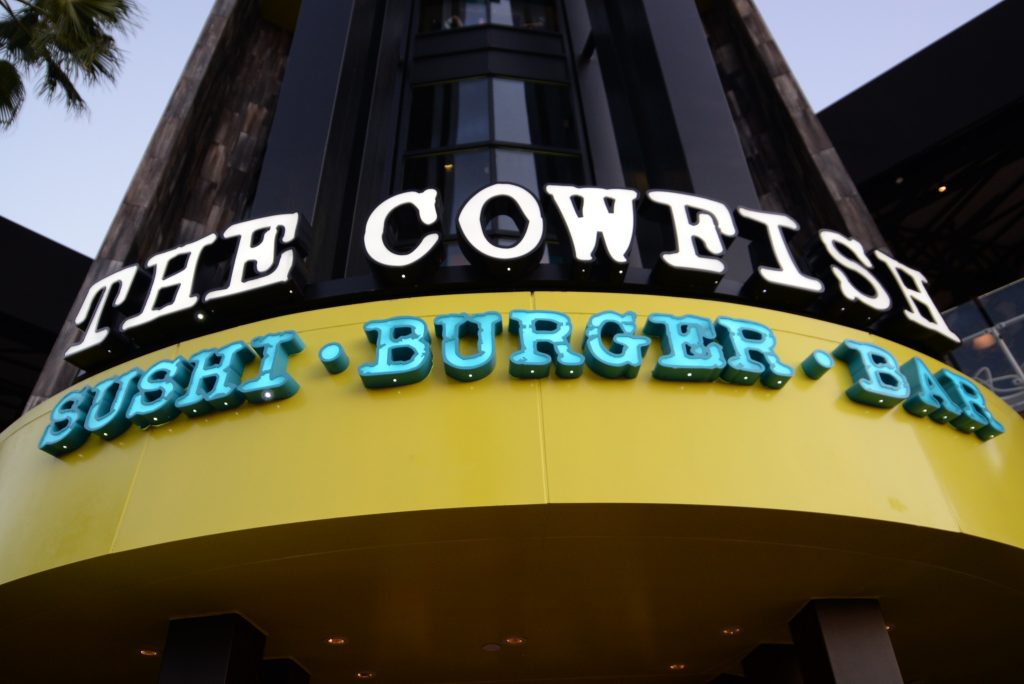 Universal Orlando Resort provides abundant options for your dining needs. You will be satisfied with all the food and beverage locations in Universal Studios Florida, Islands of Adventure, Universal CityWalk Orlando, Volcano Bay water park, and the Universal Orlando Resort hotels.
General Guidelines for Best Universal Orlando Restaurants
If you want burgers, fries, pizza, or chicken tenders, any theme park offers that. However, Orlando area theme park resorts tend to crank these types of items out. These products will be average theme park food. There is nothing wrong with those options. Still, theme park food possesses a reputation for being unimpressive. If you want higher quality food, avoid standard fast food style dining. Universal Orlando Resort provides many options that vary from traditional fast food.
Now that we have set some ground rules, where can you find the best dining options at Universal Orlando Resort? The discussion will select the best options at each theme park (Universal Studios Florida and Islands of Adventure), Volcano Bay, CityWalk, and resort hotels. Afterward, we will throw in some snack suggestions, vegan dining, and money-saving advice.
Best Universal Orlando Restaurants: Universal Studios Florida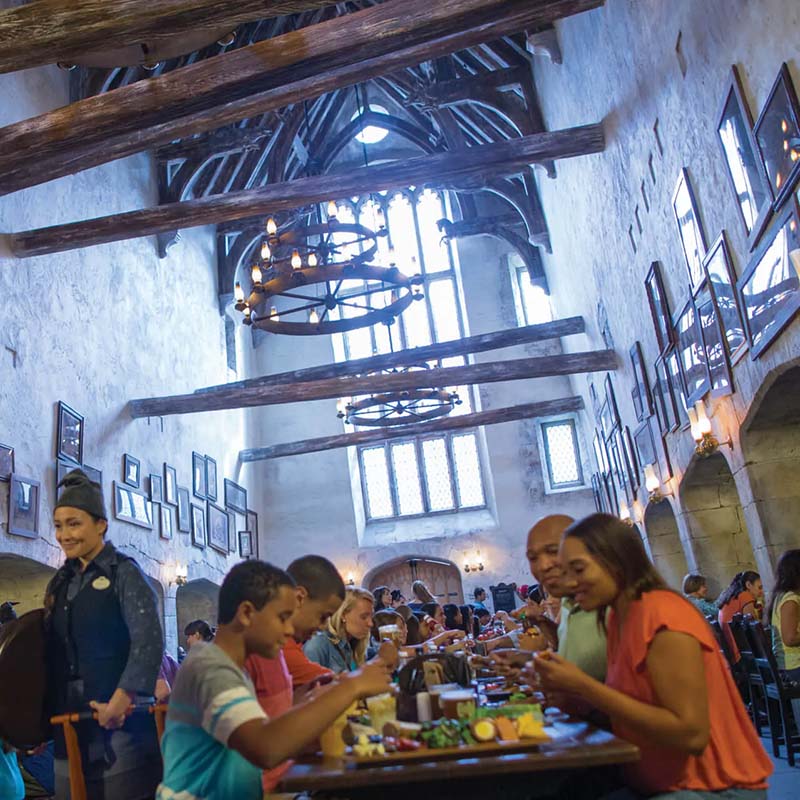 Leaky Cauldron
Many fans visit Universal Orlando Resort to experience the Wizarding World area. Leaky Cauldron functions as the main dining option in the Diagon Alley area of Universal Studios Florida. This quick-service dining option consistently receives positive reviews about the food. Sure, the mobile order and table delivery systems show significant flaws. However, most guests appreciate the above-average theme food served here. Also, the theming of the restaurant will entertain any Harry Potter fans.
The menu consists of United States theme park versions of British food. You will not find standard theme park options here. For example, the menu lists fish and chips, a Guinness stew, cottage pie, fisherman's pie, scotch eggs, and two solid vegan options. Of course, this place sells butterbeer. Butterbeer comes in five forms here cold, hot, frozen, potted cream, and ice cream. Leaky Cauldron offers great theming and an upgrade from theme park burgers and fries.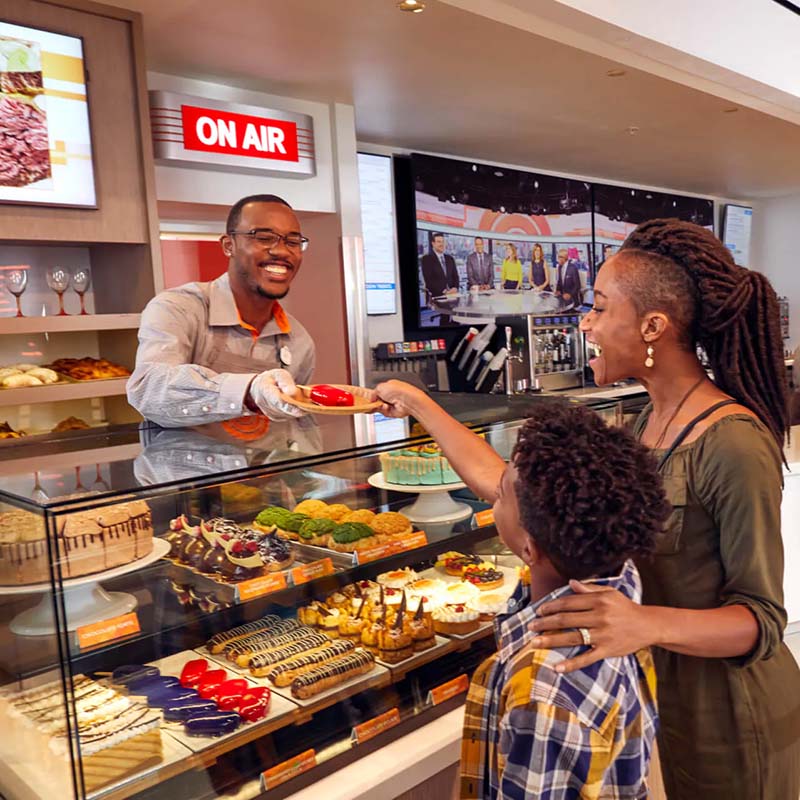 The TODAY Café
Since its grand opening about four years ago, the food quality at this location has exceeded expectations. As you enter Universal Studios Florida theme park, the TODAY Café will be on your right at the entrance to the Hollywood Boulevard area,
This New York deli-style themed quick service restaurant sells high-quality baked goods, breakfast entrees, sandwiches, and excellent vegan options. The common complaint about TODAY Café revolves around the slow speed guests receive their orders. However, most places at Universal Orlando during a busy crowd-level week display that issue. Despite that, the food tastes fresh. Also, the menu offers more nutrition than the average theme park option.
Bumblebee Man's Taco Truck
Located in the Springfield, USA area of Universal Studios Florida resides Bumblebee Man's Taco Truck. This hard-to-miss food location sells three varieties of tacos, pork carnitas, carne asada, and chicken. Each taco comes with tortilla chips and your choice of green or red salsa. Also, taco sauce packets sit at the pick-up window. We recommend using those. These street-style tacos are made to pair with taco sauce.
Central Park Crepes
Another place with good food but a slow delivery speed is Central Park Crepes. This food kiosk might offer the best value regarding quick service on Universal Orlando Resort property. This small kiosk serves theme park versions of made-to-order crepes. The crepes provide a large amount of flavor and above-average portion size. Since opening in 2020, this crepe stand has drawn a following. The wait for food can feel excessive. Nevertheless, guests rarely taste their crepes and experience disappointment. The crepe options include savory and sweet ones. Also, the Vegan Berry Crepe qualifies as vegan-friendly. As a bonus to your vacation budget, all the crepes here currently cost under $12 before applicable discounts.
Finnegan's Bar and Grill
Based on guest reviews, Finnegan's Bar and Grill makes your best table service option inside Universal Studios Florida. This Irish-themed dining option serves a variety of menu items, including a chicken sandwich, a potato and onion webb appetizer, a Celtic salad, shepherd's pie (a vegan option also), and fish & chips. Later in the day, live music will play.
Best Universal Orlando Restaurants: Islands of Adventure
For this theme park, we will start with the theme park media-proclaimed best theme park restaurant, Mythos Restaurant. This restaurant resides in the Lost Continent area of Islands of Adventure. With the help of a vote from readers, a prominent UK-based theme park website declared Mythos Restaurant the best theme park restaurant in the world. On that site, Mythos is in the hall of fame of theme park restaurants.
With all due respect to the excellent theme park media work many sites do, Mythos is not the best theme park restaurant in the world.  Mythos would not be the best theme park restaurant in the Orlando area. For example, inside Epcot alone, the following restaurants would like a word with the voters: Chef de France, Le Cellier Steakhouse, Tokyo Dining, and Monsieur Paul.
However, if you want arguably the best value in high-quality table service theme park dining, Mythos Restaurant would be your place. The décor inside enhances the experience. This Mediterranean-themed (mostly) menu offers a variety of dining choices. The best part relates to the price. Mythos offers theme park table-service dining, so you should expect high prices. Still, unlike the Epcot examples, Mythos will cost far less for table service dining inside a theme park.
Quick Service at Islands of Adventure
At the risk of contradicting earlier advice, Wimpy's Burger sells a Wellington Burger in the Toon Lagoon area. The Popeye cartoon-themed burger place sells the best-tasting "in-park" burgers in the Orlando area. If you must have a burger in the theme parks, choose this one. This place also offers a tasty vegan burger. No, they will not sell you a burger if you gladly express willingness to pay on Tuesday, like the character Wimpy attempted to do in cartoon lore.
The Wellington Burger with curly fries provides the best quick-service burger patties in an Orlando area theme park. A well-prepared vegan burger also resides on this menu.
Three Broomsticks
Islands of Adventure's Wizarding World dining option is the Three Broomsticks. The Harry Potter-themed quick service takes you into the movies. The menu reflects less British-style cuisine compared to Leaky Cauldron. Some of the most popular items sold here are fish & chips, chicken & ribs platter, smoked turkey leg, and shepherd's pie. Like Leaky Cauldron, a solid vegan option, Mushroom Pie Platter, can be found here.
Thunder Falls Terrace
This Jurassic Park-themed quick service option consistently rates as the best quick service in either Universal theme park in Orlando. The menu offers rice bowls, ribs, chicken platters, roasted pernil (slow-roasted pork), and an excellent rotisserie chicken salad. The signature key lime cheesecake at Thunder Falls Terrace also consistently rates high with guests. In addition, guests can view the splash zone from Jurassic Park River Adventure nearby.
Green Eggs and Ham Cafe
The Green Eggs and Ham Café in the early days of Islands of Adventure offered some of the worst theme park food ever devised. The former infamous green eggs and ham menu might be why this food location rarely opened at Islands of Adventure for many years. Green Eggs and Ham reopened in Seuss Landing with a brand-new tater tot filled menu in December 2019. Since then, it has been open almost daily at Islands of Adventure.
The covered tater tots range from pizza tots, buffalo chicken tots, green eggs and ham tots, "who" hash, and pork carnitas tots. All entrées here cost under $12 before any applicable discounts. Green Eggs and Ham Café also serves vegan pizza tots that some carnivores prefer over the other options here.
Best Universal Orlando Restaurants: Universal CityWalk Orlando
Universal CityWalk Orlando offers shopping, dining, and entertainment. Unlike Disney Springs, over at Walt Disney World, the CityWalk resides near the theme parks. In fact, you will walk through CityWalk from the parking garage to reach the two Universal Orlando Resort theme parks. This area of Universal Orlando Resort gives visitors multiple table-service dining options to choose from.
The need for reservations has increased as the table-service dining at Universal CityWalk Orlando becomes more popular. The table service dining options range from an extravagant steam-punk-themed chocolate factory to excellent Italian cuisine. A mix of third-party restaurants and Universal originals table service options can be enjoyed. We recommend the Universal original restaurants over the chain restaurants like Hard Rock Café, Jimmy Buffet's Margaritaville, and Bubba Gump's Shrimp Co. However, an entrée from one of those three restaurants will receive an honorable mention in this section.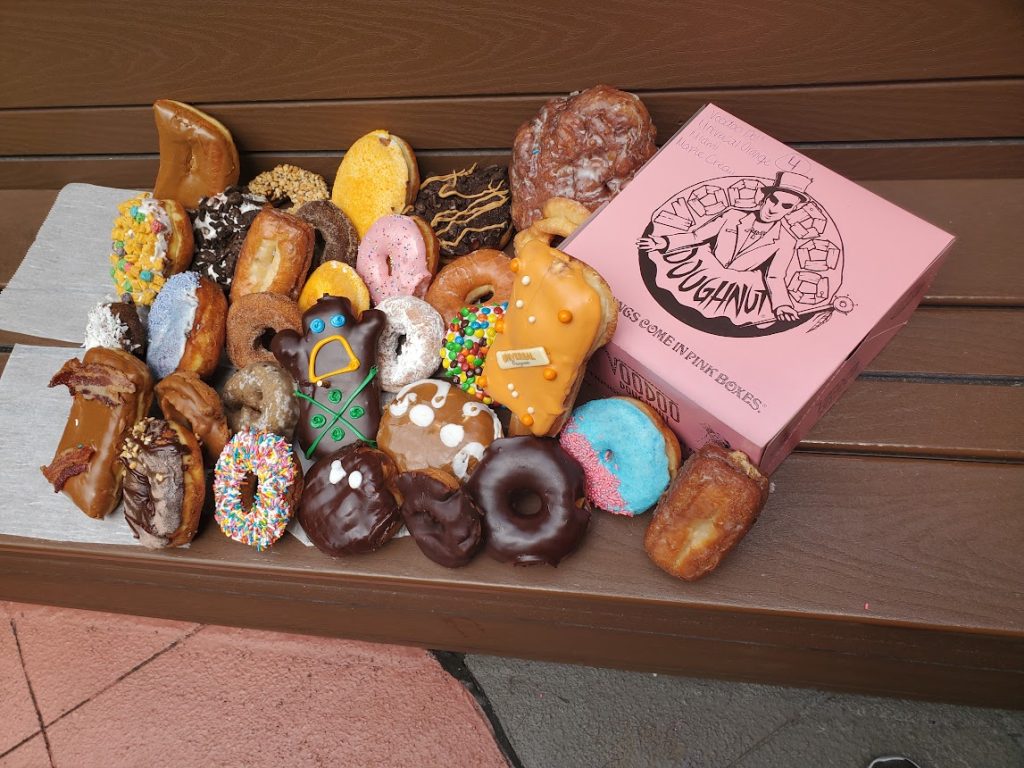 Voodoo Doughnut
Voodoo Doughnut, a highly themed doughnut shop, operates locations in various parts of the United States.  The Universal CityWalk Orlando location sells over 50 different types of doughnuts. Also, Voodoo Doughnut sells 13 vegan doughnuts. We are not saying you have to try these doughnuts. However, you should get in line if you find a short queue for doughnuts here. Voodoo Doughnut offers mobile ordering through the Universal Orlando Resort mobile app.
Toothsome Chocolate Factory and Savory Feast Kitchen
This steampunk-themed restaurant sells Instagram-worthy milkshakes. Along with those milkshakes, guests can enjoy other desserts like large sharable sundaes. In addition, Toothsome Chocolate Factory and Savory Feast Kitchen offers some excellent savory items. We recommend the Warm Chocolate Almond Bread or Totchos for an appetizer. For main entrees, we suggest the May Contain Bacon Burger, Chicken Bercy, or Brisket and Wild Mushroom Meatloaf,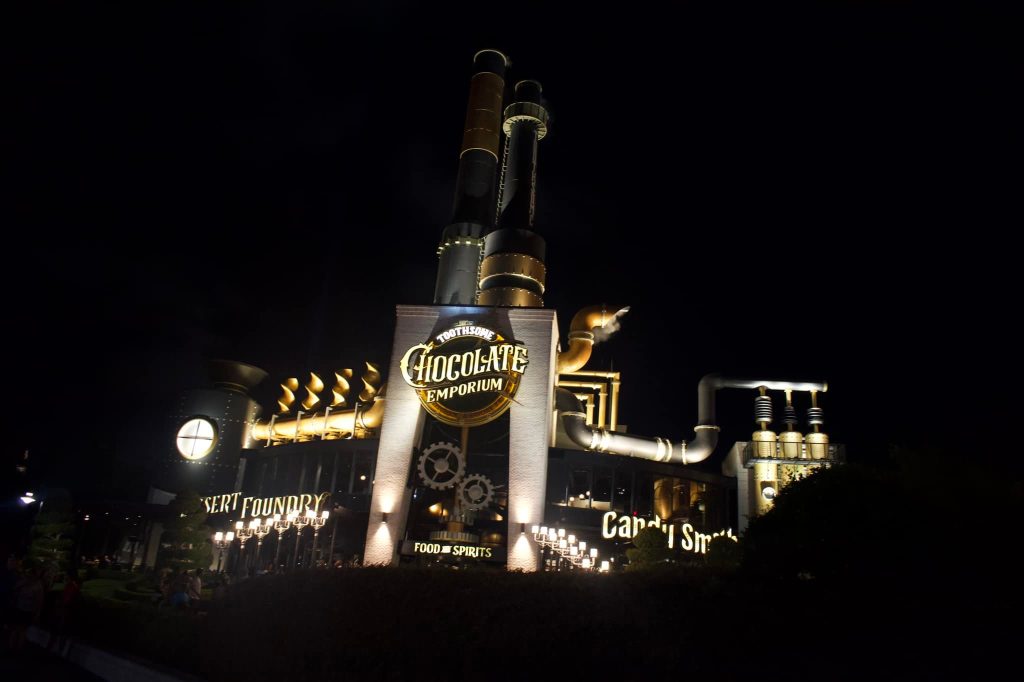 Since the brunch menu is served all day, we have a few suggestions from that menu. Depending on whether you want savory or sweet, we recommend the Berries and Crème Waffle or the Patty Melt French Toast. No matter what you select to eat, save room for dessert.
Vivo Italian Kitchen
 This Italian restaurant creates pasta dishes equal to, if not better, any theme park resort's Italian option. The biggest reason this receives the best recommendation relates to the price point. Comparing the entrées against other Italian restaurants, especially those at theme park resorts, Vivo consistently charges less. In fairness, we have noticed the quality drop a little during our last two visits, but that quality still exceeds most other Italian places in this price range.
The Cowfish Burger Sushi Bar
Despite the odd-sounding restaurant name, this place serves some of the best table service food on Universal Orlando Resort property. As the name states, Cowfish Burger Sushi Bar serves burgers and sushi. In fact, sometimes, they are combined into "burgushi." This restaurant suffers from slow service sometimes. However, you rarely hear a guest say the meal was not good at Cowfish.
Once again, despite the name, Cowfish serves some excellent vegan options also. The Cowfish Burger and Sushi Bar presents the most extensive vegan menu in Universal CityWalk Orlando. No matter your preference, you will find something you like here.
Honorable Mention: Volcano Nachos at Jimmy Buffett's Margaritaville
If you need to feed a hungry crew, the Volcano Nachos at Jimmy Buffett's Margaritaville will do the trick. This well-prepared stack of nachos costs $23 before any applicable discounts. The menu description reads, "Tortilla chips layered with chili, cheese, pico de gallo, fresh guacamole, sour cream, and jalapeños." You will not be lacking for toppings on each chip with these nachos. However, besides the nachos, this location offers average table-service dining.
We have one more word of caution before you order the Volcano Nachos. The calorie count on this reaches over 3700 calories. When you see them up close, you will understand that these are intended to be shared.
Best Universal Orlando Restaurants: Universal Orlando Resort / Loews Hotel Restaurants
This category presents more challenging choices. Universal Orlando Resort has eight different hotels. The premier-level hotels at Universal Orlando each offer excellent table service options. As you might expect, the price point will be higher than even in CityWalk. All Universal Orlando Resort hotels can be easily reached from the theme parks using free Universal Orlando transportation. In most cases, the walk to the resort hotels can be done reasonably. Since these restaurants vary so much, this category demands a different structure.
Best Steak and Seafood: The Palm at the Hard Rock Hotel
Best Breakfast: The Kitchen at the Hard Rock Hotel.
This place offers an acoustic breakfast buffet on Sundays that guests rave about.
Best Food Court: The Urban Pantry at Aventura Hotel
The food court serves burgers, pizza, and chicken, as you might imagine. However, it also serves sushi, poke bowls, and wok bowls.
Best All you Care to Enjoy Meal: Islands Dining Room
At Royal Pacific Resort, on Friday and Saturday evenings, Islands Dining Room provides the "Wok Experience." This $30 all-you-care-to-enjoy meal allows guests to create their own Pan-Asian stir-fry bowl. A salad bar and egg drop soup are also included with the meal.
Best Universal Orlando Restaurants: Volcano Bay
The water park, Volcano Bay, stands as the best water park in the Orlando area. There are four quick-service dining locations, two food stands, and two bars at Volcano Bay. The TapuTapu wristband you receive for the day can be used for payment without the need to carry a card or cash at a water park. Though the food has been simplified at Volcano Bay compared to the opening day menus, several decent options exist at Volcano Bay.
Whakawaiwai Eats: This quick service location provides your tropical longboard-shaped pizza needs that your group may have. This place also serves various hot dogs and mac & cheese options.
Kohola Reef Restaurant & Social Club: This place serves burgers, chicken, BBQ, and seafood. The longboard pizza can be purchased here also, but we would order something else at this quick service location.
The Feasting Frog: This food stand looks like its name sounds. This location serves tacos and a poke bowl.
Koka Poroka Ice Cream Stand: This kiosk offers the not to be missed Waturi Fusion ice cream.
Best Snacks at Universal Orlando Resort
The snack options at Universal Orlando Resort look limitless. The bakery cases appear filled with yummy treats. The cupcakes, pastries, and cookies look and taste good. Narrowing down the best snacks at Universal Orlando becomes a nearly impossible task. However, this is what we came up with:
Natural Selections Kiosk in Jurassic Park area of Islands of Adventure:
This small food and beverage kiosk sells non-traditional snacks. All of them taste good. You select between beef empanadas, papa rellena, chicharrones, and the sweet treat, guava Pastelito.
Brookie:
This signature snack at Universal Orlando Resort can be found at several quick service locations. Universal put two great snacks together to make something even better. As the name suggests, a brookie combines a chocolate chip cookie and a chocolate brownie. These also tend to be some of the least expensive snacks in the parks.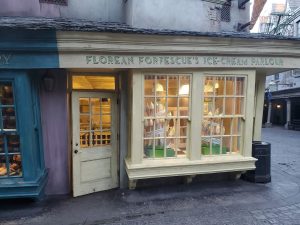 Florean Fortescue's Ice-Cream Parlour:
This Wizarding World option in Diagon Alley in Universal Studios Florida serves some of the best ice cream flavors around. Yes, you can get "Butterbeer" ice cream. You can select Harry Potter's favorite, strawberry and peanut butter. The options will amaze you.
The Big Pink
This large doughnut can be found at various merchandise locations and Lard Lad's Doughnuts in the Springfield, USA area of Universal Studios Florida. Guests love the size and flavor of this doughnut. It also comes with chocolate icing if preferred. However, since the price has risen to $9.99, we have a more challenging time recommending this snack as much as other options. With pizza tots at Green Eggs & Ham Café and crepes at Central Park Crepes costing a similar price, we would choose those over this doughnut. Nevertheless, we understand the novelty of this snack.
Best Universal Orlando Restaurants: Vegan Dining 
Other vegan suggestions have been listed in this resource. The following list includes only those not mentioned earlier.
The Beet Box Fusion Specialty Sushi Roll at Cowfish Burger Sushi Bar-
This roll contains carrots, shiitake mushrooms, red peppers, and Napa cabbage tossed with fresh herbs inside, topped with braised beets, fried basil, and a chili pepper aioli.
Vegan Shepherd Pie at Finnegan's Bar and Grill at Universal Studios Florida –
This consists of seasoned Beyond® meat, mushrooms, peas, and carrots, topped with vegan mashed red bliss potatoes. We think this might taste better than the non-vegan shepherd's pie here.
Shepherd's Pasty Pie at Leaky Cauldron at Universal Studios Florida
This consists of meatless beef crumbles and vegetable stew hand pie. This comes with creamy stone ground mustard dipping sauce, apple beet salad, and wedge fries.
Some Ways to Reduce Your Dining Expenses at Universal Orlando Resort
Planning your vacation dining budget can be stressful. Still, several ways exist to ease that tension. Even though dining plans have yet to return to Universal Orlando Resort, you can still plan for food and beverage expenses for your vacation. Saving some money will make dining at the best Universal Orlando restaurants easier.
Universal Orlando Resort sells refillable popcorn buckets and Coke freestyle cups for use only inside theme parks. The resort hotels also offer a version of refillable freestyle cups for use only at the resort hotels. If you enjoy popcorn or soft drinks, these will save you some money. The Coke freestyle cups can also be used for icees inside the parks.
You can always drink water if you do not want the Coke freestyle options such as Powerade, VitaminWater, and soft drinks. All food and beverage locations with a soft drink fountain machine will provide a free cup of water. In the hot Florida sun, you will want to stay hydrated.
In addition, you can bring your own snacks and non-alcoholic beverages inside the theme parks. Universal Orlando Resort places a limit upon this, but a reasonable amount will be allowed. However, one prominent exception to this money-saving tip exists. After 5:00 p.m. on an evening that Halloween Horror Nights happens, no beverages, of any type, will be allowed past the security area. Snacks will also be limited to what is permitted inside the CityWalk and theme park areas.
Planning Your Next Vacation
Does all this food talk make you want to plan that Universal Orlando Resort vacation? We have listed several other resources below. In addition, the travel advisors at Universal Family Vacations can provide a quick quote for your vacation. As always, eat like you mean it!
Ways to feel like a VIP at Universal Orlando Resort
Jon Self is an avid theme park fan. You can follow him at @pastorjonself on Twitter. Jon has been writing and editing in the theme park media world for some time. He also writes for several "foodie" sites and in the faith-based world at faithelement.net