Back in 2021, I attended my first Halloween Horror Nights at Universal Orlando. As someone who has owned an annual pass to Universal Orlando in some form for almost ten years, people continue to be surprised I never went. As someone who is not really into horror or scares, the event never seemed like my type thing. When you added in the after-hours event aspect of paying more for it, I tended to pass.
In fairness, my first exposure to Universal Orlando Halloween Horror Nights happened during 2020. In this year, the Halloween Horror Nights (HHN) event failed to happen due to worldwide health concerns. However, Universal Orlando did open two of the HHN houses during daytime hours. For record, they opened a third one for a weekend for contractual reasons.
I enjoyed the incredible work that Universal Creative put into the sets for an event happening for only two months. The effort of "scareactors" added to the story telling. I lacked the desire to be a full-fledged fan of HHN then, but my interest increased. In 2021, based on a perfect storm of circumstances, I experienced a private RIP tour for HHN. A private RIP tour works like a daytime VIP tour with a tour guide taking you wherever you want. You avoid queues for houses and attractions. You are a rock star for the evening. Your travel agent/expert can help you plan and book one of those if desired. However, you should expect to pay between $400-900 per person depending on the night you attend. That price is in additional admission ticket price for the HHN event, but this gets you true front on the line access to all the haunted houses which normally have hour long waits each.
After that RIP tour experience, I understood the obsession with HHN that people have. Halloween Horror Nights easily earns the title of best spooky event in the world. Even self-proclaimed "scaredy cats" attend HHN. At the very least, if you are a theme park fan, then you should attend HHN once. In fact, I will be buying a multi-night ticket this year, when they are released, to enjoy more than one night of HHN.
What do you (and I) need to know before going? I think we should know a few things like the basics of HHN, some frequently asked questions, and some general advice for touring Universal Studios Florida during HHN 2022.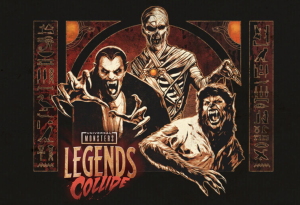 THE BASICS FOR HALLOWEEN HORROR NIGHTS
Halloween Horror Nights is a spooky after hours special ticketed event held on selected nights at Universal Studios Florida. Universal Studios Florida houses all the HHN nightly activities. CityWalk, the Universal Orlando Resort hotels, and Islands of Adventure get in on the theming. However, the HHN event itself happens in only one theme park, Universal Studios Florida.
This event is not recommended for children. The general guidelines encourage no one under 13 to attend. Every year there are stories of families bringing in small children, not truly knowing what they paid to attend. If you have any doubts, one of our travel agents can guide you on whether your family is prepared for the scares.  Just click get a quote on this page or call us at 678-815-1584.
Now the highly themed haunted houses function as the main draw. However, there are plenty of other things to do. There will be shows, scare zones, a Tribute Store, merchandise, some daytime attractions will be running, and food/beverage.
Speaking of daytime attractions, not every daytime attraction will be open. Yet, wait times are lower during this event.  Expected attractions to be open are TRANSFORMERS: The Ride 3D, Harry Potter and the Escape from Gringotts, Hollywood Rip Ride Rockit, Revenge of the Mummy, and the Men in Black Alien Attack. The Simpsons attraction may be open on some nights. Make sure to check the park map and Universal Orlando mobile app/website for updates. Also, make note that some of these attractions will close early due to local noise ordinances and/or required nightly maintenance.
The event runs select nights from September through October at Universal Studios Florida. In 2022, Halloween Horror Nights will kick off Sept. 2 and run until Oct. 31. The event typically starts at 6:30 p.m. Depending on the night, the event ends at 1 or 2am.
Halloween Horror Nights 2022 Dates
Sept. 2-4, 7-11, 15-18, 21-25, 28-30
Oct. 1-2, 5-9, 12-16, 19-23, 26-31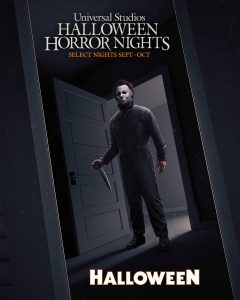 Ticket Prices
Since HHN works like a separate ticketed event, you will need to buy tickets. As of the time of writing, only single day tickets are available. Usually in July, multi-night tickets become available. However, at this point, we know pricing for single nights only. They range from $74 to $105/night. Saturdays tend to be more expensive. Also, the closer you get to late October, the higher prices get.
Tickets may be purchased as a part of a vacation package. We can guide you through that when you click get a quote. Universal Orlando offers some incredibly great value in terms of hotels. As mentioned earlier, Universal Orlando offers RIP tours. These come in private group and non-private group versions.
I have one last thing about tickets. Make sure you buy from the right coast. Universal Studios Hollywood holds its own version of HHN. You would be surprised how many people buy tickets for the California version intending to visit the Orlando version. If you make this mistake, there are not refunds since those parks function as different operations in terms of ticket sales.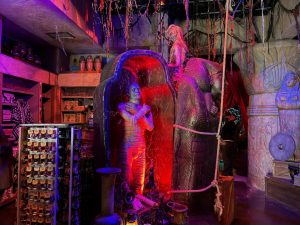 FREQUENTLY ASKED QUESTIONS
Does my HHN ticket get me into the park before the event officially starts like an after-hour event at Walt Disney World?
NO! Universal Orlando clears the park after the closing of daytime operations at Universal Studios Florida. That park will close at 5pm for day guests so it takes a little over an hour to clear the park. Unless you have access via daytime ticket media/annual pass, then you will have to wait for gates to literally open for the opening ceremonies sometimes around 6:15-6:30. Now, many guests will be inside the parks corralled into area for a "stay and scream" but we will cover that later.
Is parking free during HHN nights?
In simple terms, there is no free parking. This can be confusing since most of the year, Universal Orlando usually offers free parking after 6:00 pm. However, during Halloween Horror Nights, standard parking costs $27. Now, Preferred and Premier passholders still get free parking. Yet, Premier passholders do not get their usual free valet parking.
Can I bring in my own food and beverage on an HHN night?
For clarity, policies change without notice regarding this at Universal Orlando. However, the usual policy during HHN nights means no beverages, of any type, may be brought in after 5pm. Food policies remain the same during HHN evenings. However, I cannot emphasize enough that policies change often. I could fill twenty-five articles with my own experiences seeing these policies change almost daily on HHN nights before I attended one.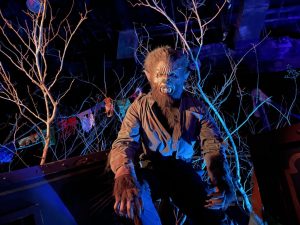 Is this event too scary for kids?
Once again, this is not a kid-centered event. Universal Orlando recommends no one under the age of 13 attend this event. This event is far too intense for most small children. In simple words, this is not Mickey's Not So Scary Halloween Party. Having seen small children brought to this event, it rarely goes well.
Can we wear costumes?
Once again, in a word, NO! You should leave costumes at home, especially facial masks. If you wear anything that could pass as a character costume, you will not be allowed entry. With all the "Scare Zone" characters, Universal does not want any confusion for guests.
What are the lowest attended nights for HHN?
Historically, the busiest nights are opening night and all Saturdays. Friday nights are also busier than Wednesdays, Thursdays, and Sunday nights. The crowds tend to get larger, after opening weekend, the closer you get October 31st. So, the best times to go to HHN are in September after opening weekend though. Visiting during these times will increase chances that crowds and HHN house queues will be smaller. Still, do not expect an empty park. Even on slowest nights of HHN, people will be everywhere.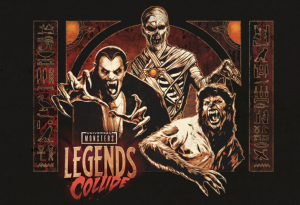 What about express pass during the HHN event?
Okay, there are lots of questions about this every year. I will try to explain in simple terms without boring you. First, one of the best perks of staying at one of the three premier resort hotels at Universal Orlando involves getting unlimited express pass for daytime attractions. However, HHN is a separate ticketed event so that express pass does not work for HHN. Second, Premier annual passholders with limited express after 4pm for daytime attractions also do not get express during HHN.
The only way to get express pass access to HHN attractions/houses would be to purchase express pass with your tickets. We can help with this and remember the prices increase as you get closer to the event date so contact one of our Pixies at Pixie Vacations today to get you all set.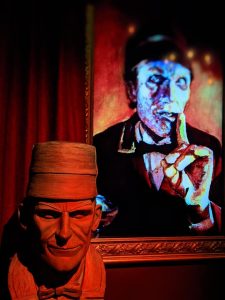 Touring Suggestions for Your Evening at Halloween Horror Nights
1. Strongly consider staying at a Universal Orlando resort hotel
There exist numerous reasons for this suggestion. One, after staying in the park well after midnight, you will have an easy trip to a soft bed. Two, Universal Orlando Resort hotel guests have a special entrance to HHN each night. This entrance is usually open until 8pm each night. Last, obviously, the walk, boat ride, or bus ride to Universal Studios Florida will be shorter from a Universal Orlando Resort hotel. Staying on-site makes a far more relaxing time enjoying HHN.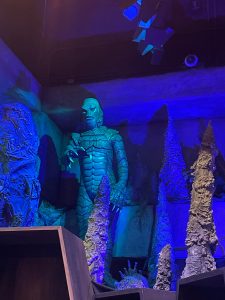 Have a plan of attack-arrive early!
I realize that sounds extreme, but this is an exciting busy after-hours theme park event. The main draw are the haunted houses. Universal started planning more than a year in advance for these houses. Since, as of time of writing, we do not have all the HHN house announcements, it is challenging to predict which houses to "rope-drop." Still, you need a plan for your priorities.
The event will get busier as the night goes on until at least 10pm. I suggest arriving around 5:15 or 5:30 if you do not have the ability to "Stay and Scream."
What is "Stay and Scream" you ask? If you have regular daytime admission and ticket media for HHN that night, you can stay in the park after the park closes at 5pm. The procedures change some each year. Basically, guests with HHN ticket media enter blocked off areas to wait for the HHN event to begin. In past years, guests could enter "corralled" areas starting a little after 3pm.  The "Stay and Scream" areas usually reside in New York area and Springfield USA area of the park.
If you do not have daytime admission, Universal Orlando started selling "Stay and Scream" upgrades a few years ago. For about $30 more, you could pay to enter Universal Studios Florida at 3pm. You could then enter a staging area to get a huge head start on rest of crowd waiting outside the gates. Historically, people in "Stay and Scream" areas experience two of the HHN houses before most people even enter the park for the event. If desiring to avoid long queues at the beginning of your night, this will help.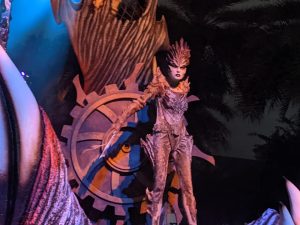 Are you trying to do all the houses in one night?
In fairness, it is impossible to do everything at HHN by only attending one night unless you pay for an RIP tour. Even if you purchase an express pass for the evening, you will not see everything. Express passes will help get you through the 10 houses, but other activities will be a challenge still in one night. Like I said, have a plan but be realistic with your time.
Universal Orlando does sell express passes at kiosks throughout the park. They will be even more expensive if bought the night of the event. If buying express, strongly consider buying in advance, it's cheaper and might sell out too.
Also, some nights, you can buy a cheaper express pass that starts being powered at either 10 or 11pm. The price will be less than a full evening express pass. However, all express pass sales are capped so you might get stuck without any when you decide to get one.
The last two hours often offer the shortest queues.
Since this event often lasts until 2am, many guests leave before then. If you can pace yourself, you might be lucky enough to enter short queues for the most popular houses during the last two hours of the HHN event.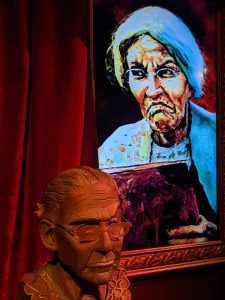 Even have a plan for meals
If you cannot "stay and scream", then eating before you arrive will help save you some time and money. Logically, everyone who arrives early will need more breaks for food and beverage. You can move more efficiently from house to house since you do not need to stop as often.
The busiest hours of the event are usually between 8pm and 10pm. You could also plan to enjoy some HHN food during this time. The queues for food/beverage will be longer during this time also. Still, you can rest a bit before heading back into the scare zones and HHN houses.
Take some time to enjoy the scare zones
Please avoid using flash photography here. If you really need a photo of a costumed character in the scare zone, they will pose with you. The flash can be very distracting during this event.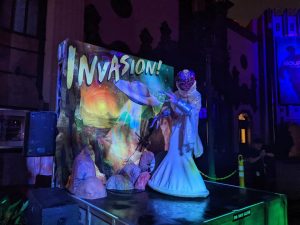 HHN Worth it?
The event is intended to be fun. Some people will have too much fun in terms of beverages. The HHN jail is a real thing so watch your alcohol consumption. Most of all respect the "scareactors" while at HHN. Scareactors are real people making a living. No matter how horrific they may seem, the scareactors will not actually touch or hurt you. Please do them the same courtesy. Yes, keep your hands, feet, food, beverages, trash, and abusive language to yourself.
Once again, this event displays what Universal Orlando does best. If you decide to enjoy HHN 2022, please check with one of our Pixies for updated information and the best options for you group.
Jon Self is an avid theme park fan who has the high privilege to serve as a pastor at an American Baptist Church (fbcmacomb.com) while also trying to find the proper life path with his loving spouse, a bigger theme park fan than Jon. You can follow him at @pastorjonself on Twitter. Jon writes for touringplans.com and uogrubhub.com. He also writes for faithelement.net.