VOLCANO BAY IS BORN
In June 2015, Universal Orlando used its controlling power over the waterpark Wet-n-Wild to announce that it would be closing that park December 2016. This seemed like a peculiar move. The move seemed even more confusing when it was announced that the Endless Summer resorts would be built on this property to give Universal Orlando eight resort hotels in total. The plan was to build a waterpark closer to Universal Orlando Resort (UOR). In fact, it was so close you can see it from rooms at Cabana Bay Beach Resort.
According to Universal Orlando Resort, they started breaking ground on Volcano Bay even before closing Wet-n-Wild announcement. Volcano Bay opened May 2017. While there have been some failures regarding this waterpark, it is arguable the best waterpark in Orlando area currently. Universal Orlando likes to refer to Volcano Bay as a water theme park. You will need to visit to decide if you think that is a good description. However, the theming of this water park is first class…well for a waterpark that is!
No matter how you feel about it being themed, this 27-acre waterpark showcases high-tech water attractions, many contemporary facilities, and a virtual queue technology known as the Tapu Tapu. The centerpiece of this park is the synthetic 200-foot volcano.  The water park is located right next door to Universal's Cabana Bay Beach Resort. The volcano is easy to spot from interstate 4.  In typical Universal fashion, all space was used wisely in the creation of this waterpark.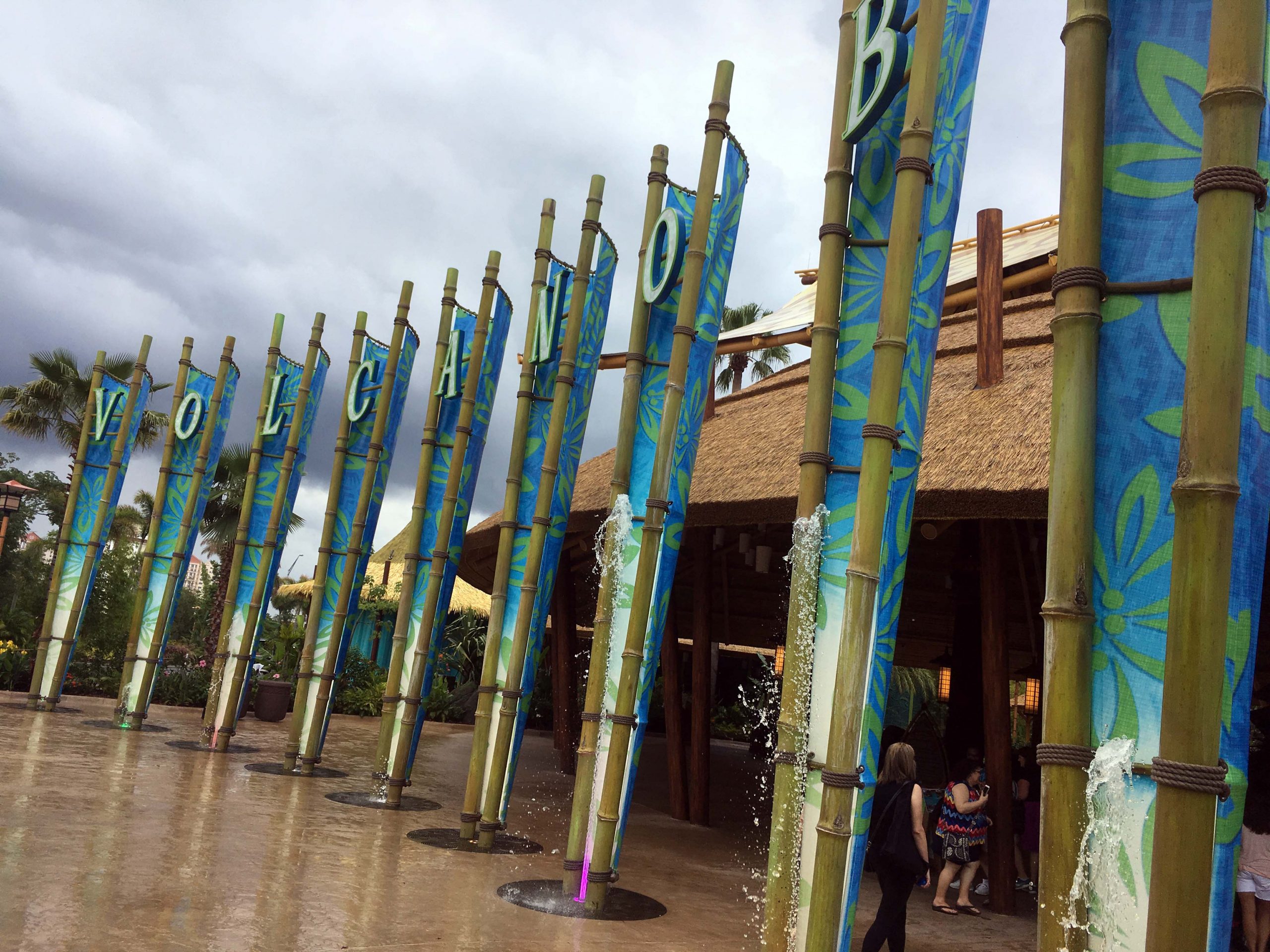 VOLCANO BAY TICKET OPTIONS
The ticket options for Volcano Bay can be perplexing so you may want to consult with your travel agent for specifics once you have your dates set. There are no season passes to just Volcano Bay. Universal Orlando sells three park annual passes which include Volcano Bay admission. If choosing to buy a three park pass or upgrade your 2-park pass, please check "blockout" dates for these passes. For example, only the premier level, most expensive pass, can be used for admission before 4pm from July 1st through August 15th. Many guests purchase wrong level of Volocano Bay passes and find themselves blocked from entrance. Do not let yourself become one of these people.
If you are planning to go to Volcano Bay for only one day, then single day tickets are an option. They cost $80 or more depending on time of year you choose to go. Depending on your length of stay at Universal Orlando Resort, you may want to consider a multi-day three park ticket option that can be purchased. These can be as low as $65/day based on a five-day ticket that includes Volcano Bay.
As you can see, the ticket media involving Volcano bay can be bewildering. Please do not let that keep you from enjoying this waterpark. The travel agents at universalfamilyvacations.com and pixievacations.com can help you through this at no extra cost to you when you book through them.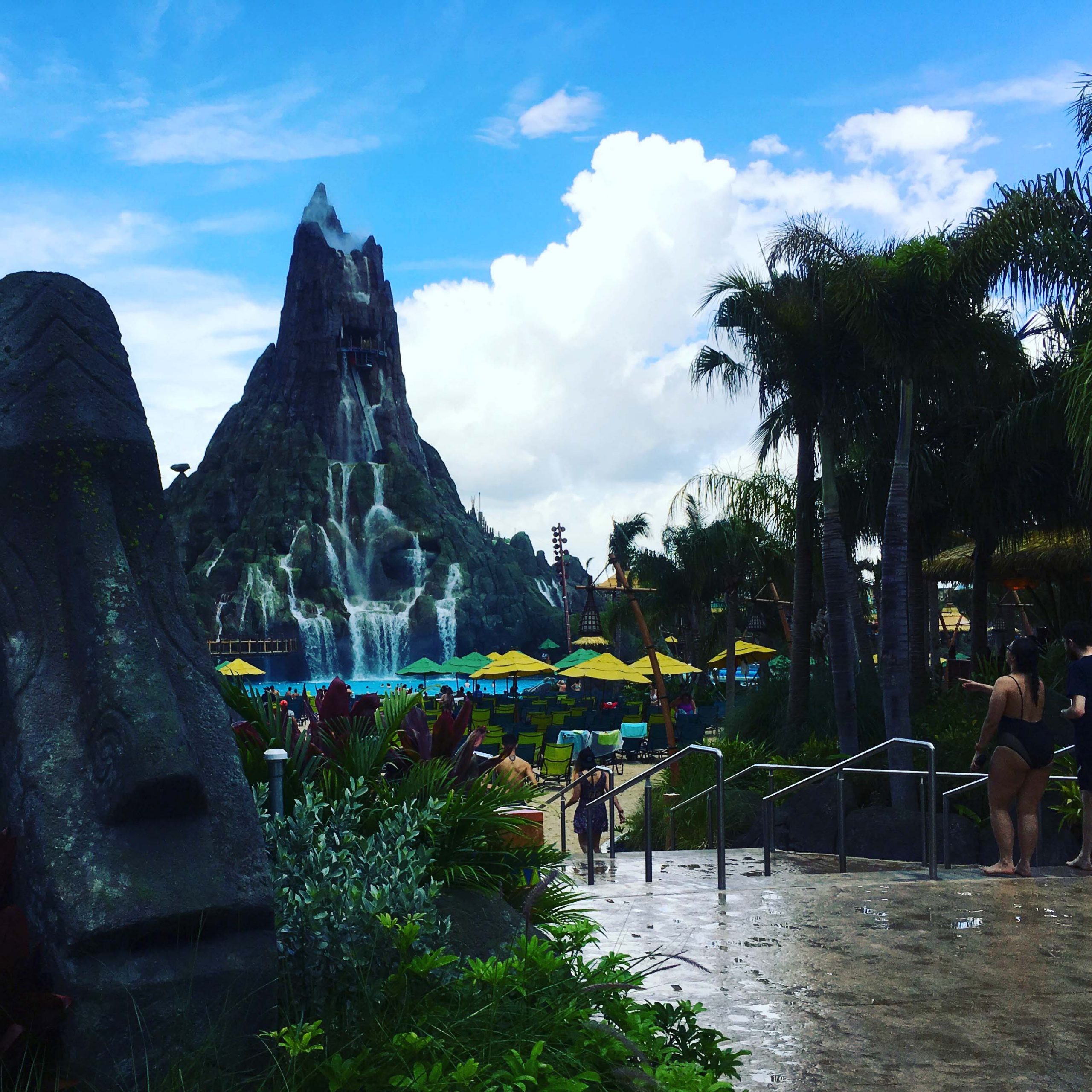 HOW DO I GET TO VOLCANO BAY?
This seems like an easy question. For Disney veterans, this question is similar in agony to how one gets to Magic Kingdom. If you think you will just drive to the Volcano Bay parking lot, then sorry to break this to you but there is no Volcano Bay parking lot. In addition, no non-Universal transportation can get you to Volcano Bay. For example, I heard two different stories recently of people thinking their ride share service could drop them off at the Volcano Bay entrance (saving them time) only to be taken to top of CityWalk parking garage then having to walk to bottom level of City Walk garage to get on a shuttle bus for Volcano Bay.
If not staying at a Universal Orlando hotel, then guests should plan on parking at the main parking garage. They will then be directed to parking level for Volcano Bay guests. After parking, guests will need to follow directions to Volcano Bay shuttle pick up area. Using my Magic Kingdom analogy, this lower level is like the Ticket and Transportation Center and only way to Volcano Bay is by the shuttles.
If that sounds like a lot of effort, then there is an alternative. Guests staying at any Universal Orlando Resort have either a dedicated walkway to entrance of Volcano Bay or direct bus transportation from their resort to Volcano Bay entrance skipping all the shuttles in CityWalk garage area. If Volcano Bay is a priority for you, the arrival and departure procedure may be enough to warrant a stay at a Universal Orlando resort hotel with some rooms priced under $100/night.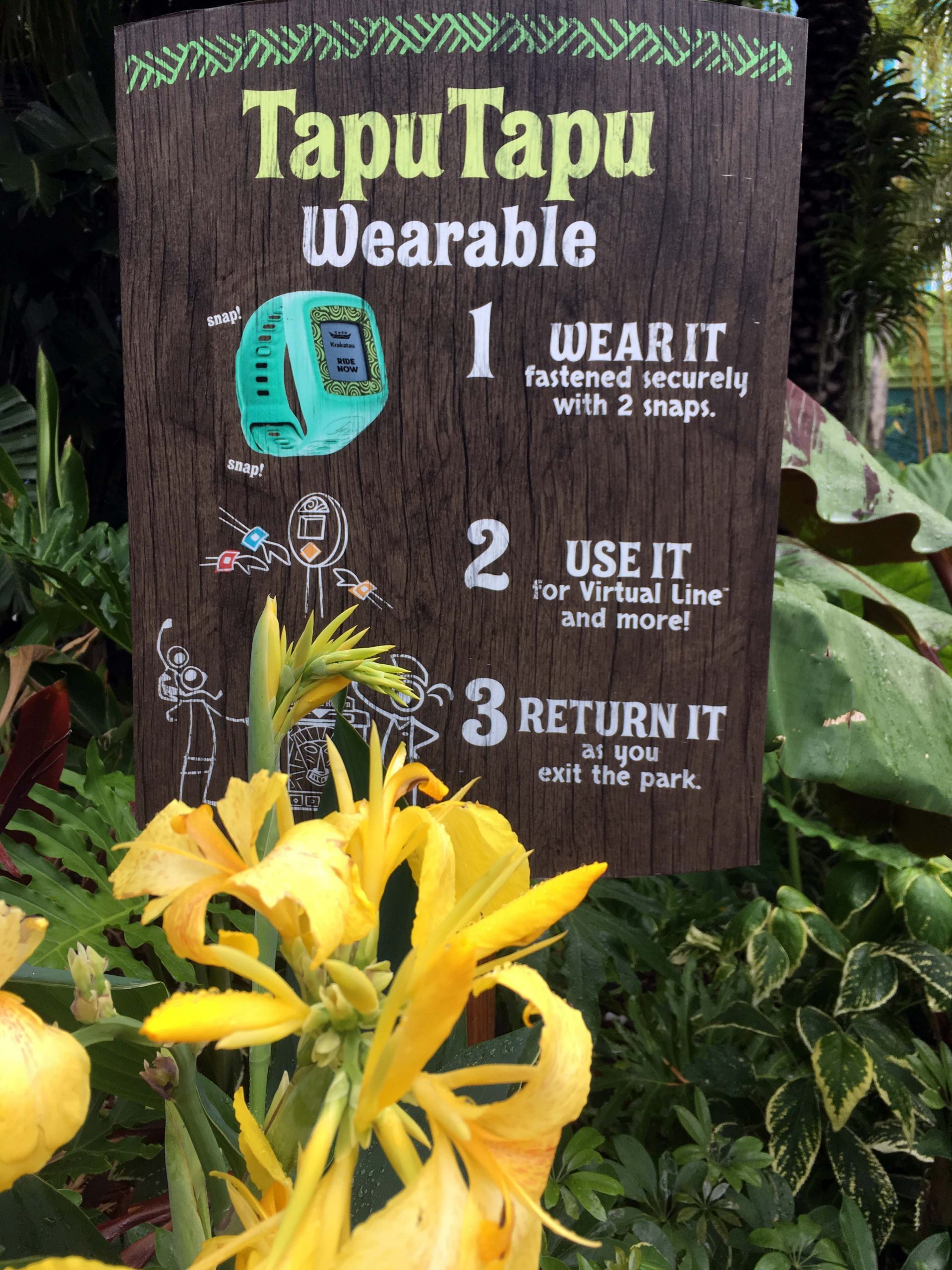 VIRTUAL LINE AND TAPU TAPU AT VOLCANO BAY
One of the things you must know before going to Volcano Bay is the Tapu Tapu or virtual line system. Now if you have tried to get a virtual line for Hagrid's Magical Creatures Motorbike Adventure and failed then this may sound ominous. When you read virtual line, you may be visualizing the stress of getting a boarding pass for Rise of the Resistance at 7:00am. As someone who has sat in the Cabana Bay Beach Resort lobby with my phone ready to go before 7:00am, I feel your stress and fear of the term virtual line. The virtual line system at Volcano is as easy as Tap-Tap. You will feel as relaxed with this system as I did after getting boarding group 7 for Rise of the Resistance that morning.
The Tapu Tapu is a free MagicBand-like device designed for this water park. Yes, this device is totally free to use, however these bands only work at Volcano Bay. They are given to you when you enter Volcano Bay and taken back when you exit the water park. They enable you to access lockers that you have rented. You can buy food, beverage, and merchandise with them when you connect your Universal Orlando account to it so you do not have to carry extra items. There are also many interactive elements with "wave" symbols that you can use you Tapu Tapu to activate. Some of them are water streams (some that splash guests in the lazy river), create special lighting effects, create specific sound effect, and more.
However, the best features of Tapu Tapu and perhaps this waterpark is the ability to make ride reservation times. All one needs to do it go the "Wave" symbol near the attraction you want to ride and "tap" your device next to it. For Walt Disney World veterans this will be like original fastpass system where you get passes near the actual attraction. You Tapu Tapu will display your wait time and you will be told how long until your time to ride. When your return time arrives, your Tapu Tapu will vibrate. You can then go to that attraction's queue for a short wait (usually ten minutes or less) any time after that. Even if you decide to nap in your beach chair for three hours after you Tapu Tapu told you that you could enter the queue, you can still enter the queue later because the virtual line window ends when the ride closes for the day. Now, you can only have one ride reservation at a time so you must enter the reserved ride queue before you can get another reservation. Only exception is if you tap into another ride reservation it cancels your previous one so be careful.
One related issue to this is anyone may enter a queue that says, "Ride Now." This will not count against your one Tapu Tapu reservation. Also, you may enter the winding river, fearless river, and the wave pool at any time without a reservation.
 A FEW MORE IMPORTANT THINGS TO KNOW
1.There is plenty of seating, but you can purchase premium seating and cabanas (which will be covered in future articles but expect them to be pricey but perhaps worth it).
Krakatau Aqua Coaster is viewed as one of best rides in all of Orlando area so expect it to have long waits.
Lockers are available for rent starting at $9 for a small size locker.
Bring a towel! Volcano Bay will rent you a towel if you forget…. yes, really rent you a towel!
There are over 20 water-based attractions with the latest technology for thrill seekers to kiddie attractions.
Last important detail, early park admission is offered to resort guests only year-round to Volcano Bay. There are seasonal promotions for annual pass holders but not during bust part of year. This means anyone staying at an UOR/Loews resort hotel can enter Volcano Bay at least 30 minutes early. This hotel perk will enable guests to enjoy the busiest attractions with almost no wait. Now, not all attractions will be open, but the aqua coaster will almost unquestionably be running so that attraction alone is worth early park admission perk.
Did I mention that hotel guests get a private walkway or direct bus transportation to Volcano Bay? Did I mention Cabana Bay is literally next door to Volcano Bay (and even has Volcano Bay view rooms)? In future articles, we will go into more insider tips about Volcano Bay. However, in my household, Volcano Bay is seen as best waterpark around. When staying on property a trip to Volcano Bay is a breeze and so much fun. Please consider Volcano Bay as a part of your next Orlando vacation as you talk with your travel experts.
Jon Self is an avid theme park fan who has the high privilege to serve as a pastor at an American Baptist Church (fbcmacomb.com) while also trying to find the proper life path with his loving spouse, a bigger theme park fan than Jon. You can follow him at @pastorjonself on Twitter. Jon writes for touringplans.com and uogrubhub.com. He also writes for faithelement.net.
Get a Quote
Start Planning Your Universal Orlando Vacation Today!
Get a free quick quote now.