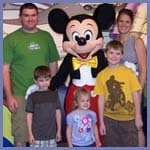 My name is Nathan and I am a huge Disney fan! I can remember the fist time that I visited one of the Disney Parks; it was back in 1985 with my grandparents. They took me to Disneyland and from the first moment I stepped into the park I fell in love! Since then I have visited Disneyland and Walt Disney World parks many times with family and friends. Nothing brings out the child like feelings we get than Disney, from the unforgettable movies to the fascinating parks and resorts, nothing else is as magical as Disney!
My passion for Disney and planning vacations at the different resorts was evident to my friends and family and they all told me I should do this for a living. So I started looking and found this wonderful company called Pixie Vacations and knew that it was a great match!
I want to take all the experiences I have in planning wonderful Disney vacations and share them with you so that your next Disney vacation is as magical as can be. As I mentioned before I have been to the Disney World parks and resorts many times as well as the Disneyland parks. I am also a Disney Vacation Club member at Saratoga Springs Resort.
What are some of the service that I offer that would be a benefit to you and your family?
Here are just a few!
Daily itineraries and a plan for each day at the park to make the most of your valuable time.
Dining Reservation: If you will be taking advantage of the Disney Dining Plans or just wanting to make special dining reservations, I will do make your reservations for you or assist you, which ever you prefer.
The best rates available: I monitor the different specials that Disney offers throughout the year to make sure that you are getting the best deal for your vacation. We all want the best deals, right?
Please select my name on the quote form when requesting a Disney vacation quote.