You are getting some well-earned vacation time. You decide to stay on-site at Universal Orlando. The resorts options at Universal Orlando Resort, UOR, have expanded dramatically in last seven years going from three resorts to now technically eight. You may find your decision daunting. Majority of visitors proclaim the original three "premier" resorts, Portofino Bay, Hard Rock Hotel, and Royal Pacific, as the best high end theme park resorts in Orlando area for their value. That does not however mean they are economical.
What makes these Universal Orlando Resorts premier?
Like all UOR resorts, these were built in partnership with Loews hotels, a brand known for luxury and service. This is seen in all UOR hotels but especially in the premier.  Now for many people the rates starting around $260 during value season and well over $600/night during peak season for a standard room sounds premier. Universal is fond of saying that the premier hotels offer a one-of-a-kind guest experience.
Top Universal Resort Amenities
Now even though the premier hotels vary in price and amenities, they have several advantages that set them apart. For comparison, these premier resorts offer similar service and features to the Disney Boardwalk and Monorail resorts for half the price on average. If that does not convince you to consider these resorts, then just wait! Each of these resorts has dedicated bus service directly to Volcano Bay entrance. They each have boat service to the theme parks. These resorts are all within an easy 10-minute walk from the theme parks if you prefer to saunter. With UOR's set-up, the two theme parks are close to one another, so the boats drop guests off near both theme parks. This enables premier resort guests to avoid the CityWalk security hub, which saves time and potential frustration.
Now the premier resorts have larger rooms, higher quality dining, and guests get priority seating at certain CityWalk dining options. Yet, as your favorite infomercial will tell you: "That is not all, folks!" Premier resort guests get unlimited express pass for their stay. It starts when they check in and ends at the close of park operations on check out day.

Unlimited Express Pass
Perhaps you are unfamiliar with the sorcery known as unlimited express pass. These are like the old FP+ system at Walt Disney World except you do not have to stress about scheduling them in advance. With unlimited express you simply enter the express queue anytime (and as often as) you desire. As the name implies, you can do these an unlimited amount. If you want to ride Incredible Hulk coaster 6 times in a row with low wait, then you can know do this. I, personally, did this on a moderate crowd level day In May 2021 averaging about a 6 minute wait each time with a posted 30-to-45-minute wait for the regular queue. If you goal is to experience all the attractions at UOR in a short amount of time, then express would expedite that.
Unlimited express is available for purchase in park to al guests until supplies sell out.  During busier days, express has been selling at $300/person or more. Based on that, you can see why some guests stay at a premier resort solely for express privileges. This advantage can make one feel like a VIP all by itself. Please be warned…some people once they have this privilege are addicted forever to it.
Before you think unlimited express will solve all your vacation issues, it is not available everywhere. For example, resort guest express does not work at Volcano Bay. It will not get you front of the line access for restaurants in park. Express privileges are not available to anyone for the following attractions: Ollivander's Wand Show, Hagrid's Magical Creatures Motorbike Adventure, Bourne Stuntacular, and Pteranodon Flyers. Currently, Jurassic World Velocicoaster has not officially opened but we anticipate it will not open with express available either.
What I think could be better
Staying at a premier resort is not without pitfalls. In addition to higher overall price tag, there is a parking fee of about $28 per day (and no you cannot leave your car overnight in CityWalk parking to avoid this fee). Along with things being more expensive at a premier luxury style resort, there is an additional fee (around $35 per night per person after two aged above 18). That can add up quickly. Also, it is not as simple to get a basic theme park style meal.  Premier resorts do not have food courts. If you are unlucky like me, you can be staying at Portofino but wait over an hour for a mobile order of a sandwich around lunch time. This experience is not uncommon especially since park reopened in June 2020.
Which Universal Orlando Resort Hotel is best for me?
Now you have taken the great and taken the bad, causing you to decide to stay at a premier resort if only for express passes. Which one do you select? This can be a tough decision but let me suggest a few details about each premier resort that may help.

 Loew's Portofino Bay Resort
Portofino Bay is farther away from CityWalk and the theme parks of the premier resorts. If you are looking for a quieter resort, this one wins! This resort is considered more romantic in theme and is known to have opera singer perform from a balcony area on occasion. The theming fits the Italian image. Being married to a real Starbucks fan, this is only resort that has official Starbucks not just a coffee shop "proudly serving Starbucks." This means you can use Starbucks gift cards and/or app. You cannot redeem Starbucks rewards, but you can earn "stars" to use when you get home. Also, the rooms are larger here with spacious bathroom. As well, the only spa at UOR is located here. For all those reasons, this is most expensive of the premier resort on most days. Some guests have been disappointed in the food options at this resort in terms of speed of service but if your are looking for a romantic high value resort this one wins!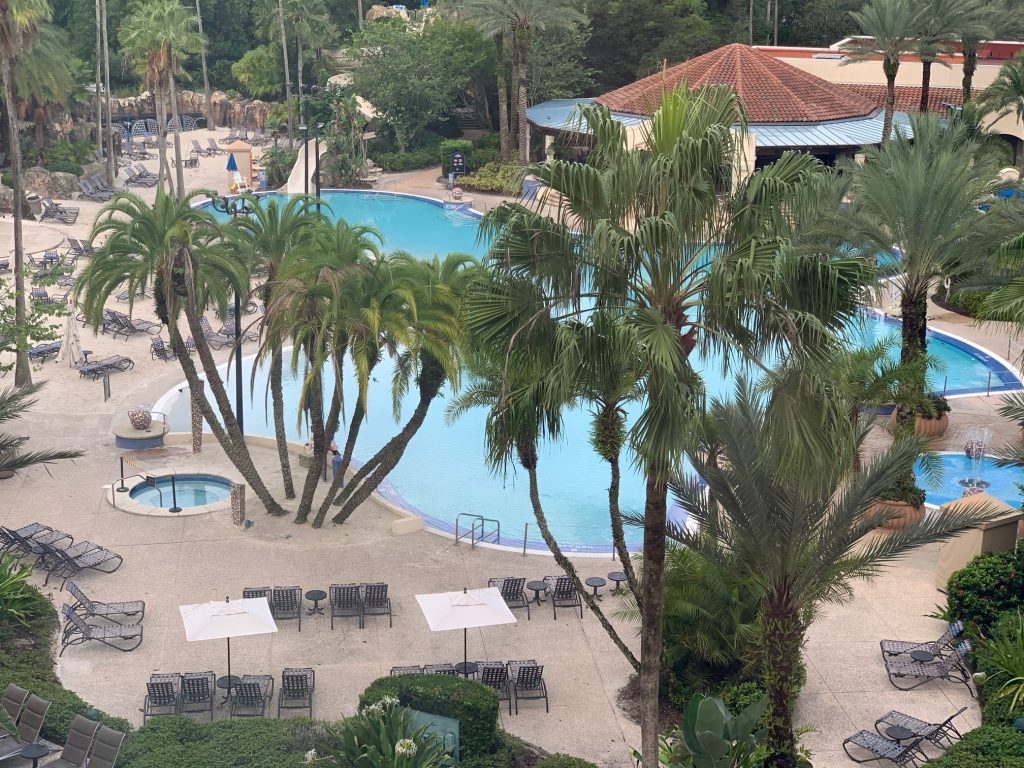 Universal Hard Rock Hotel
Hard Rock Hotel is a place to live like a rock star. This is the home of some of the best dining on property. It is closest hotel to the park being less than ½ mile away from Universal Studios Florida. As you might expect, it has themed pools with music even playing underwater. This resort has well over $1 million dollars in rock music memorabilia to view. This resort is about fun but that fun means noise.  The potential noise level at pools and lobby area can be off-putting to some guests. Also, if you are like me being easily lost at your big resort, then Hard Rock can feel like a labyrinth. I have been known to get off the shuttle boats and wander not sure where I am going. However, in my circle of theme park friends, this is the most popular UOR/Loews resort since they are about fun!
Royal Pacific Resort
Royal Pacific Resort is the lowest priced premier hotel but by no means is it inexpensive. If you can find a night here for under $250 during slower season, then you win resort lottery. The rooms are slightly lower quality than other two premier resorts with some guests complaining about small rooms. The Polynesian theme is well done from moment you step on property. However, this resort went through some renovations over past two years. One new renovation was the Tuk Tuk market, which is a grab and go food area, but it has a resort style freestyle cup program. This is only premier resort with such a program so if you are ignoring the call to go to 12 step programs for you diet soda addiction, like myself, then this resort will enable you in a cost-effective way. Now this resort is not as close as Hard Rock but it on the Islands of Adventure side so about ½ miles walk if you choose to stroll. If you goal is to get unlimited express passes at the lowest possible cost, then this is the resort for you.
Plan that Universal Resort Vacay
As many a Universal Orlando premier resort guest can confirm, you will feel special staying here. No matter which you chose, the express pass alone will make it worth it. In the resort hotel battle, all the UOR/Loews resorts are a better overall value than their Walt Disney World counterparts. If you budget allows a stay at a UOR/Loews premier resort, then you should indulge the premier experience. As UOR marketing says: "Let yourself woah."
Jon Self is an avid theme park fan who has the high privilege to serve as a pastor at an American Baptist Church (fbcmacomb.com) while also trying to find the proper life path with his loving spouse, a bigger theme park fan than Jon. You can follow him at @pastorjonself on Twitter. Jon writes for touringplans.com and uogrubhub.com. He also writes for faithelement.net.
Get a Quote
Start Planning Your Universal Orlando Vacation Today!
Get a free quick quote now.