The Wizarding World of Harry Potter contains numerous interactive elements. The most popular would be the interactive Wizarding World wands. Are these worth it for your Universal Orlando Resort vacation? How much do the Wizarding World of Harry Potter wands cost to use at Universal Orlando?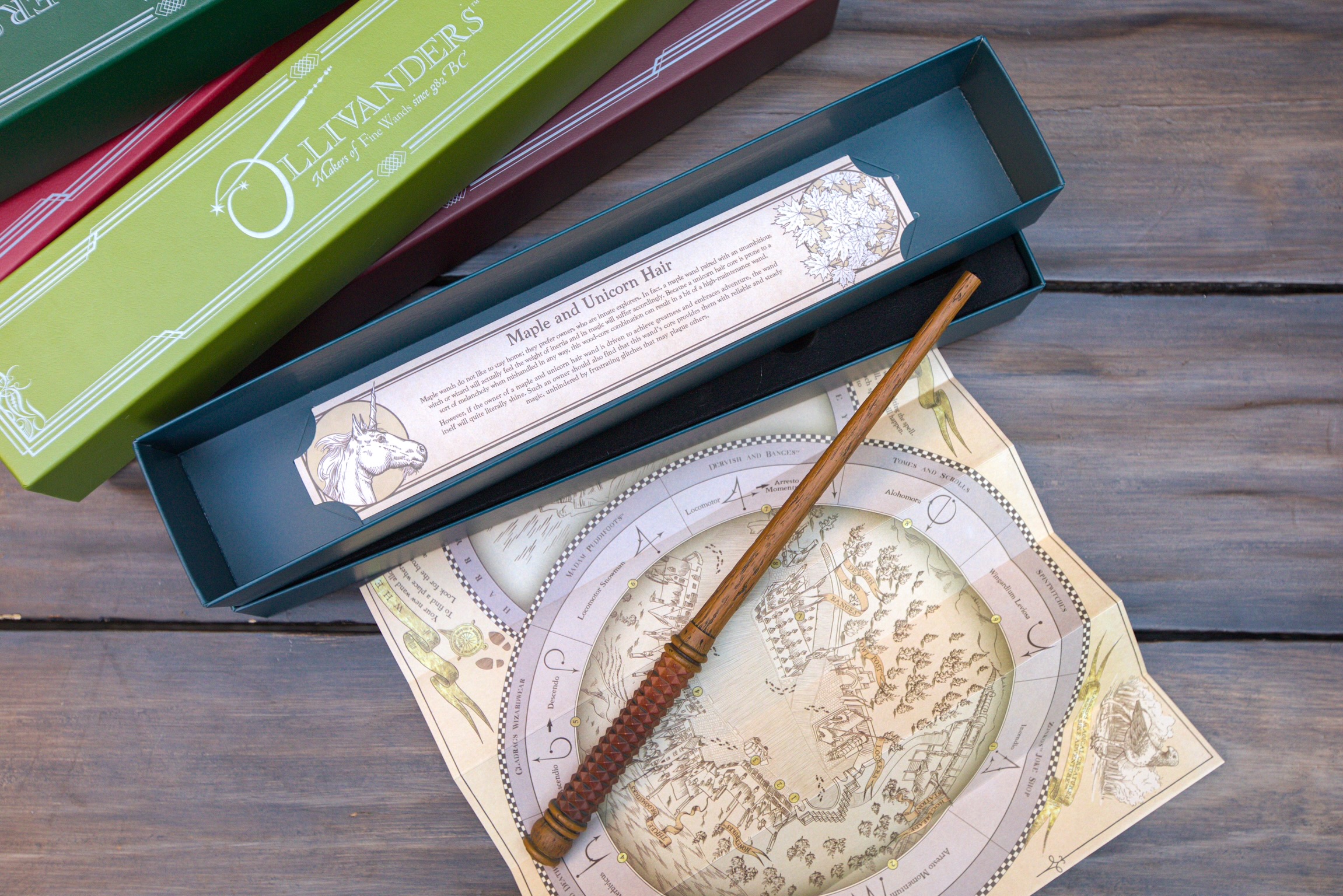 Universal Orlando Resort contains two different Wizarding World of Harry Potter areas. Both Universal Orlando theme parks offer interactive wands with several areas around the Wizarding World lands that guests can use to "create" special magical effects.
The interactive Wizarding World of Harry Potter wands help guests feel more immersed in the magical lands at Universal Orlando Resort. These interactive wands will work repeatedly during your trips to Universal Orlando Resort. If you venture to California, these wands also work in the Hogsmeade area of Universal Studios Hollywood. The Wizarding World of Harry Potter wands make an excellent working souvenir to allow the Harry Potter magic to always be with you at Universal Orlando Resort. Even though these wands fail to create the same type of magic when you return home, they will remind you of your great time.
Wizarding World of Harry Potter Wands: The Basics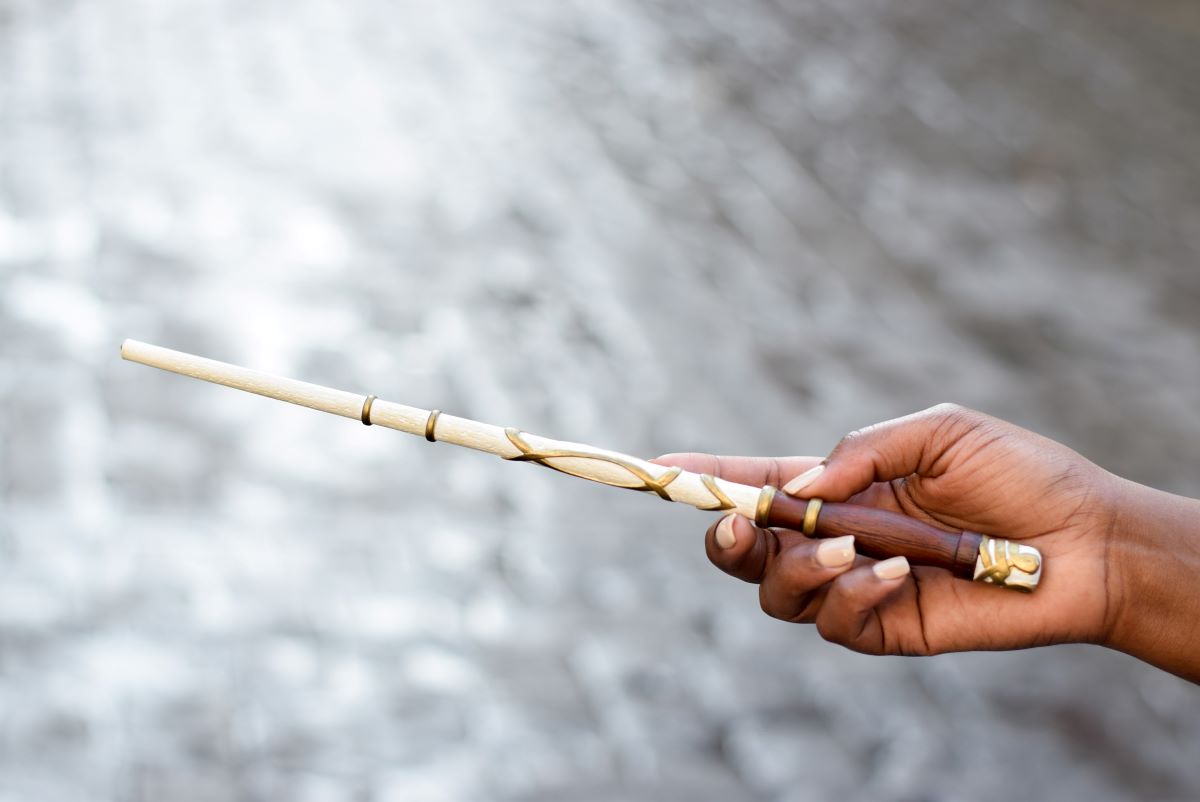 Universal's Harry Potter wands come in two types: the interactive wand that can be used around the land to perform spells and regular wands that can be used for display or role-playing. Guests should be advised that Universal Orlando Resort team members have told us that fewer non-interactive wands are available. The implication leans towards non-interactive wands disappearing from the Wizarding World, except for some extraordinary collectible ones. We cannot officially confirm this, but the logic makes sense.
The interactive Harry Potter wands do not have any electronics inside, so there is no need to charge them. They work because the wand reflects light back to a sensor placed around these spell locations in the parks. The sensor tracks the light and movement of the wand and then activates the special effect. Each interactive wand comes with a map of spells for the Harry Potter lands so you know where to go in the land to do the spells.
How Much Are Wizarding World of Harry Potter Wands?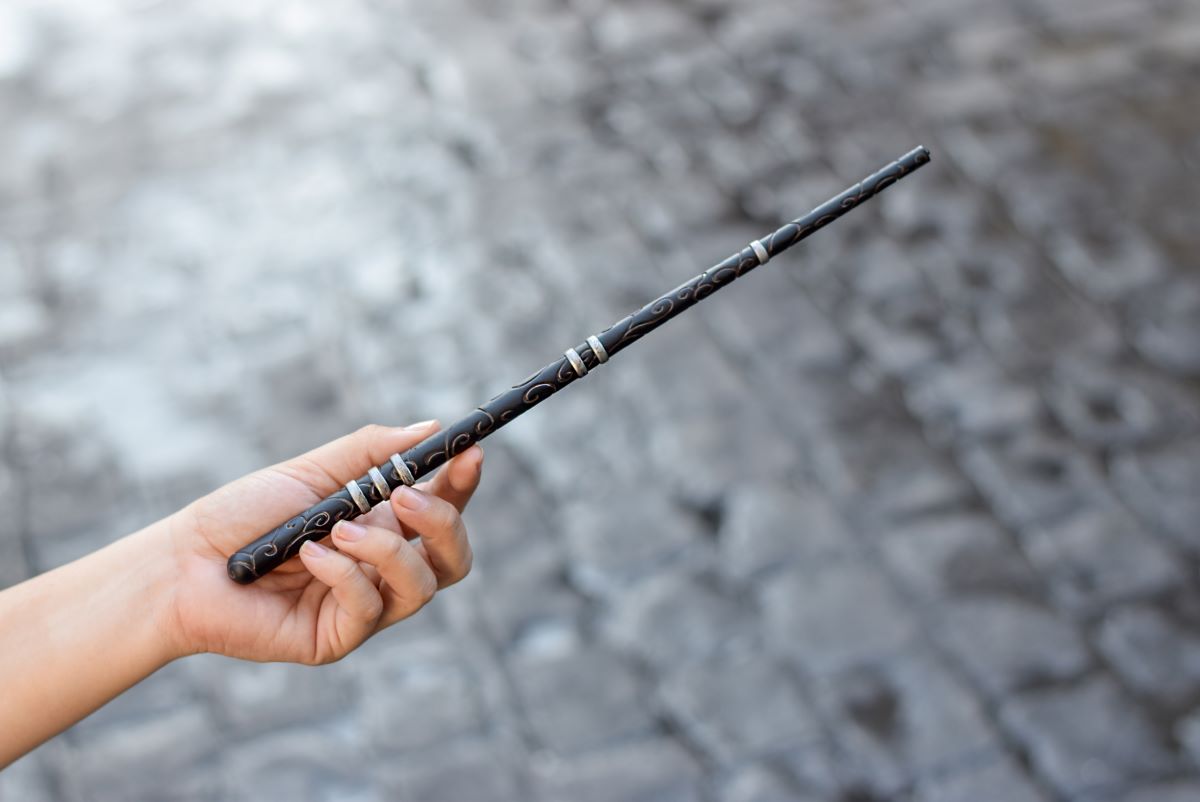 Regular or standard wands: $55
Interactive wands: $63
Collectible wands: $75
Non-interactive Hagrid's umbrella wand: $120
The interactive Wizarding World of Harry Potter wands are not much more than the non-interactive ones. This usually leads to guests purchasing the interactive ones to experience the interactive features at Universal Orlando Resort's Wizarding World lands.
Universal Harry Potter Character Wands
The list of wands sold at Universal Orlando Resort makes a long list. New Wizarding World of Harry Potter character wands arrive periodically. If you have a favorite "Harry Potter" movie character, a character wand might be for you.
Also, some character wands disappear over time. Based on our most recent trip to the Wizarding World of Harry Potter, we checked on the character wands available. After checking with team members, we found the following Wizarding World character wands being sold:
Harry Potter
Hermione Granger
Ron Weasley
Albus Dumbledore
Professor Snape
Lord Voldemort
Neville Longbottom
Draco Malfoy
Professor McGonagall
Cho Chang
Ginny Weasley
Fred Weasley
George Weasley
Molly Weasley
Arthur Weasley
Sirius Black
Cedric Diggory
Remus Lupin
Bellatrix Lestrange
Luna Lovegood
Xenophilius Lovegood
Mad-Eye Moody
Fleur Delacour
Narcissa Malfoy
Corban Yaxley
Nymphadora Tonks
James Potter
Corban Yaxley
Peter Pettigrew
Viktor Krum
Rufus Scrimgeour
Death Eater Swirl Wand
Death Eater Snake Wand
Death Eater Skull Wand
Gellert Grindelwald
Seraphina Picquery
Queenie Goldstein
Newt Scamander
During the most recent Universal Orlando Resort annual passholders "garage sale," we noticed that several of the "Fantastic Beasts" wands were on sale, like the Gellert Grindelwald one. This might mean wands like that are being phased out. Please remember that as you visit the Wizarding World of Harry Potter.
Most Recent Additions to the Universal Harry Potter Wands
Ready the owls, there is news to share. New Ollivanders wands have arrived at The Wizarding World of Harry Potter™! Which one are you most excited for? pic.twitter.com/n6lmGsy1Hj

— Universal Orlando Resort (@UniversalORL) December 5, 2022
You may not want your favorite Wizarding World of Harry Potter character's wands. Perhaps you want something you can call your very own. The wand chooses the wizard, and the wizard chooses the wand, as they say.
In December 2022, Universal theme parks worldwide unveiled new Wizarding World of Harry Potter wands. These 16 new wands take the combination of wood and power core to a new level, even for Harry Potter.
Universal Orlando Resort sells wands based on the Celtic tree calendar that J.K. Rowling used in your wonderous books about the boy wizard. The Celtic wand designs use different types of wood for different birth dates. The birth dates look like this:
Birch, December 24 – January 20
Rowan, January 21 – February 17
Ash, February 18 – March 17
Alder, March 18 – April 14
Willow, April 15 – May 12
Hawthorn, May 13 – June 9
Oak, June 10 – July 7
Holly, July 8 – August 4
Hazel, August 5 – September 1
Vine, September 2 – September 29
Ivy, September 30 – October 27
Reed, October 28 – November 24
Elder, November 25 – December 23
These types of wood are then paired with one of the three powerful wand cores:
Unicorn hair
Dragon heartstring
Phoenix feather
With your wood type and power core selected, you can progress as the next talented witch or wizard at Hogwarts. The wand experience at Universal Orlando offers a bountiful harvest of options.
Theme Park Exclusive Wands
The new collection of authentic Ollivanders wands adds 16 all-new interactive wands to Universal's current selection. Those new additions include one wand exclusive to each of four destinations: Universal Orlando Resort, Universal Studios Hollywood, Universal Studios Japan, and Universal Beijing Resort.
Each new wand pairs a type of wood with one of three powerful cores. Each of the new wands also comes with a first-ever "wand lore" insert detailing the properties of the wand and the attributes of its chosen owner.
Also, in December 2022, Universal Destinations and Experiences theme park locations started selling theme park-specific Wizarding World wands. These wands can only be purchased at the specific Universal theme park.
Larch & Phoenix Feather at Universal Orlando Resort
Walnut & Dragon Heartstring at Universal Studios Hollywood
Cherry & Unicorn Hair wand at Universal Studios Japan
Red Oak & Unicorn Hair wand at Universal Beijing Resort
How To Get a Wizarding World of Harry Potter Wand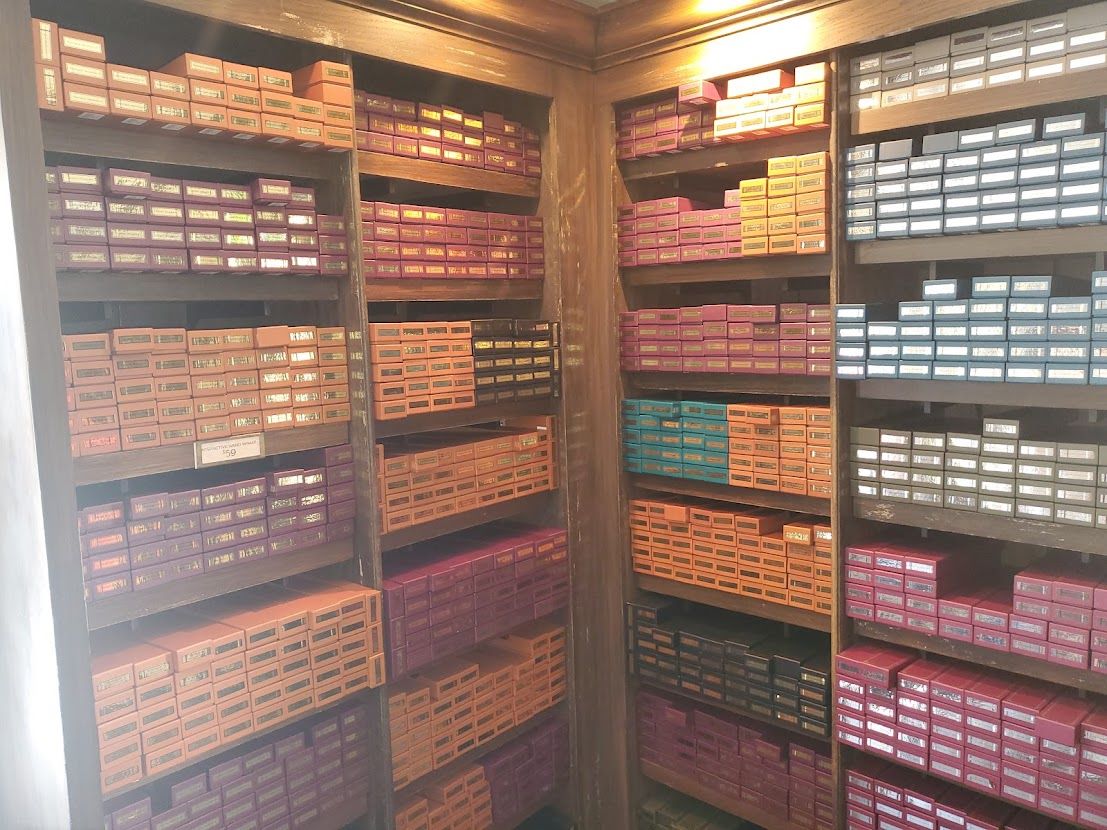 As you might imagine, several points of sale at Universal Orlando Resort sell the Wizarding World wands. Guests can buy them at stands within the Wizarding World areas of Universal Orlando Resort. You can also acquire them at the main gift shops at Universal Studios Florida, Universal Islands of Adventure, and Universal CityWalk Orlando. If that does not fit your Universal Orlando Resort vacation plans, the eight Universal Orlando hotels also often sell Wizarding World wands.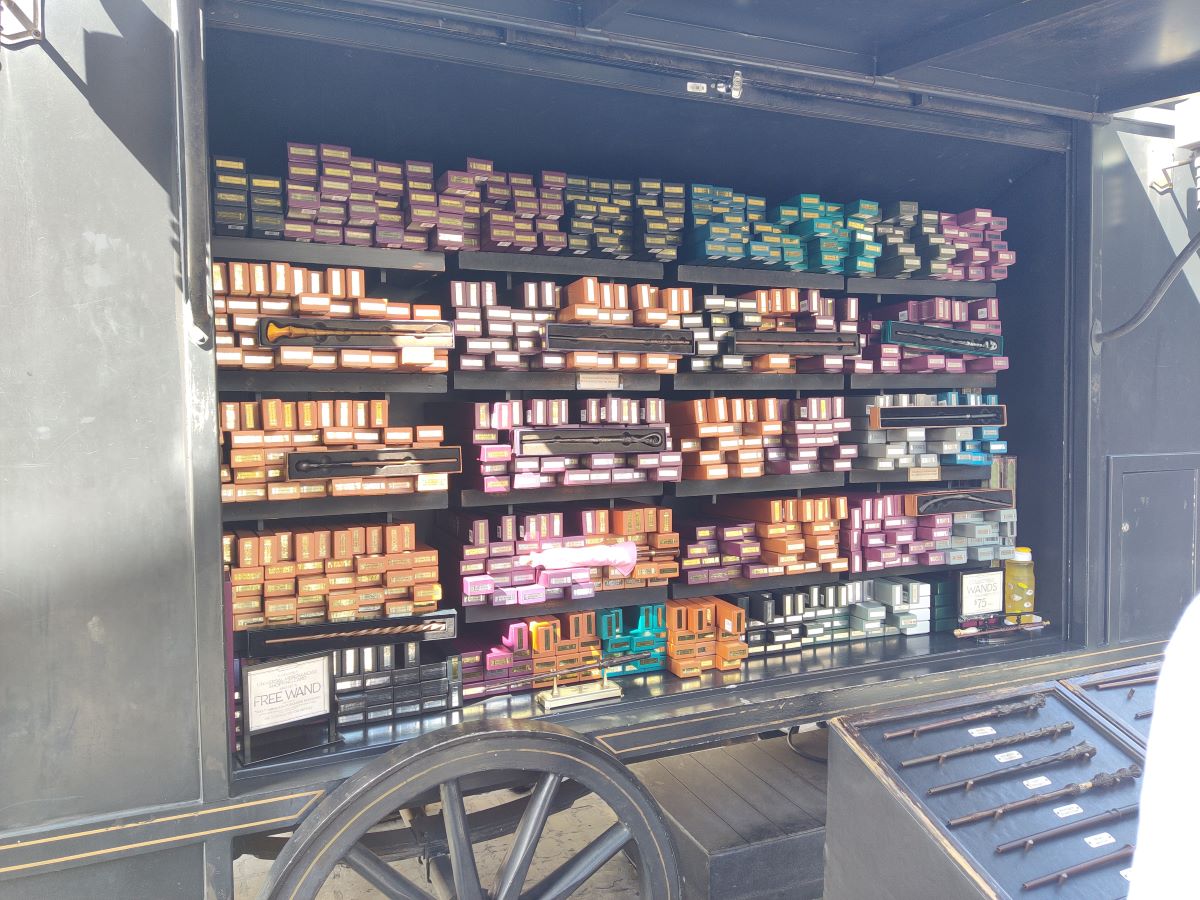 Universal Ollivander's Wand Show
One of the best ways to acquire a Wizarding World wand involves attending the Ollivander's Wand Show. This happens at Hogsmeade at Universal Islands of Adventure and Diagon Alley at Universal Studios Florida. We suggest doing this in Diagon Alley since more shows happen there than at Hogsmeade,
In Wizarding World of Harry Potter lore, Ollivander plays a key role. He makes and sells wands. Ollivander sells Harry Potter, the boy wizard, his wand. This idea makes for a fun show since the wand chooses the wizard, and the wizard chooses the wand.
The Ollivander Wand Show allows guests to see a scene from the Harry Potter movies play out in real life. Guests attending the show will see special effects, and a Wizarding World wand expert will help a guest with the wand-choosing ceremony.
The show is a great experience for Wizarding World of Harry Potter fans. If you are planning to purchase a wand, attending this show makes a good introduction to the process and fun.
The wand maker will pick one person from the crowd watching the show at random to be the one to experience the wand-choosing ceremony. However, the selection process for one person is mostly random. Some factors increase the chance of you being selected to participate directly as the one choosing a wand. Yes, only one person in the group will be selected to experience something like Harry Potter's experience from the books and movies.
Patterns
After tracking the patterns for years and chatting with Universal Orlando Resort team members, some things will increase the chances of someone in your group being selected. Those factors are:
Being a child around age 11
Standing in the front of the group on the right side of the room as you enter
Wear some Wizarding World of Harry Potter clothing
Do not be seen with a wand already since this appears to decrease your chances.
We cannot guarantee this will get you chosen. However, we know these factors help. Either way, the wand show makes for a wonderful experience for would-be witches and wizards alike. Even those of us that are muggles enjoy the show.
If you are chosen for the Ollivander experience, you will be given the chance to purchase the wand used in the ceremony. You do not have to purchase the wand that chooses you if you participate in the wand ceremony. Still, it will be tough to say no! For the record, we could not say no when our child was selected for the wand ceremony. Of course, wands were not interactive then. Fortunately, they cost under $40 back then.
What Happens When You Get Chosen at Ollivanders?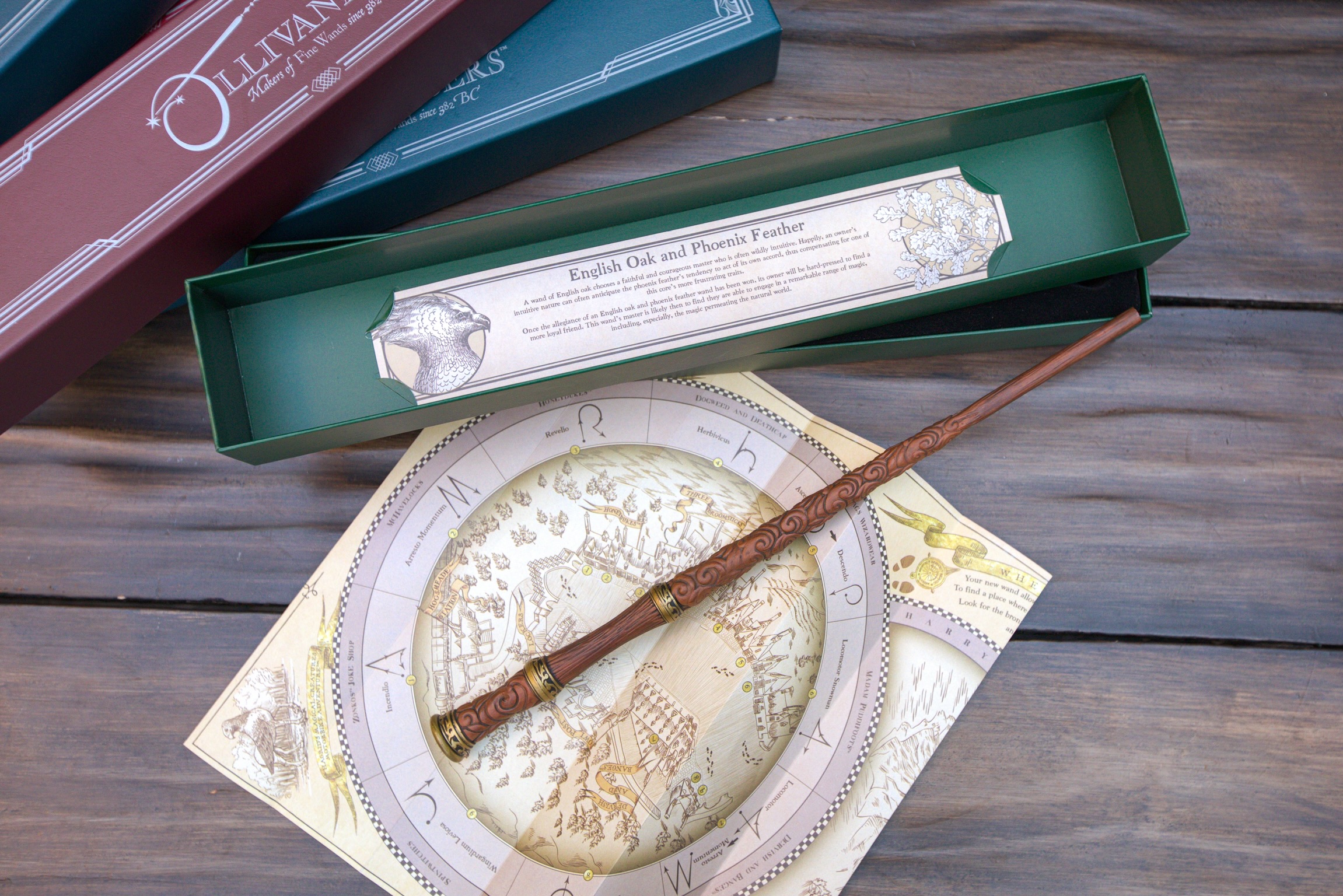 When chosen, you will be asked to step up to the front of the room. You will then be given some Wizarding World wands to try out. As you move the wands around, the room will interact like plants wilting, banging cupboards, and more. When the correct wand chooses the wizard, a spotlight will shine on them, and the expected music will play.
All guests attending the show will be directed toward the Ollivanders Wand Shop afterward. There, guests can shop and purchase the Wizarding World wand of their choice. So, like most theme park attractions, you exit into a gift shop.
Wizarding World of Harry Potter Interactive Wand Spells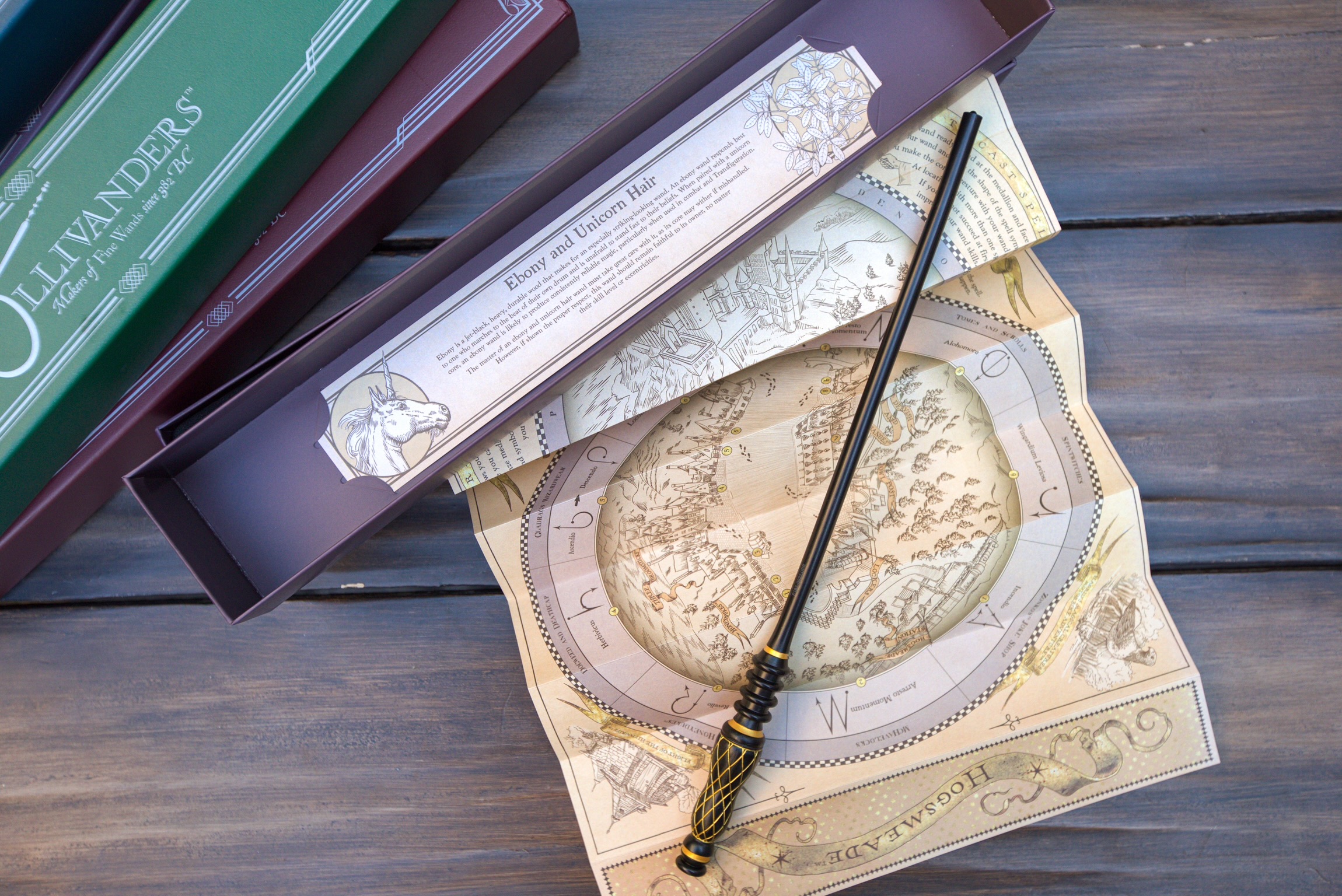 Each interactive Universal Harry Potter wand comes with a map of the spells in the two Wizarding World areas. These maps indicate where most of the Wizarding World spell locations can be found. Some of the spell locations are not listed. They are considered secret locations. Do not worry – they are not hard to find.
Wand bearers should look for the brass medallions on the ground in the Wizarding World areas to know when spell locations are. Guests will usually have Universal Orlando team members nearby if they need help with the spells.
The map and brass medallions will show guests how to move the wand to activate the sensor. This can be a little tricky sometimes. However, if you take your time and do not get frustrated, you will be a wizard, just like Harry Potter.
Some Additional Advice About Wizarding World of Harry Potter Wands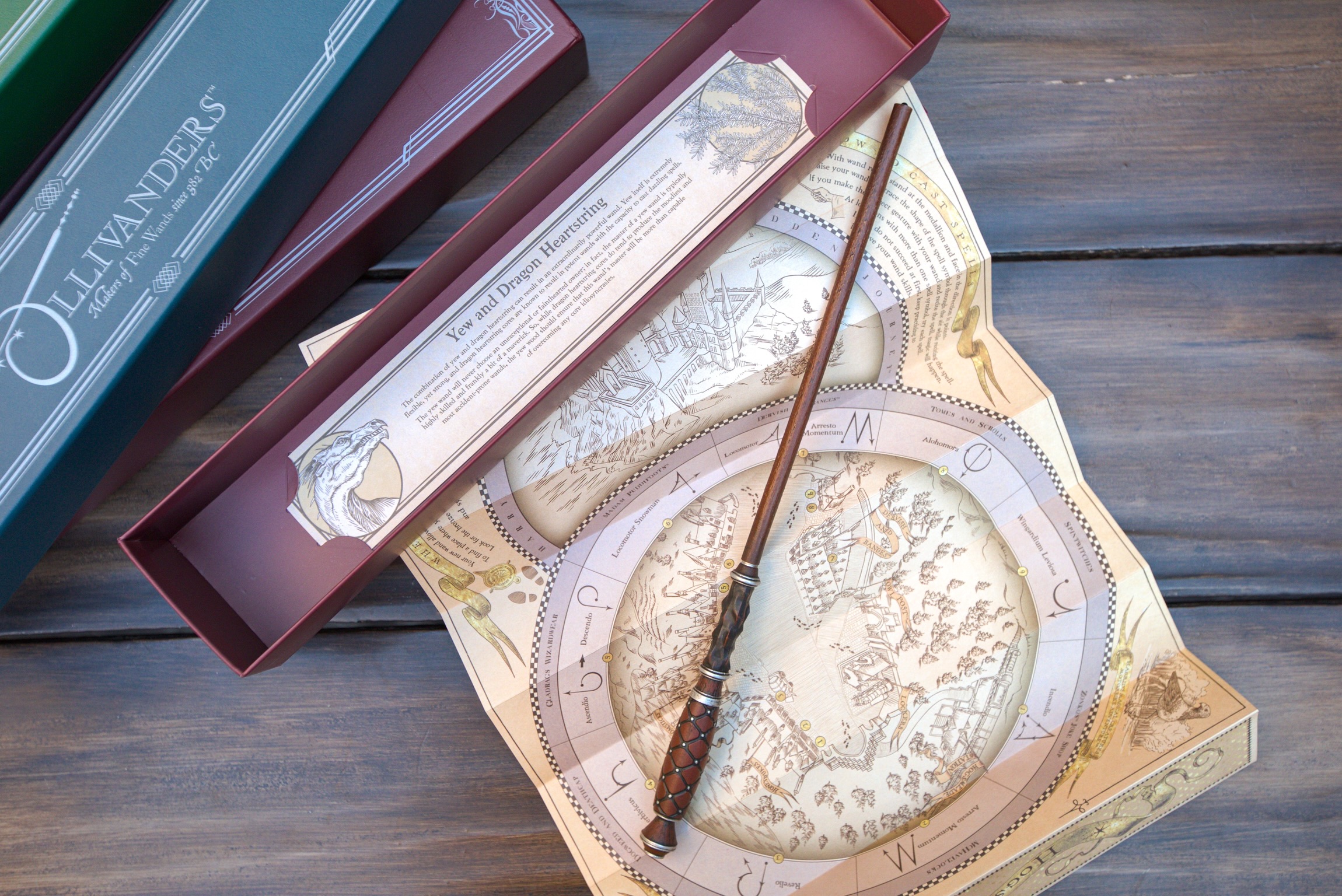 You will not be alone if you purchase a Wizarding World of Harry Potter interactive wand. Though many Wizarding World spell locations exist, short queues will grow at these locations.
Some express that the "magic" is lost when you see other people do the spell right before you attempt to do it. We can understand this. If you wish to avoid this potential issue, we have a suggestion.
If you have early park admission privileges, the hour of early park admission makes a great time to show up and do the spells with your Wizarding World wand. As the day goes on, the queues for spells will grow longer. Also, if one of the Universal Orlando Resort theme parks does not have early park admission, the first hour that the theme park is open makes a great time to be a witch or wizard.
However, we enjoy being a wizard (or witch) with a Wizarding World of Harry Potter wand any time of the day. The overall experience enhances visits to the Wizarding World areas of Universal Orlando.
Ready to Enjoy the Magic of the Wizarding World of Harry Potter at Universal Orlando?
The talented travel advisors at UniversalFamilyVacations can point you to many ways to enjoy your Universal Orlando vacation. They can help you find the right hotel, the right ticket package, and more. Remember, their services are free to you when you book your vacation. Enjoy the vacation planning!