You have decided to take a vacation to the Orlando area. You are going to visit Universal Orlando. You start planning with your travel agent (TA) and they mention that you should have some Butterbeer while you are there. You pretend to know what the TA is referencing like we all do when the TA starts talking about anything besides the cost of the vacation. Maybe you have never even watched a Harry Potter movie, so you not understand. Well, you may be in the right place since I am expert Muggle (or No-Mag to be more precise since I reside in the USA). As you may know, a Muggle is a person with no distinct magical abilities. Even if you have no distinct magical abilities, you can enjoy the Wizarding World areas of Universal Orlando and odds are you will become a fan of Butterbeer. So you do feel overwhelmed by Butterbeer and the Wizarding World itself, let this Muggle take you on a journey to learn of Butterbeer.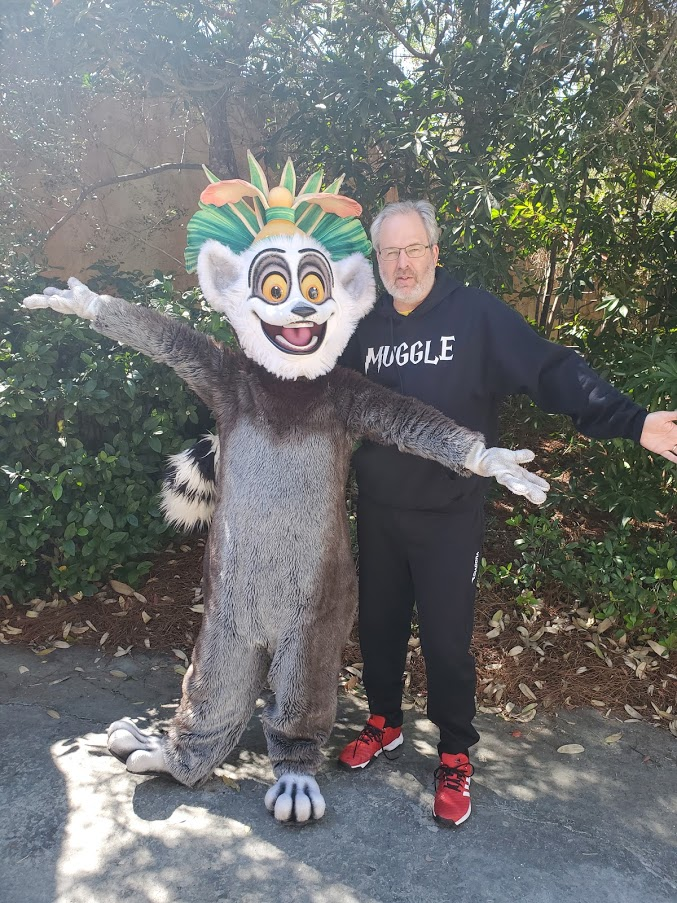 WHY BUTTERBEER?
Well, in JK Rowling writings, Butterbeer was a popular wizarding beverage described as tasting a little bit like less-sickly butterscotch. The book version did have a small alcohol content, which is why small creatures could act drunk after having too much. An over-simplified explanation of Butterbeer is to call it a drink for special occasions but many wizarding folks saw every day as a special occasion. Your trip to Universal Orlando will be a special occasion so prepare to enjoy.
Now you may be concerned with all this beer talk since you may have heard stories of children drinking it in Orlando. Please know that this Muggle has a "real" job as an American Baptist minister so I would never suggest an alcoholic drink for children (or even some adults).  No cause for concern since Wizarding World Butterbeer is non-alcoholic.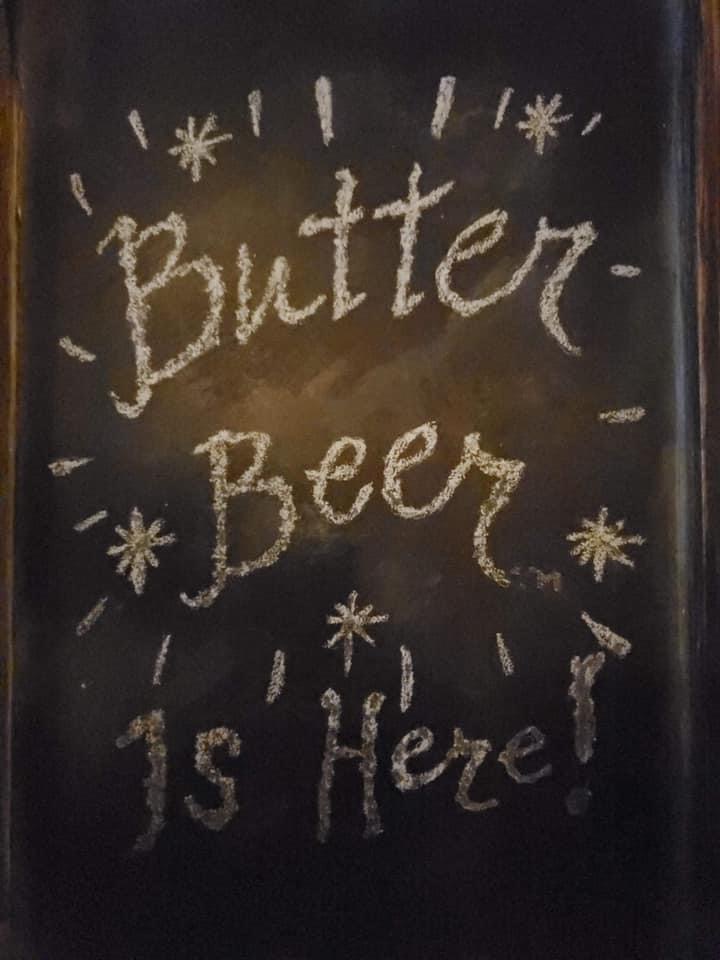 TYPES OF BUTTERBEER
There are six basic types of Butterbeer at the Universal theme parks. Three of them are beverages as you might expect and three are sweet treats designed to taste like the beverages. Any Muggle guide to Butterbeer should start with the beverages.
The cold and frozen Butterbeer were first ones the theme park scene. This incredibly popular standard or cold version beverage, that some call an experience, is an interesting interaction between the flavors of butterscotch and cream soda with an addicting frothy lovable foam on top. The frozen version is probably best described to be more like a slushie in texture. Based on these two versions of Butterbeer, there are reliable sources that Universal Orlando made back their investment in the Harry Potter franchise within the very first year by simply selling Butterbeer. As Steven Javon, corporate executive chef of Universal Orlando, told the USA Today : "We found out very, very quickly when we opened that Butterbeer was definitely an overnight homerun…Hands down, that's the one thing that we've created here at Universal Orlando that stands alone." Great care was taken to meet the strict standard that JK Rowling wanted for her beverage. Universal Orlando created a masterpiece that has changed the theme park beverage world forever. I think the entire theme park industry must agree this treat need to be experienced.
Based on this eureka experience with Butterbeer, it is bit surprising that it took several years before a "hot version of Butterbeer was sold at Universal Orlando. This is also interesting because the Harry Potter written narrative says that Butterbeer was often served hot in foaming tankards. Hot Butterbeer was introduced at a special event in 2014. It eventually started being sold in Orlando area during the theoretical colder months of the year such as November thru March, there were cries for it to be sold year-round but that did not happen…at least at not for a while. It took until 2021 before Universal Orlando made hot Butterbeer a year-round treat.
This hot version is often tough to describe. It clearly is a different formula than the previous two versions due to being served hot. Some have described it as a butterscotch-flavored hot chocolate. Other have compared it to drinking a vanilla cupcake with butterscotch filling. One Wizarding World veteran calls it a pudding latte due to thickness of liquid. I realize those are not great descriptions but fans of hot butterbeer swear it is the best version of Butterbeer. Asa Muggle, I disagree but more on that later.
Butterbeer was so successful from a financial and guest satisfaction standpoint that sweet treat versions were added to the Wizarding World menus. When Diagon Alley opened in summer of 2014 to much fanfare, a non-beverage version of Butterbeer was offered to guests to enjoy. This version you will find at Florean Fortescue's Ice Cream Parlor, a place pulled directly from the Harry Potter books, is Butterbeer ice cream. Personally, I cannot describe how much I enjoy this version, even as a Muggle. I have been known during special events to just sit and eat one serving followed by another serving.  This version of Butterbeer is literally the taste of cold butterbeer than you can eat. Now for the record, Florean Fortescue's may have best ice cream in all of Orlando area so you should give this place a try even if you want another flavor. Butterbeer ice cream can also be found at Fountain of Fair Fortune, The Hopping Pot, Leaky Cauldron, and the Three Broomsticks. Depending on your location choice, it may be soft serve or hard pack variety. I recommend the soft serve at Florean Fortescue's myself.
The last two Butterbeer versions are Butterbeer Potter Cream and Butterbeer Fudge. These treats are the logical expansion of the Butterbeer phenomenon. To this Muggle's knowledge, these items are not within the Harry Potter written canon. Now, Universal Orlando veterans do disagree about the quality of these two options. However, the sales of both are impressive. Butterbeer potted cream is probably best described as a whipped pudding version of this amazing creation. Most guests view this version as the least sweet so if you are concerned about the overly sweet taste of Butterbeer beverages then you can try this first. This version can only be found at the Wizarding World quick service locations, Three Broomsticks and Leaky Cauldron
Butterbeer fudge, on the other hand, can be compared more to taking the Butterbeer flavor adding some shortbread-like texture with perhaps a little white chocolate to hold it together to become fudge. This version of Butterbeer is either adored or disliked. Do be forewarned that this version is generally considered the sweetest of the 6 basic types. Also, this is the only version of Butterbeer that will survive your trip home to enjoy a few days later if your desire pr to share with people who were unable to party with you in Orlando. This version can only be found at Honeydukes and Sugarplums candy shops.
HOW MUCH IS BUTTERBEER?
This is where this old Muggle reminisces about getting cold Butterbeer for $4 back in the good old days of 2013. When it first appeared at Universal Orlando is was even less at only $3. Today it is $8 in beverage form. If you are trying to use a Universal Orlando dining credit, to ease the budget pain, then know that ALL Butterbeer in ALL forms are considered a snack not a beverage for those purposes. Butterbeer ice cream will cost you $6 with the potted cream variety being 20 cents less. One piece of Butterbeer fudge will be just under $5 but you can get volume discounts for buying more.
Now there are lots of wild combinations that harry Potter fans have tried regarding their beloved Butterbeer. I will mention briefly two. The first is the Butterbeer float. You will have to complete the creation process yourself. You will need to buy some Butterbeer ice cream, and a cold Butterbeer. Drink some of the Butterbeer to make space. Place ice cream inside Butterbeer container. You have a float! If you are afraid of super sweet treats, then do not try this at home or at the Wizarding World. If you want to know what an ultimate sugary Butterbeer treat would taste like, this is for you. However, do not plan on having any more sugar the rest of your vacation.
Second, there are tales of long ago of alcoholic beverages being added to Butterbeer. Universal Orlando discourages this practice and will not allow their team members to aid any guest in creating such a concoction for legal reasons. Like I said I would never steer you to break rules but also want to take you on the full Butterbeer tour since Rowling's own work lists Butterbeer as having alcohol in it.
Thanks for taking this Muggle led trip into the world of Butterbeer. No matter which types you try or prefer, enjoy the food/beverage items that changed the theme park industry forever. Someday, there may be a better beverage or treat than Butterbeer. So far, it has not happened. Until if does (and maybe after), immerse yourself at least while at Universal Orlando in the gastronomic bliss of Butterbeer.
Jon Self is an avid theme park fan who has the high privilege to serve as a pastor at an American Baptist Church (fbcmacomb.com) while also trying to find the proper life path with his loving spouse, a bigger theme park fan than Jon. You can follow him at @pastorjonself on Twitter. Jon writes for touringplans.com and uogrubhub.com. He also writes for faithelement.net.
Get a Quote
Start Planning Your Universal Orlando Vacation Today!
Get a free quick quote now.