Sure Universal Orlando Resort makes for a great family vacation.  But do you want to vacation like a VIP at Universal?
We have six fail proof ways to get the VIP treatment at Universal Orlando Resort. We could have listed dozens, but these six stood out as the best options to get you started.  Want more VIP insider tips?  Leave a comment at the bottom of this article.
Sign up for a VIP Tour Experience
Sure, this one counts as apparent. Yet, we needed to include it. The Universal Orlando private VIP Tour Experience involves only your group with a trained Universal Orlando tour guide. Prices for this vary based on the time of year you want to visit. Your travel advisor can help with booking this VIP experience.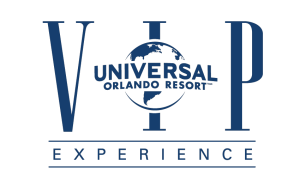 When you book this VIP group experience, you will get up to an eight-hour tour. This VIP experience gives you that true unique back-of-the-house access to several attractions. Since it is your private VIP Experience tour, you decide what to do within reason with your VIP tour guide opening doors normally closed to guests. You can go behind the scenes of attractions like Revenge of the Mummy, Men in Black: Alien Attack, and Skull Island: Reign of Kong, for example. Your tour involves unlimited front-of-the-line access to all participating rides and attractions. That means you move directly to the front of the line, even in front of people in the express queue.
The private VIP Experience Tour includes perks like valet parking, three meals, and special discounts on merchandise.
Universal Orlando also offers a non-private VIP Tour Experience. This lower-cost version involves a five to seven-hour tour with priority access to eight of Universal Orlando's most popular attractions. Also, some exclusive behind-the-scenes opportunities will be experienced. Breakfast and lunch are included with your VIP Experience tour. You also can enjoy unlimited Universal Express pass access for the rest of the day after your tour.
For fans of Halloween Horror Nights, Universal Orlando Resort sells RIP tours. These tours will cause you to feel like a VIP at Universal Orlando Resort during the signature spooky season event. These tours are sold in non-private and private versions, like the daytime VIP Tour Experience.
Stay at One of the Premier Universal Orlando Resort Hotels
We love the Premier level Universal Orlando Resort hotels. Whether you want to be a rock star at the Hard Rock Hotel, enjoy Portofino Bay Resort, or stay at the Royal Pacific Resort, you will feel like a VIP at Universal Orlando Resort. Besides this luxury hotel providing incredible amenities, another perk for hotel guests immediately will make you feel like a VIP at Universal Orlando Resort.
In addition, all Universal Orlando premier hotel guests receive unlimited Universal Express. This privilege extends to your check-in day and your full check-out day too. The VIP-like privilege of walking into any shorter express queue at attractions will cause you to feel important.
Regarding staying at a premier-level hotel, you enjoy all those VIP-like privileges. You will also stay so close to the theme parks that you can walk there or take the water taxis from your resort hotel. In terms of feeling like a VIP in Orlando, nothing feels like walking from your premier level through a short security queue and then using express to bypass an attraction queue in 15 minutes.
Have a Spa Day at the Mandara Spa at Loews Portofino Bay Resort
Have you ever considered just taking a spa day in the middle of your theme park vacation? If you are looking for a VIP-like day, this will accomplish it. The Mandara Spa at Loews Portofino Bay Hotel will cause you to feel the pleasure of a luxurious day. This spa offers:
14 private treatment rooms
Two couples' rooms
Relaxation lounges
Co-ed lounge
Co-ed hydro-therapy pool
Separate men's and women's sauna and steam rooms
Full-service hair and nail salon
Full-service Fitness Center
and a retail boutique.
Some of the services offered here are Indigenous Dolce Limoncello Body Polish with Massage, ELEMIS Dynamic Resurfacing Precision Peel, Fire & Ice Pedicure, Biotechnology anti-aging facial, and Mandara Deep Tissue Massage, to name a few. People enjoying spa treatments can also use the fitness center, sauna, pools, and hot tub. A full day of relaxation and pampering will make you feel like a VIP at Universal Orlando Resort. After a spa day, you will be refreshed and ready for more theme park fun afterward.
Enjoy a cozy setting for a Velvet Session at the Hard Rock Hotel
Have you ever wanted to be up close for a concert? How about a very limited concert event with a small crowd? Would it be nice to sit at a table with drinks and appetizers before the show? What if you did not have to move far from that table for the concert?
If any of that sounds VIP-like to you, then let us introduce you to the Velvet Sessions at the Hard Rock Hotel at Universal Orlando. This award-winning rock 'n' roll cocktail party happens in the Hard Rock Hotel's Velvet Bar and Lobby Lounge. Also, a specialty cocktail themed to the performing artist comes as part of your admission from 6:30 p.m. until 8:00 p.m. You also receive complimentary finger food during that window of time. At 8:00 p.m., the festivities increase with the concert. Guests must be 21 years old or older to attend.
Past performers have included Brett Michaels, Cheap Trick, Loverboy, the Fixx, Joan Jett, and Eddie Money. The VIP-like event happens the last Thursday of every month (except November and December). The Velvet Session series causes every attendee to feel like a VIP at Universal Orlando Resort.
Book a Cabana at Volcano Bay Water Park
Universal's Volcano Bay already enables guests to enjoy some of the latest and greatest aspects of a water park. However, when guests book a private cabana, the experience rises to be a VIP at Universal Orlando Resort.
These cabanas serve as your home away from home on your day of luxury at Volcano Bay. The cabanas come with padded lounge chairs, a complimentary fruit and snack basket, a small fridge with plenty of bottled water, and towel service. Also, cabana guests receive concierge service with an attendant waiting on them. The concierge service allows you to order food and drinks without leaving your comfortable cabana. Yes, you will have to pay for anything you order from the Volcano Bay bars and restaurants this way, and please tip your attendant. Still, VIP status can easily be seen as a cabana guest at Volcano Bay.
Still, the VIP status continues beyond there. When you enter Volcano Bay, a concierge will greet you and escort you to your cabana. At your cabana, you will enjoy the use of a tablet. This tablet allows you to book and modify your place in the various attractions' Virtual Lines without moving from the comfort of your cabana. You enjoy using the TapuTapu virtual queue system without tapping into each attraction's entrance to join the queue. While others walk between attractions to secure their virtual queue spot, you enjoy shade, snacks, and beverages. Why would you ever leave?
Upgrade to a Club Level Room at One of the Premier Hotel
Booking a club-level room may define being a VIP at Universal Orlando Resort. For a little more money per day, guests at the Universal Orlando Resort Premier level hotels enjoy a carefree time living in luxury. The club-level rooms offer every in-room amenity available at Universal Orlando Resort. As Universal Orlando Resort states, "these well-sized accommodations include personalized concierge service and access to a private Club Level lounge featuring complimentary continental breakfast, evening beer and wine offerings, dessert, and other food presentations throughout the day."
So, breakfast is just a short walk away while staying in a club-level room. Fresh coffee will be there for you. The team members will be happy to serve you as you enjoy the comfortable club-level dining and lounge areas. Do you need a snack for lunch? You can find plenty in the club-level area. Would you like to be reassured about dining choices during your time at a Premier level hotel at Universal Orlando Resort? Then, club-level provides the VIP experience you want!
Be a VIP at Universal Studios
Are you feeling a bit jealous of people enjoying these VIP perks? These could be yours on your next Universal Orlando Resort vacation. Your travel advisor can help you set these up for your next adventure.
Jon Self is an avid theme park fan. You can follow him at @pastorjonself on Twitter. Jon has been writing and editing in the theme park media world for some time. He also writes for several "foodie" sites and in the faith-based world at faithelement.net