This resource is designed to point you to places that you will enjoy instead of regret spending your money on poor food. This list will include only quick service dining locations. These are locations that you go to a counter to order your food so not table/full-service dining. This list will not include bars that do not primarily serve food. This list will also not include the dining options in Volcano Bay, CityWalk and the resort hotels. These qualifying locations must serve actual meals so sorry Florean Fortescue's Ice Cream Parlor and Natural Selections, you will not make this list even though you are excellent locations for ice cream and snacks.
#10 Universal Studio's Classic Monster's Cafe
The location suffers in the ranking for two reasons: 1) since June 2020, this location has been rarely open & 2) many guests are unaware of the BBQ menu change. This location used to get low reviews with previous menu. However, this location deserves more praise. It features BBQ instead of standard theme park fare. There are quality jackfruit entrees for our vegetarian friends. Also, guests find the theming of this place to be excellent. Every area is filled with memorabilia, monster movies being played, monster decorations, and a variety of other monster-based theming. This restaurant will be great preparation if you decide to enter the HHN "Bride of Frankenstein" house.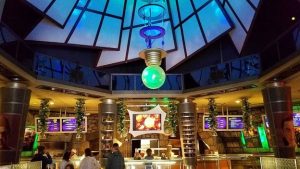 #9 Fire Eater's Grill
               This food location is one the few reasons to linger in the Lost Continent area of Islands of Adventure. The stars of this menu are gyros and chicken stingers. Each entrée comes with fries or hummus. The chicken stingers are chicken tenders with hot sauce. That may not sound appealing, but guests are surprised with the quality taste. The gyros are my choice with hummus. You may get a traditional gyro or a falafel one. Both are good and will cost $10, which is a bargain at a theme park. This location would rank higher if there was more seating (especially covered from the sun) and the queue moved quicker. Having said that, I place a premium on overall value in my quick service meals, so this is a winner.
#8 Central Park Crepes
               This is a fairly recent addition to Universal Studios Florida. The current menu features sweet crepes such as Strawberry Nutella and Cookies & Cream for $9 and savory crepes like Plant Based Chick'n and Smoked Brisket for $10. Though they will not make you think you are dining in France, you will be pleased with your food selection. The negatives that keep this location from being ranked higher is slow queue due to process of making each fresh one to order, waiting outdoors for your food, lack of seating nearby though more covered tables than near Fire Eater's Grill. The smoked brisket is my preference. These are given to you in way that makes them seem easy to eat on the move. Please do not try without adult supervision since they will fall apart due to quality filling in these crepes.  Also, some guests say that these crepes are too large for one person. I disagree but that is just one man's opinion.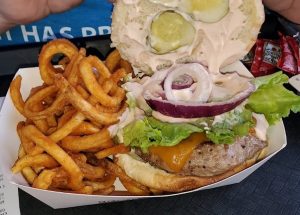 #7 Wimpy's
Now, the theme parks in Orlando area are littered with quick service/counter service places that serve below average burgers. Wimpy's in Toon Lagoon is not such a place. The meat quality is higher than average burger. Wimpy himself would be proud. This stand also serves a quality vegetarian burger. All burgers come with curly fries. In addition, this location offers "Dole Whips." The seating is limited here but most of it is covered from the sun. While you are dining you can watch the poor souls on their journey on the water attraction, Popeye and Bluto's Bilge Rat Barges. The menu is limited but the quality is high. Personally, I would walk to CityWalk for a burger but if wanting a burger in park then this burger wins 10 out of 10 times.
#6 Bumblebee Man's Taco Truck
This is only Springfield USA area restaurant to make the list. Springfield USA is well themed. If you are looking for standard theme park fare, then you can find it especially in Fast Food Boulevard. If you need a feed a picky group that all want something different then Fast Food Boulevard is a good options especially with Krusty Burger. However, nothing in this food court is remarkable. This is not true of Bumblebee Man's. This is a basic taco truck, which serves two tacos with chips for $11. The three varieties are Korean, chicken, and Carne Asada. I would recommend the Korean variety. There is plenty of outdoor seating near the lagoon. The queue to this location can be long on busy days. You will get tortilla chips but no salsa or other dips. If this location still had the nachos and/or provided something to go with the chips, then it would rate higher.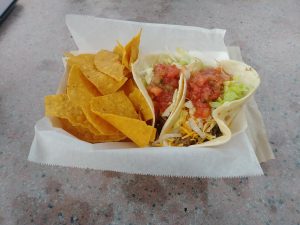 #5 Leaky Cauldron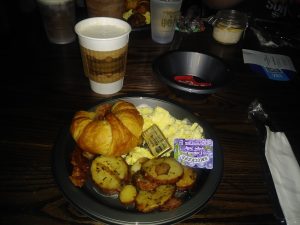 If I did not upset enough people by not including any part of Fast Food Boulevard in this list, this should alienate most of the #Potterheads. In fairness, I am "Muggle" who has written a guide to butterbeer https://www.universalfamilyvacations.com/a-muggle-guide-to-butter-beer/( However, the food at Leaky Cauldron is well above normal theme park food. The theming is incredible almost like the movie sets were designed based on this restaurant. If you are a #Potterhead then you need to dine here. However, my British friends that may trade in theme park discussions are not impressed with the food here. The price point is higher than other quick service options. The menu options are more specific to this location with entrees such as Toad in the Hole, Cottage Pie, and Scotch Eggs. If you want a well themed dining experience where you can have butterbeer in four different varieties then this place is for you. The difference in quality over the next few dining options is slim so this came down to price point and personal preference. Since this location can have a very long queue for food, I try to avoid it since I want quick service to be quick after all. Now if you want breakfast in the Wizarding World this location and the next one is solid choice.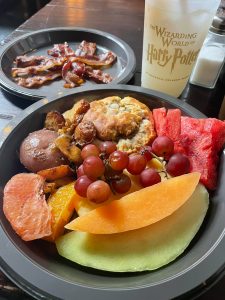 #4 Three Broomsticks
               The Wizarding World location comes in at #4. The food is above average here but like Leaky Cauldron, the price point is higher than most quick service. Three Broomsticks has an outdoor patio that I enjoy using. The food options are less "British" themed with entrees like chicken/ribs combo and rotisserie smoked chicken. At this location you can get "The Great Feast" which serves four people with salad, ribs, chicken, potatoes, and corn on the cob. You can get five types of butterbeer items here with only the fudge variety missing which can be acquired next door easily. The theming is excellent. Like Leaky Cauldron, the queue to simply order food can be daunting at times. This is an excellent dining choice that I wish was less congested and had lower prices. Getting the average priced entrée and a butterbeer will cost you over $20 easily.
#3 The Today Café
               This restaurant retheme has been an excellent addition to Universal Studios Florida with more variety of entrées. This is also an excellent breakfast option which can be hard to find at Universal Orlando. The menu and décor reflect the NBCUniversal synergy with the Today Show playing on monitors.  Surprisingly, this set-up is not a negative regarding dining enjoyment. There is a wide variety of breakfast sandwiches served with fruit. There is an even larger variety of sandwiches to enjoy. This location boasts an excellent bakery counter with eclairs, muffins, and tarts to name a few of the options. If that is not enough, you can get salads and even an acai bowl.
#2 Green Eggs and Ham
This formerly ridiculed location emerged from the ashes with a new menu featuring covered tater tots. There are several varieties. My beloved pizza tots, which are better than pizza fries, are $10. The theming may be subtle, but this location rates high in terms of to value, seating availability, and usually short queue.
#1 Thunder Falls Terrace
               If you are going to partake in quick service meals in park, this should be strongly considered. Though with a recent menu change, I almost demoted it. The overall experience is still #1. The food is generally excellent with entrees such as rice bowls, salads, rotisserie chicken, and chicken wings. The service speed will be higher than other similar places. Diners can enjoy seating with a view of a splash zone of Jurassic Park River Adventure while enjoying their meal.
I hope this helps in your planning. No one should have to settle for below average theme park food.
Jon Self is an avid theme park fan who has the high privilege to serve as a pastor at an American Baptist Church (fbcmacomb.com) while also trying to find the proper life path with his loving spouse, a bigger theme park fan than Jon. You can follow him at @pastorjonself on Twitter. Jon writes for touringplans.com and uogrubhub.com. He also writes for faithelement.net.