When it comes to dining plans at Universal Orlando Resort (UOR), it can be confusing.  Some bad news is there are no longer all you can eat dining plans at UOR. However, some good news is the quality of food at UOR has improved significantly in the last 8 years. In this resource, we will endeavor to present the important details of the UOR dining plans and a few important factors to decide if these plans work for you.

Picking Your Universal Dining Plan
There are two Universal Orlando Dining Plans
1. Universal's Full-Service plan and 2. Universal's Quick Service Dining (QSD) plan. As the names indicate one is more inclusive than the other.
The full-service Universal dining plan entitles each person to:
ONE Full-Service Meal (entrée, specific desserts, & one non-alcoholic beverage),
ONE quick service meal plus approved beverage,
ONE snack credit,
ONE approved beverage credit.
Though there are some exceptions, the full-service plan may only be purchased by those pre-booking a Universal Orlando Resort vacation package.  As a result, the price for this plan varies and is not officially published by UOR. However, you should plan on adding about $70/day per adult for this plan. If you are not eligible to purchase or uninterested in the full-service plan, then focus on Universal Orlando quick service dining (QSD) plan.
Universal Quick Service Dining Plan

The QSD plan is more compact. It entitles each guest to one quick service entrée plus approved beverage. According to UOR's own literature, it also authorizes a snack credit and an approved beverage credit. The current cost of that plan is $26 for adults plus tax.
What are Universal Orlando Approved Beverages?
Now at this point, you may be anxious that I keep writing "approved" beverage. That is not the term Universal Orlando Resort uses. As you might expect alcoholic beverages are not included in this plan. However, UOR defines beverages very specifically different than you might expect.
Universal Dining Plan Tip!
Use your Universal Orlando Dining Plan Snack Credit for a not to miss Butterbeer in the Wizarding World.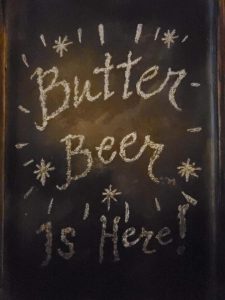 You might expect a Wizarding World beverage like Butterbeer to be classified as a beverage. You would be incorrect. Butterbeer is considered a snack credit.
Officially, the standard size of all Wizarding World beverages is considered a snack credit. This is an important detail to remember since soft drinks are not sold in the Wizarding World areas. Only "approved" beverages in Wizarding World areas are coffee, tea, lemonade, and cider.
Now as is common with Universal Orlando Resort, you might find a team member who enters your fishy green ale as a beverage instead of a snack, but you cannot depend on that.
The only exception to this Harry Potter Wizarding World beverage counting as snack issue if you use your Universal quick service dining credit for breakfast at Three Broomsticks or Leaky Cauldron. Breakfast comes with a smaller than standard size beverage automatically. You can use this on any "beverage" including Butterbeer. Unless you absolutely feel you must use your Quick Service Dining credit in the Wizarding World for breakfast, please be advised this is an inefficient way to use your credits.
Before moving on, I should mention there is a version of the Universal Studios Quick Service Dining Plan which comes with a freestyle cup instead of the beverage credit. This freestyle cup is available for unlimited refills every 10 minutes, if desired.   SPOILER: I use one 90% of the time when I visit Universal Orlando Resort.  This cup may be used for soft drinks and even icees. This plan will cost you $35/day.
Each of these Universal dining plans has a kid's price, which is lower. Yet, you will only be able to get kids meal so that may not work for some children.
What I don't like about the Universal Orlando Dining Plans
Currently, there are several potential negatives to consider with these dining plans.
One, you MAY NOT use these dining plans at your UOR/Loews resort. If you are a veteran Disney person, this will come as shock to you.  This is because some resorts are owned by Loews and not Universal.
To maximize these dining plans, you will have to plan accordingly and we can help you do that as well as help you find the best Universal Vacation Package for your family.
Second, the Universal Quick Service Dining entrée portion of your plans should be used in the two Universal theme parks. There are also two Quick Service Dinging entrée location options in CityWalk, Hot Dog Hall of Fame and Bread Box. These are excellent QSD locations but if your family is not thinking hotdogs or sandwiches, this can be frustrating.  In addition, these two CityWalk locations are not the best locations to maximize the value of your dining plan so be a pro and be sure to use your Dining Plan Credits in Universal Orlando Parks.
Third, if you were looking for the old Disney dining plan at Universal Orlando Resort, then these will disappoint. There are full-service locations that do not accept the plans and UOR's system is not as accommodating with these plans. This leads to potential negative number four.
Universal Mobile Ordering
Currently, you cannot mobile order using your dining credits. The UOR mobile order system defiantly needs an update to support the dining plan.
Here is my Mobile Ordering workaround:
If you want to use a dining credit at a food location with table delivery mobile ordering, then you must wait in line, be seated, then tell your team member that you will be using a dining credit. At this point, the team member will give you restaurant specific instructions on how to order.
Fifth, sadly if you are a UOR annual passholder, there is no discount when buying a dining plan. Since the top two levels of annual pass get at least a 10% discount on almost all food/beverage, you need to factor this into your need for a dining plan.
What I Love about the Universal Orlando Dining Plans
If one of your main goals in your visit to Universal Orlando Resort is food and you tend to select more expensive entrée like ribs, then these plans could save you some cash. If you like a tasty treat at the end of your meal, this plan will make that happen with either combo meals or dining credit desserts. Also, if based on nature of your group, you value convenience and pre-paying over probability of spending more than needed, these plans are for you.
Universal's Full Service Dining Plan Delivers Value
There are a few things to consider specifically with the Universal full-service dining plan. Unlike at some resorts, not everyone in your group needs a plan. They can still dine with you and simply purchase their meal. In most cases, you will not be limited in terms of entrée you can use your credit to enjoy.
Yes, you will need to confirm in advance which CityWalk table service places accept this plan. However, these restaurants currently do: Antojito's Authentic Mexican Food, Bigfire, Bob Marley – A Tribute to Freedom, Jimmy Buffett's® Margaritaville®, Pat O'Brien's®, Red Oven Pizza Bakery, Vivo Italian Kitchen, The Cowfish®, The Toothsome Chocolate Emporium & Savory Feast Kitchen, and NBC Sports Grill & Brew. All four in-park table service places take these dining credits, so enjoy.
Is the Universal's Quick Service Dining Plan Worth it?
Regarding the Quick Service Dining Plan, there are many positives for the average theme park visitor.
First, the Quick Service Dining credits never expire. If you are coming back to Orlando, then you can use your credit and avoid the panic of departure day trying to use up your snack credits. Second, you do not have to get a Universal Quick Service Dining plan for every day of your trip. In fact, you do not even have to purchase these in advance.
According to Universal Orlando Resort, you can purchase this plan at quick service locations right before you order, but to save time I would purchase the Dining Plan when you book your Universal Vacation.
Be sure to read the complete Universal Dining Plan Fact Sheet here.
Quick Service Dining Plan Tip:
You could get everyone in your party a QSD plan for the first day of your vacation. After that you could simply see how practical it was for your group. If it worked well, then buy more. If not, skip it.
Third, this plan may be used at Volcano bay water park.
Fourth, if you have an American Express card and you purchase this plan with the freestyle cup, then you can get a 10% discount on the plan.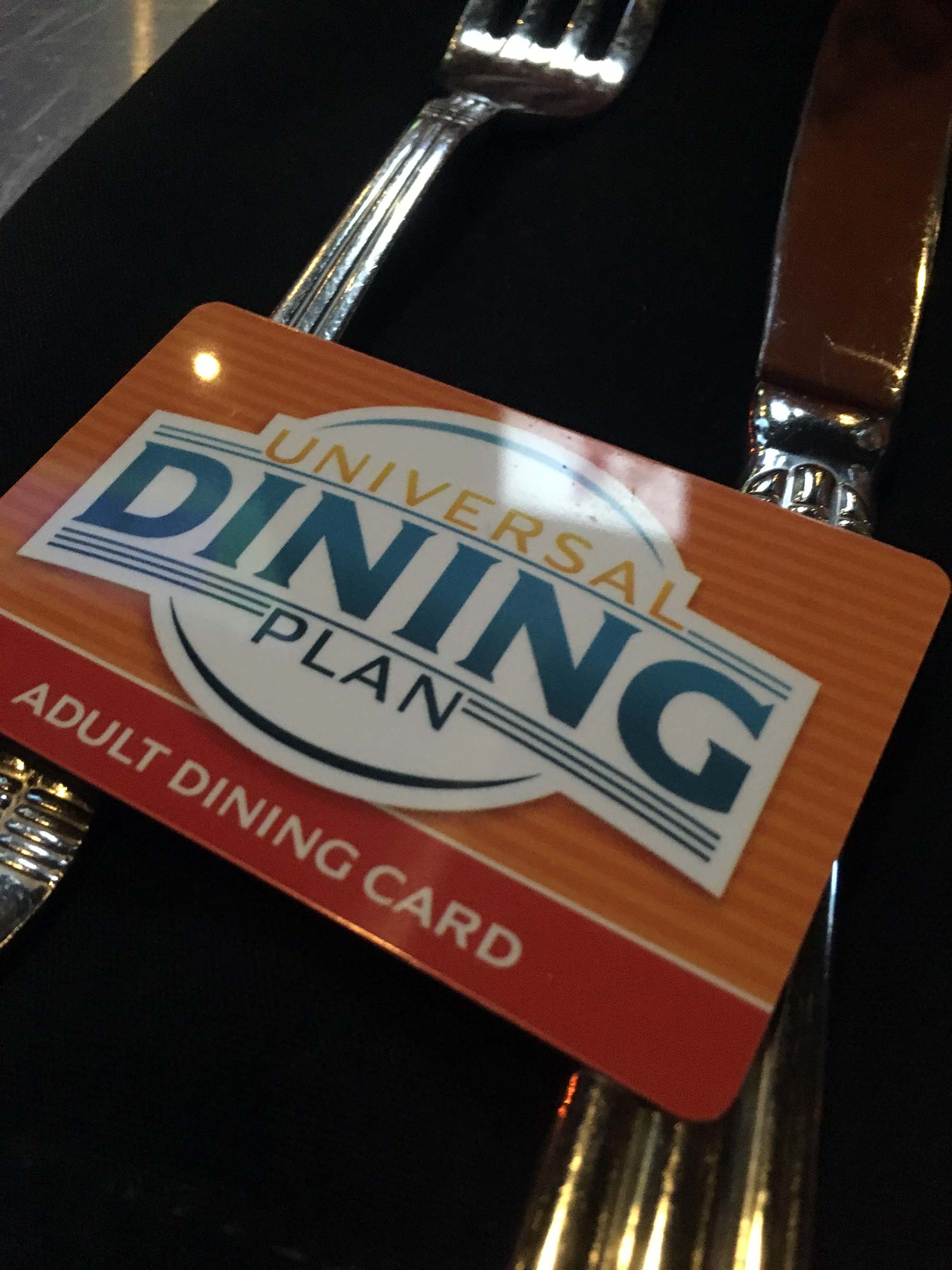 Bonus Universal Orlando Dining Plan Hot Tip
If you are someone who prefers to drink water or have another beverage solution, you will want to pay attention to this guidance because you may get lucky with your quick service dining credits.
Though Universal Orlando Resort officially states the QSD plan consists of an entrée with qualifying beverage, a snack, and another beverage, guests commonly are seeing their plan indicate they get one entrée with beverage and 2 credits that can be used as a beverage or a snack. Please check your receipt because if you are lucky enough to get two snack credits then the QSD plan went up in value immensely.
In other words, you could get two Butterbeers in addition to your entrée with "approved" beverage. Butterbeers are currently $8 so two of them is $16. If you use your QSD entrée credit on the best burger option in-park at Wimpy's, you will get that burger/fries with a soft drink in addition to your Butterbeers. If entrée and drink are basically $20, you can see how you could save money with this plan.
The best way to verify your option is to use you entrée with beverage credit first (you must always use entrée with a beverage-if you do not order a beverage but use your entrée credit you just lose that beverage credit so do not make that mistake). When you get your receipt, check to see if it says 2 snack/bev credits (which means you can use your 2 remaining credits anyway you choose or if it says 1 snack and 1 beverage then you were not lucky.
We hope this give you a basic look at the Universal Orlando dining plans. We hope in the future to go into more details about the Universal freestyle cup, popcorn buckets, and the best ways to use your dining credits. Whatever you decide, dine like you are on vacation.
Jon Self is an avid theme park fan who has the high privilege to serve as a pastor at an American Baptist Church (fbcmacomb.com) while also trying to find the proper life path with his loving spouse, a bigger theme park fan than Jon. You can follow him at @pastorjonself on Twitter. Jon writes for touringplans.com and uogrubhub.com. He also writes for faithelement.net.
Get a Quote
Start Planning Your Universal Orlando Vacation Today!
Get a free quick quote now.