Anytime you ask somehow about their Orlando area theme park vacation, they will be quick to give you advice. So often that advice may not be right for you and/or the procedures have changed again. This resource is designed to cover various important information you might need for your Universal Orlando Resort vacation. This list will not be exhaustive but it will be a good start to place you in a better position. This list of 25 is not in a particular order because the priorities will vary based on your group.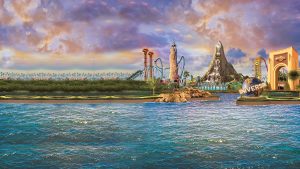 If possible, stay at one of the premier level hotels. This may seem very expensive but the advantages are numerous.
If you determine that premier hotels are not possible, then consider the other on-site resorts. The complete value of the Universal Orlando hotels is very high with abundant amenities.
Buy ticket media that allows park-to-park access. The only way to enjoy a trip on the Hogwarts Express is to have park to park access. Since Universal Studios Florida and Island of Adventure are located so close to together you can also easily walk between the two parks in a day with park-to-park access.
4. Consider an annual pass. You may be thinking that you will not be going enough. However, a season pass, the lowest level of annual pass, for non-Florida residents for one year of entry (with some block-out dates) is currently only $350. Once you purchase a 3 days of tickets, you may find that the season pass pays for itself. This is especially true if you might return within in the next 12 months. If you choose to purchase a higher-level annual pass, you will get discounts on food/beverage, merchandise, hotels, and parking.
Prepare yourself for butterbeer goodness. You will want to try all the different types of Butterbeer to enjoy your time in the Wizarding World.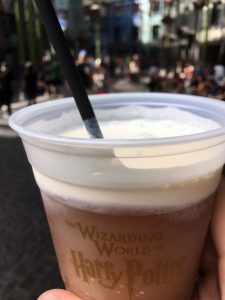 6..If you have early park admission privileges with your stay and/or vacation package, you need to use it at least one morning. This privilege gets you into at least one land park one hour early to enjoy the Wizarding World area in addition to a few other attractions. If you have ticket media to enjoy Volcano Bay during your stay, early park admission gets you entry at least a half hour early which can make your experience infinitely superior.
Try the "Freestyle Cup Refill Program." If like me, you might drink an excessive amount of soda. The Universal Orlando Coke Freestyle Cup option could be a money-saving option for you. The cost is $17 for the cup when you first purchase it, but it entitles you to free refills every 10 minutes that day. You can then bring your cup back to be recharged for $11/day. In contrast to paying $4 or more for theme park beverages this may be a colossal money saver.
If staying at a Universal Orlando resort hotel, use mobile check in. Now, the title is misleading because you will still have to speak with a team member upon arrival to the hotel. However, your queue will be far shorter to simply cover last minute details and get your room key card. To do this, you will need to get an email from Universal Orlando a day before in which you will need to click a link to complete the mobile check-in process. If you need help, consult with your travel agent to make sure Universal sends you an email to proceed.
Take your time in the Wizarding World area. There are so many sights/sounds in Diagon Alley and Hogsmeade that most guests overlook in their desire to get to the next attraction. You could spend almost all day in Diagon Alley alone and not see all the incredible theming elements.
If you will be at Universal Orlando for more than one day, buy a wand! You will probably want to enjoy the Ollivander's wand shop show (Go to Diagon Alley version for faster queue). You (or more likely your middle school age child) might be selected to participate in the wand choosing show. Even if that does not happen, a wand specialist will be happy to help you select a wand to fit your wizarding style. Both Wizarding World areas are filled with magical elements in which you can use your wand to do magic. I do not want to spoil the fun for you, but it is worth it!
If possible, try going during slower seasons. This would be late January and most of February, September/October (BONUS: Halloween Horror Nights will be happening so you could enjoy that for an extra fee), and first two weeks of December. Now the park hours will be shorter, and some entertainment will not be happening, but you may find this to be most relaxing theme park vacation ever. In addition, hotel rates will be lower saving you some souvenir and butterbeer money.
Plan the dining so you do not have to settle for below average food. The food quality at Universal Orlando has improved significantly over last 7 or 8 years. There are many new menus items with vast improvement in terms of healthy and/or vegan dining. The CityWalk full/table service locations are a short walk from the theme parks. Consider trying something besides standard theme park fare. If you just want a burger and fries, either go to Wimpy's Burger in Toon Lagoon area or enjoy the excellent burger options at the CityWalk location. You can get a high-quality burger for slightly more than the theme park version in the parks.
Purchase or bring a lanyard with a large pouch. At Universal Orlando, you will need a pouch to hold your tickets when you place items in lockers. In addition, you may need a pouch to hold your express pass and/or resort key card.
Did we mention lockers? Be prepared for the locker system at Universal Orlando. On several more thrilling attractions, you will not be allowed to take anything on the attractions so free small lockers are available. These ride lockers are approx. 9.5" wide x 11.5" high x 17" deep. On the three most thrilling attractions, there are metal detectors so everything will need to go into a locker so be ready for that.
Please take breaks during your time in the parks. The areas around the lagoon of Islands of Adventure are great spots to enjoy some quiet in areas like behind Captain America's Diner, behind Me Ship The Olive, Sneetch Beach in Seuss Landing, and behind Mythos restaurant in Lost Continent. In Universal Studios Florida you could consider the area in front of former Fear Factor stage, the London Waterfront area, and the covered area by Animal Actors show. You may also take breaks in CityWalk which is located very close to the theme parks.
There are several behind the scenes tours that may be available during your stay. These non-promoted tours can happen when staff are available. You can take tours such as the Gamma Tour at Incredible Hulk coaster, Productions tour at Revenge of the Mummy, Immigration tour at Men in Black: Alien Attack, Temple tour at Skull Island: Reign of Kong, and Studio tour at Race through New York with Jimmy Fallon. When available, simply ask team member at the attraction entrance if the tour is happening today. If so, then the team member will tell you of procedure that day.
Consider going during Mardi Gras season. All Mardi Gras festivities are included with your theme park admission. There are concerts, food booths (with promotions making entrée less than $5), parades with beads being thrown, performers, and other special seasonal events.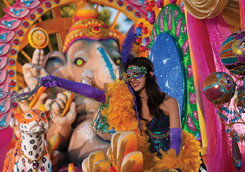 If you want to avoid, the crowds in Hogsmeade to get to Jurassic Park area, there is now a bypass bridge consistently open in Lost Continent area near Fire Eater's Grill. You will walk by the Velocicoaster via this bridge when it is open.
Check out all the sight/sounds of Marvel Super Hero Island. This is my personal favorite area. I am a Marvel comic book fan that cringes every time the Marvel Cinematic Universe movies/TV shows change something important from the comics (why change the Flurken's name from Chewie to Goose—you own Star Wars and Carol Danvers was a huge Star Wars fan?) East of the Mississippi river, this is the only place you can interact with vast majority of the Marvel characters in a theme park. Though the theming may seem outdated for a Marvel movie fan, the overall theming is perfect for the comic book fan filled with incredible touches. I have been known to spend most of a theme park day in just this area enjoying all the small touches.
Consider alternate places to buy butterbeer ice cream. If the line at Florean Fortescue's is just too long, you can go next door to The Fountain of Fair Fortune and get it. You can only get Butterbeer ice cream this way, but line is consistently shorter.. Also, consider Hopping Pot for this.
Plan for nighttime light show on Hogwarts' Castle and the Cinematic Celebration. The Cinematic Celebration has a viewing area around the Universal Studios' lagoon. Now the light show at Islands of Adventure is a commitment. This will be in the crowded Hogsmeade area. You will feel like a sardine in a can so prepare for that. The light show is excellent and a requirement for any Harry Potter fan but be prepared.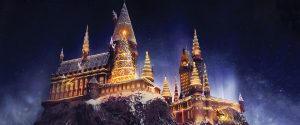 If you are traveling solo or your group will not mind being split up for a major attraction, Universal Orlando offers numerous single rider queues. You will not be able to ride with your group but in many cases the wait will be noticeably shorter than the standard queue. This will save you time. You may miss some of the theming of the queue. However, this might be great on your second ride on an attraction. .
If you plan to buy express passes or premium seating/cabana at Volcano Bay, please do it early. Prices will go up significantly as your travel date approaches. This could save you well over a $100 per person per day.
The premier and preferred hotels offer water taxis back to your hotels. These are free to use for anyone even if you just want to go look at another hotel. They can be a relaxing attraction all by themselves.
Consider riding many of the attractions at night for a different experience. The best suggestions are Jurassic World Velocicoaster, Hagrid's Magical Creatures Motorbike Adventure, Rip Ride Rock-It, Dr. Doom Fearfall, High in the Sky Seuss Trolley, and Skull Island: Reign of Kong.
Now, I am sure there are things that I overlooked. Feel free to tell me what I got wrong at my twitter account (@pastorjonself). Now, every guest will have a different experience so you will need to decide which parts of this list are most important to you. However, this list is a good start that we hope will help you to enjoy your time at Universal Orlando. Please consult your travel expert to help you with more planning to maximize your time at Universal Orlando.
Jon Self is an avid theme park fan who has the high privilege to serve as a pastor at an American Baptist Church (fbcmacomb.com) while also trying to find the proper life path with his loving spouse, a bigger theme park fan than Jon. You can follow him at @pastorjonself on Twitter. Jon writes for touringplans.com and uogrubhub.com. He also writes for faithelement.net.
Get a Quote
Start Planning Your Universal Orlando Vacation Today!
Get a free quick quote now.